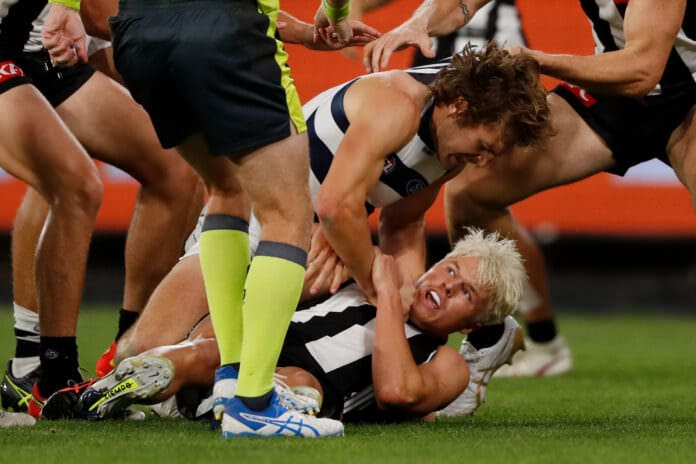 Essendon legend Matthew Lloyd claims umpires are unsure of how to respond to Collingwood livewire Jack Ginnivan's tactics to draw free kicks.
These comments come after Collingwood's dramatic seven-point win over North Melbourne on Saturday, in which umpires responded to Ginnivans' antics differently during different stages of the game.
The first time Ginnivan raised his shoulder to draw a high tackle, the umpires paid the free, resulting in a Collingwood goal. However, the second time, Ginnivan was pinned for holding the ball with North winning a free-kick.
Speaking on Wide World of Sports' Sunday Footy Show, Lloyd explained how the umpires were briefed on Ginnivan's style of play but are still not fully aware of how it should be policed during a game.
"I think they don't know what to do," Lloyd said.
"They realise it's like the Selwood shrug in a sense - they know what he's doing every time, but the umpires don't know what to do. Should we or shouldn't we pay it."
SEE ALSO: Cakewalking again: The rhyming past serving Fly's Pies
AFL journalist Damien Barrett also weighed in on the conversation, stating that the different calls made throughout the game is due to different umpires interpolating the contact on Ginnivan differently, but claims inconsistencies are not good for the game.
"You can't have a situation though where one player is being umpired differently to every other player, they're all free kicks," Barrett said.
"You can see the North Melbourne players remonstrating too, trying to remind the umpires 'hey this is what this guy does'."
Ginnivan had a solid game against the Roos, kicking two goals from eight possessions, alongside winning two free-kicks.