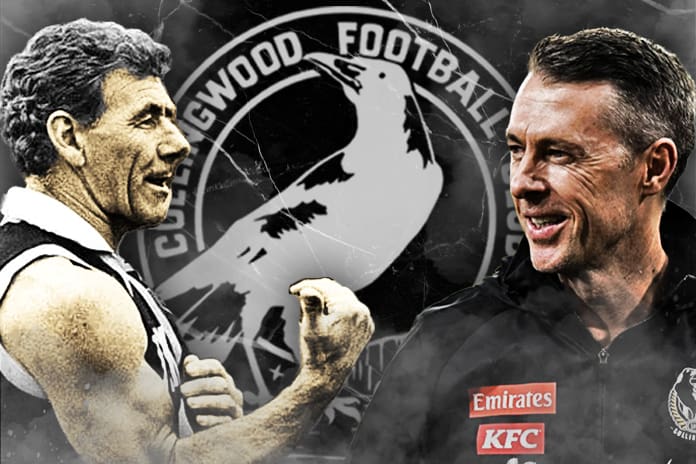 In between strides to become 'the father of American literature' and eventually filing for bankruptcy, Mark Twain provided the world with plenty to ponder.
Yet, while his tales of Tom Sawyer and Huckleberry Finn have continued to sell since they first hit shelves nearly 150 years ago, it is the satirist's litany of misattributed quotes which act as 'his' greatest legacy.
Within his unjust collective of genius quips, Twain was said to have spoken on subjects ranging from truth, insanity and even his own death. However, it was his supposed stance on charting the past which still stands strongest to reason.
"History doesn't repeat itself," Twain was said to have stated, "but it does rhyme".
Though this notion has been refuted by philosophers, scribes and Winston Churchill over the century and change since his death, in the case of the Collingwood Football Club, it couldn't possibly ring truer.
Just shy of 50 years ago, the Woods ambled through a season that saw them nosedive to their lowest ebb.
Infighting washed through both the board and change rooms, the president departed and so too did the former champion calling the shots as coach. Just six wins were constructed after playing finals in each of the past seven seasons, with the club's first wooden spoon foisted upon them in due course.
It all sounds pretty familiar, doesn't it?
While the entire minutiae of Collingwood's annus horribilis in 1976 were not repeated during their calamitous 2021 campaign, the profiles of characters strong enough to stand on stage and silver screen certainly were.
Despite coming sans facial hair and spectacles, the outspoken manner and mid-term exit of Eddie McGuire is more than enough to have him rhyming with his former title holder, Ern Clarke. Just as parallels between the completion of Nathan Buckley's tenure in the box can be drawn with another former captain-cum-coach in Murray Weideman.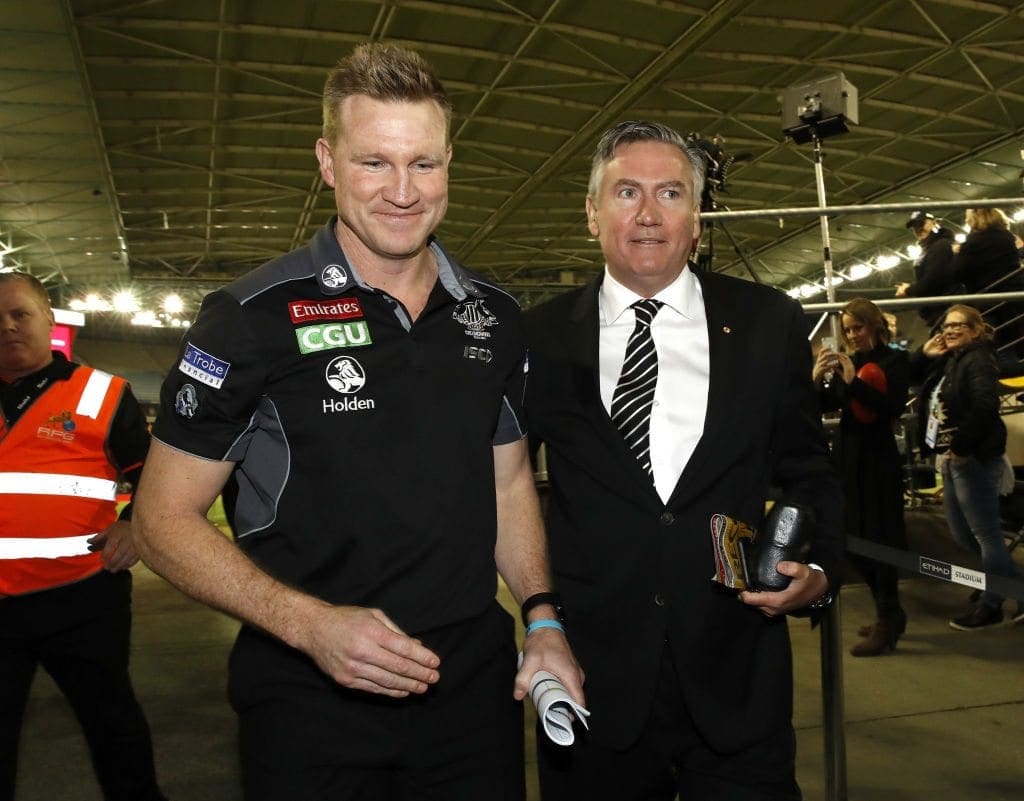 Still, while this cavalcade of Collingwood shot callers all made way during the duo of disappointing seasons, the cast that replaced them is also wrapped in a starkly poetic sameness.
Following a summer punctuated by a horrific double homicide less than a Saverio Rocca roost from their Victoria Park home, the Magpies, then ensnared in a premiership drought old enough to legally order a pint, looked outward to fix their ills ahead of the VFL's 1977 season.
In a break from convention, the blue-collar club appointed a Queenslander, John Hickey, as president and an outsider, who built a CV off plucking Magpie feathers, as head coach. And under the watch of Tom Hafey, the wooden spoon woes of the year prior were swung into a grand final invite, ultimately ending within a whisker of a coveted flag.
The secret to 'T-shirt Tommy's instant success? A desire to ramp up the Pies' fitness levels and a belief that his playing group had a desire of their own to atone for the sins of suns just set.
"I felt that whoever was going to coach them, they were going to come up a bit better," Hafey said prior to his passing of a roster containing the ilk of Len Thompson, Peter Moore and Ray Shaw.
"I was working on the theory the players would be self-motivated. I just felt they would be so disappointed that this great club had for the first time finished on the bottom of the ladder.
"They probably got hounded for it."
Cast your mind back to this minute, and again, there is much of a muchness.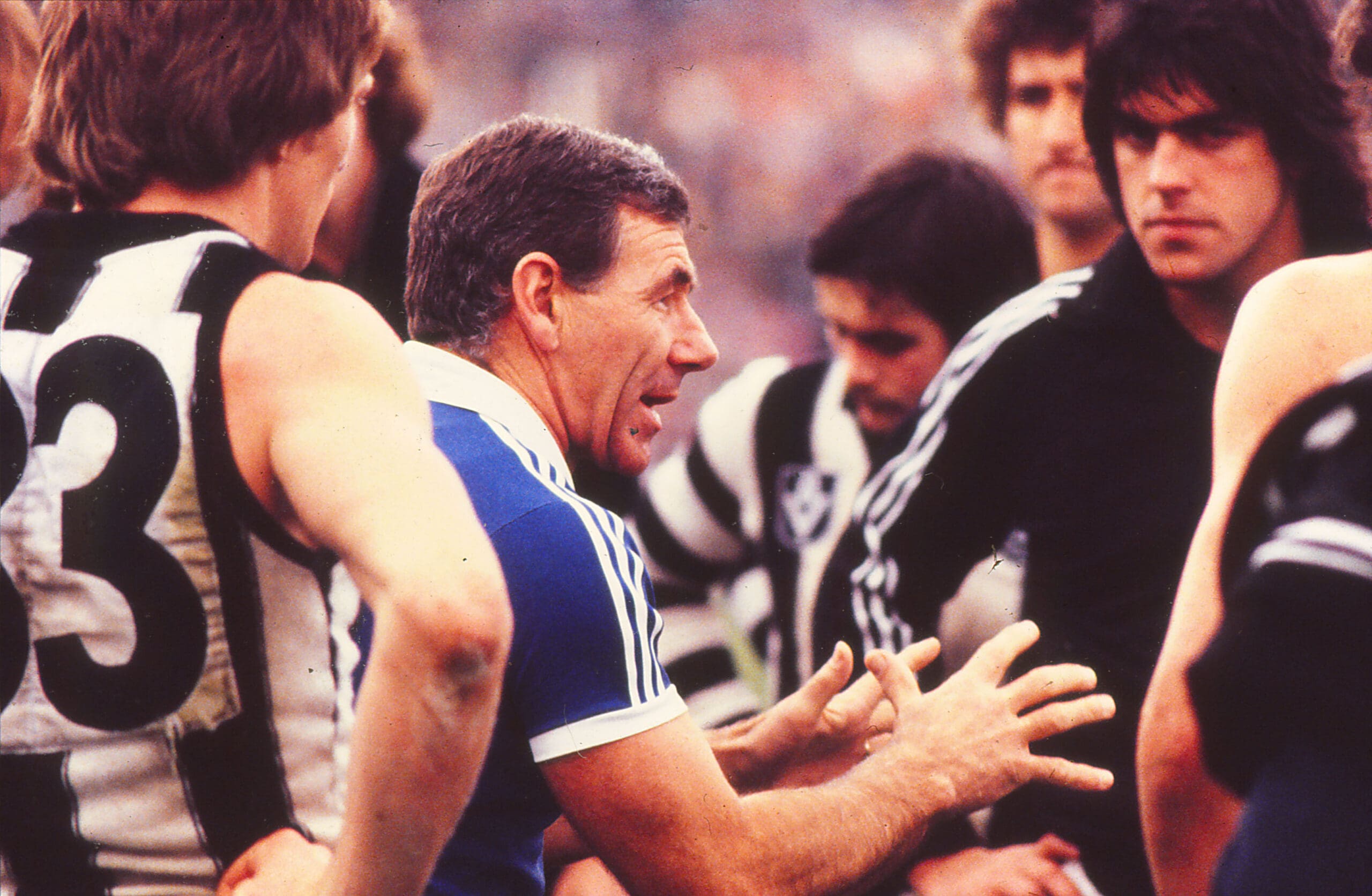 Following yet another horrific crime on Easey Street and the dawn of the Jeff Browne presidency, Collingwood, once again, saw fit to hire a coach whose greatest days in boots came at their expense.
As a member of Brisbane's three-peat side who dined out on Magpie misery across successive Septembers, Craig McRae's appointment was sure to have chilled the feathered spines of those old enough to recall 2002 and 2003.
But with his pedigree of success beginning to pay dividends, the choice to opt for another outsider at a crucial juncture is already ringing rhyming bells.
After a 2021 season that saw Brownlow medallists in Buckley and Robert Harvey drag Collingwood across the line with a familiar 6-0-16 finish, McRae's immediate ability to help his squad rise above the impetuousness, undiscipline and ineffectiveness that was littered within the club's walls deserves a mammoth portion of praise.
In the same vein of Hafey, who challenged his charges to improve and uncork their own fire, the pride restored by 'Fly' has allowed Collingwood's DNA of 'us versus them' to, once again, read like a fair fight.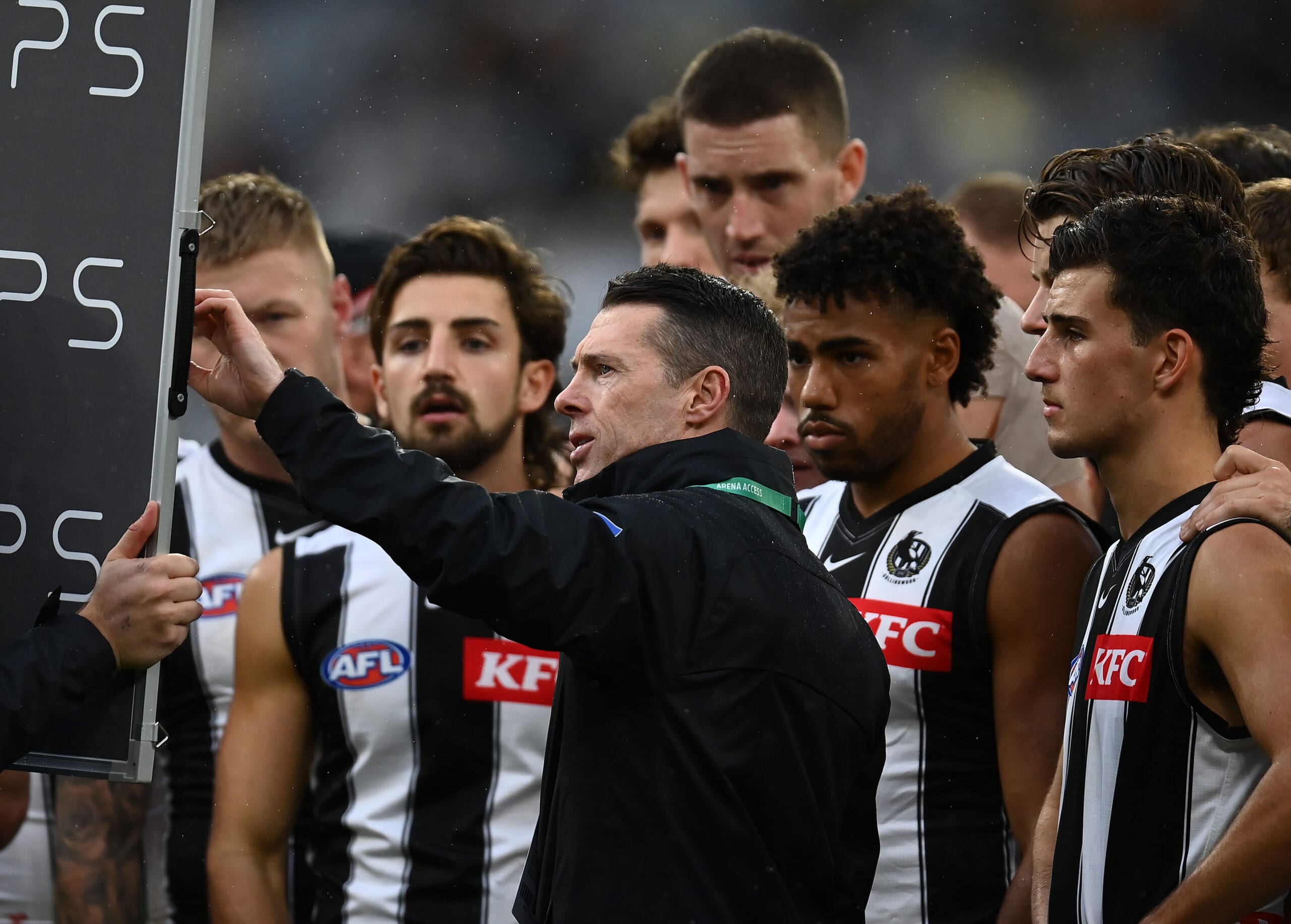 Following his side's come-from-behind win at Carrara in Round 16, the 48-year-old spruiked that the scars and scepticism born from their blowout last year had given way to confidence.
"There is a great belief and a level of trust that it doesn't matter what situation we're in, we know what we need to do," McRae told members of the media.
"There's a part of the group that is starting to believe."
And with seven straight wins strung together under his stewardship, including their come from the clouds edging of North Melbourne on Saturday, this internal faith seems to have been stirred with rapid set cement.
But what are the other elements of success that have been thrown in McRae's mixer?
Funnily enough, they're not too dissimilar to the materials used to construct Hafey's own rapid rebuild and have been pieced together with the same determined workforce.
"Deep down if you had to put a finger on a couple of things, I think the players themselves are really wanting to get to work and really improve. The leadership (group) have been fantastic with that," McRae said of Collingwood's secret to success this season.
"I'm the sort of coach that likes to drive a direction and a vision, but when I see these things going well, I'll get out of the way. I think over the last seven to eight weeks, I've probably done less coaching than I have in a long time because the players are starting to get it."
Having earned as many loathers as they have lovers across their 130 years of existence, such is the spectrum of emotion Collingwood is sure to lure, even the most devoted opposition fanatics can recount with ease the major plot points in the Pies' history.
And while able to claim a pair of premierships at their expense just shy of two decades ago, McRae's recent office makeover is proof that the past is still a valid form of currency at Collingwood.
New office wallpaper, honouring all Collingwood Premiership coaches and inspiring for future success. #gopies pic.twitter.com/KilnHehgqa

— Craig McRae (@flybags4) June 25, 2022
Yet, as Hafey's hardened frame wrapped in his customary trefoiled tee isn't staring down at him, 'Fly' will know that despite the rhyming beginnings the pair share, an alternative ending still requires writing.
With their place in the eight setting by the week, there is a prevailing view that the nous McRae gained under the ilk of Leigh Matthews, Damien Hardwick and Alastair Clarkson is coming to the fore.
But in the mind of the man tasked with moving the magnets, the ability to even begin thinking about the business end of the year has far more simplistic origins.
"We're learning so many lessons as a group. We're not winning games today if we didn't learn the lessons of losing to West Coast. We won the game last week on the lessons we learnt losing to Geelong," McRae told Zero Hanger post-game.
"I've been around long enough. You just need to keep banking wins and hopefully learn good lessons along the way."
While the riches McRae helped haul in the Sunshine State may prove out of reach this year, many of the grey clouds from the last have lifted, with life at the AIA Centre cast back in the preferential shades of black and white.