An area of weakness for Carlton throughout the 2022 season may soon be a genuine strength.
The Blues had said throughout the off-season they were keen to add outside run to their list with the wing position an area of concern last year. Lochie O'Brien, Matt Cottrell and Jack Newnes all played on the wing at different stages in 2022.
An unsuccessful stint from midfielder Adam Cerra in the Blues' loss to St Kilda was another clear indication the wing was a priority.
After securing Blake Acres from Fremantle in the trade period the Blues continued with that strategy in the National Draft. After securing Oliver Hollands with their first-round selection, Nick Austin and his team doubled down when selecting Lachlan Cowan with Pick 30.
Cowan comes to Princes Park from Tasmania and is another endurance athlete the Blues could utilise on the wing.
Having originally carried Pick 32 into the second night, the Blues traded their way up in a deal with Collingwood that saw them part with their 2023 second-round selection.
Austin told Zero Hanger about the urgency to move up in the draft and secure Cowan.
"We made it pretty clear early on we were keen to get back in at some stage, in between our first (pick) and second (pick)," Austin said.
"(It's his appetite for the contest. He's a fantastic athlete, he's a metres gained player. His overlap run and long kick, we love the way he plays, we love his attitude, he's a team player.
"We really wanted to improve our running capacity as a group. With Blake in the trade period and Lachy and Jaxon (Binns), we've got some guys that can run so we think we've addressed that quite well."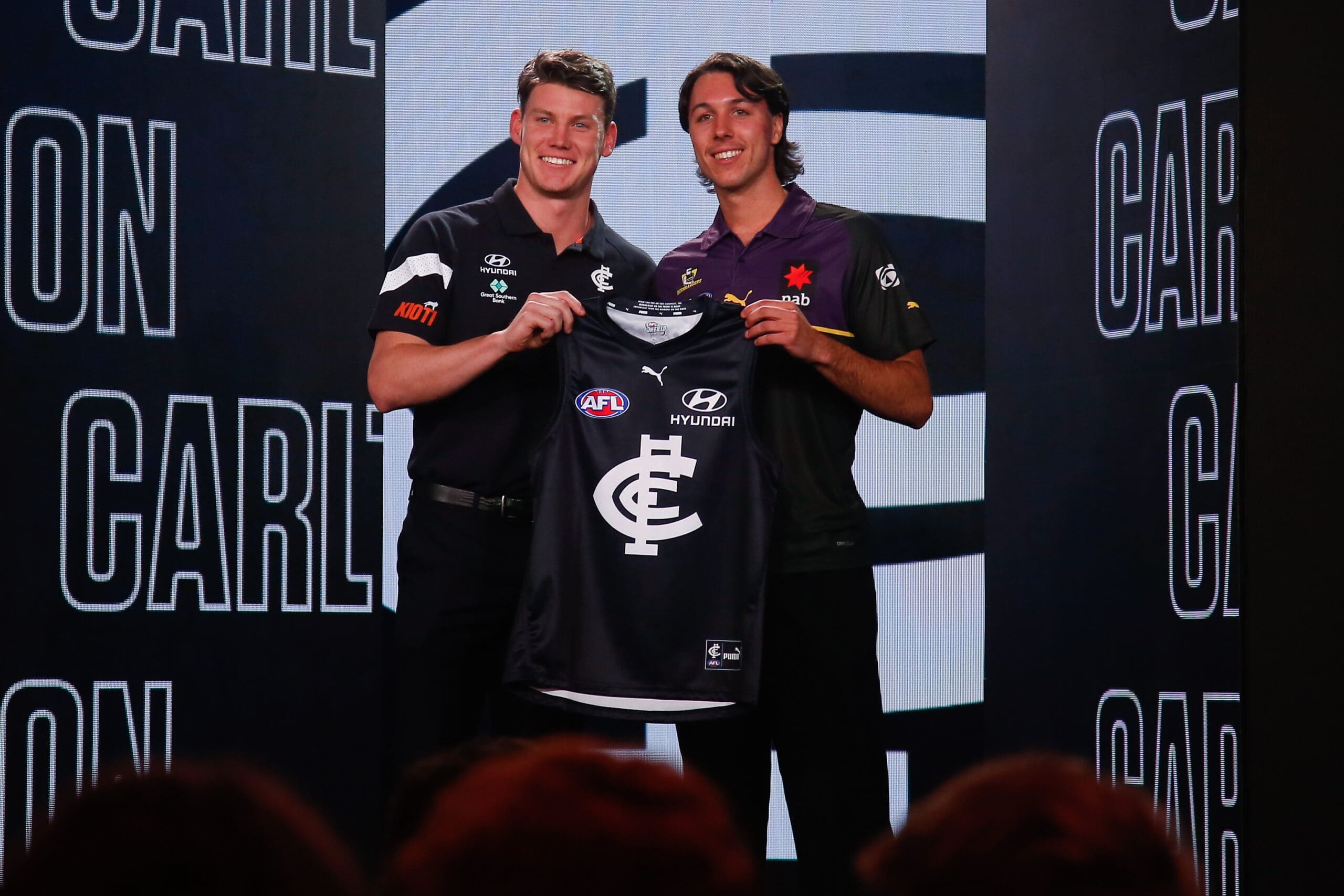 With their final pick on the night, Carlton selected Harry Lemmey, a key forward who was touted as a potential number-one prospect at the start of last season.
The South Australian had a less-than-ideal campaign but Austin believes his upside was worth taking the punt on.
"Going into the season he was up on our board quite high," Austin said.
"He's had an up-and-down season consistency-wise. (He) had a bit of health (issues) with covid and things like that earlier in the year so it was a bit of a disjointed season but he's a great athlete, a beautiful mover, and to have one (key forward) develop under Harry (McKay) and Charlie (Curnow), we haven't really had that.
"It's exciting to park one there and see how he develops."