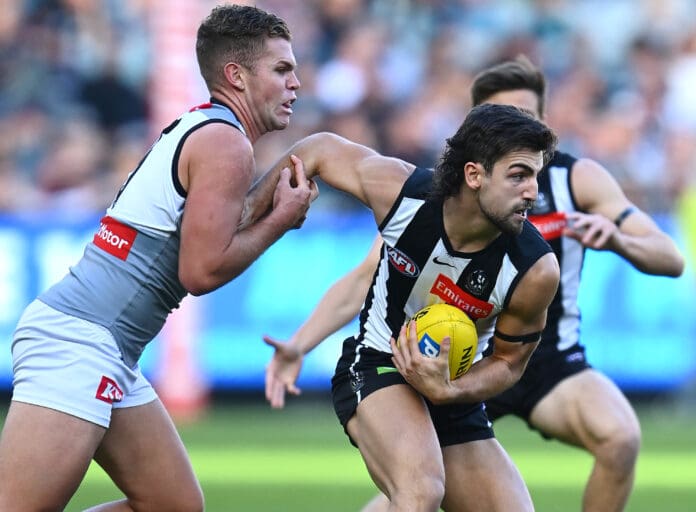 Prior to every round of the 2023 AFL season, the team at Zero Hanger will explore the biggest on-field talking points that bear attention in the lead-up to each weekend of games, examining the teams, players, and strategies that shape to determine the outcomes of matches.
'Under the Microscope' in Round 2 is Carlton's ball movement, Geelong's defensive game plan, Brisbane's physicality, strategic mind games between the Pies and Power, and Matt Flynn's coming-out campaign.
Will the Blues adjust their path to goal?
A potential alteration of the Blues' preferred avenue to goal may be one of the bigger topics weighing on coach Michael Voss' mind, as his side prepares to enter into a momentum-defining Thursday night clash with reigning premiers Geelong.
When provided with the opportunity last Thursday, Voss' Blues were hesitant to attack the corridor during their draw with Richmond, often choosing the wider, more complicated route, which in most cases resulted in stagnated ball movement, a long kick up the boundary line, and, ultimately, a reduced tally of forward-sector entries.
Carlton had 21 fewer inside 50s than Richmond, which, upon reflection, isn't a surprising revelation considering the Blues' hesitancy to attack through the middle column of the ground.
The absence of dare in some of Carlton's play was evident, and it may be the centre-point of one of the key differences we see between the playing style of last week's Blues, compared to this week's against a Geelong side that, despite being overrun by the fast-finishing Pies, won't hesitate to attack from any front.
Expect a more stringent Cats defensive strategy
Without sugar-coating it, the Cats were demolished by the Magpies with ball in hand. Collingwood registered 30 scoring shots (+7) from 62 inside-50s (+16), boasted 77% disposal efficiency (+7), and was catapulted by 29 stoppage clearances (+11).
In particular, the Magpies, via the damaging influence of Nick and Josh Daicos, rampaged through the middle of the ground and penetrated a Cats defence hampered by in-game injuries to Tom Stewart and Sam De Koning, exposing an apparent vulnerability and raising some concern heading into Round 2.
The Cats will be required to make defensive adjustments prior to their matchup with the Blues on Thursday, particularly considering the likely amendments Carlton coach Michael Voss is expected to make to his own side's attacking plans.
What can we expect of the Lions' Round 2 physicality?
A rebound from Chris Fagan's Lions in their aggressiveness at the contest should be expected in Round 2, following their capitulation at the hands of Port Adelaide last weekend.
Brisbane were thrashed in the contested-ball category, outworked 150-116 as Port's prolific midfield duo of Jason Horne-Francis and Ollie Wines dominated at the coalface, while Lachie Neale had one of his least influential games in recent memory, leaving Josh Dunkley to shoulder most of the Lions' physical work. The result for Brisbane: 25 fewer inside 50s and 19 fewer scoring shots.
The Lions are scheduled to face Melbourne, a team against which they have built a fierce rivalry in recent seasons, on Friday night in their home opener. The Demons, while coming off a dominant performance against the Western Bulldogs in Round 1, were affronted by this Brisbane outfit in a semi-final last year, ultimately succumbing to elimination.
Irrespective of whether or not the Lions come away from Friday night's blockbuster with four points, a significantly harder-at-the-ball Brisbane outfit should be expected to show up at Woolloongabba.
Will a tactical game of chess play out between the Pies and Power?
As previously touched on, Collingwood ran rings around Geelong through the middle of the MCG, causing the rest of the competition to take significant notice. Craig McRae's men embraced the risk of playing through the middle passage, exerting irrevocable scoreboard damage and handing the Cats a loss to start the new season.
When the Pies look to make it two-from-two this weekend against the Power, we could see a strategic stalemate occur between McRae and Port Adelaide mentor Ken Hinkley, who will be preparing to implement a plan to curtail Collingwood's corridor influence this Saturday.
Theoretically, the Power will be looking to clog the middle column of the ground in hopes of containing Collingwood's devastatingly-paced ball movement, however, that action may just cause McRae's side to swing things back outside to the flanks. The sorcerous Daicos brothers can exploit defences both from the inside and outside, while the likes of Jack Crisp and John Noble are dangerous outside runners.
If Port Adelaide, like Collingwood, wants to remain perfect on the season, they will not only have to plan for the Pies' corridor game but their outside craft, too.
Pay attention to the emergence of GWS ruckman Matt Flynn
Flynn attended a substantial 26 centre-bounces in GWS' season-opening win against Adelaide last weekend, which was equal-most on the ground alongside teammate Stephen Coniglio, to go along with a goal and 25 hit-outs. Flynn did all of this against established Crows ruckman Reilly O'Brien.
Giants coach Adam Kingsley spoke glowingly mid-week about Flynn's progression.
"I thought (Flynn) was enormous for us, our centre-bounce numbers, particularly after half-time, were really significant in us being able to turn the game [in our favour], and [Flynn] played an enormous part in that, being able to hit to advantage [and] put [the ball] into the path of our little blokes and then really being able to maximise [that]," the GWS coach said.
"I thought, he's playing on one of the really, really good ruckmen of the league, you know, probably understated in Reilly O'Brien I think, certainly very important to Adelaide, and I thought [Flynn] did a marvellous job on him."
In a battle for the leading ruck role in Adam Kingsley's side, Flynn is duelling Braydon Preuss, who, along with occasional disciplinary issues, is prone to injury, as he is currently sidelined. At this premature stage of the season, Flynn has to be considered a length in front.
The 25-year-old has an opportunity this weekend to extend his head-start, facing inexperienced West Coast ruckman Bailey Williams on Sunday as Nic Naitanui remains out injured.