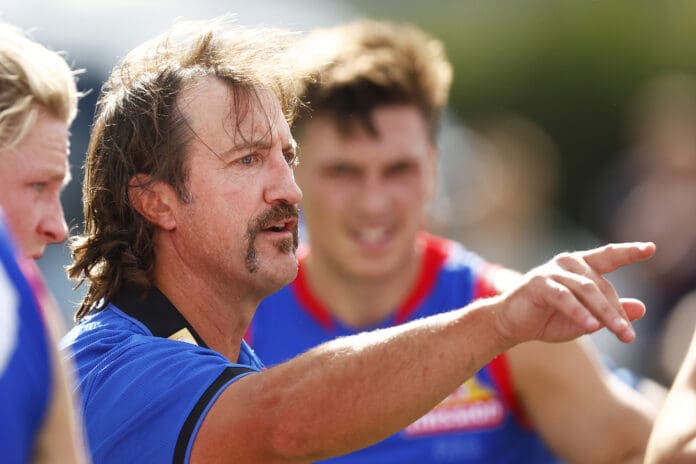 Western Bulldogs head coach Luke Beveridge is expecting Caleb Daniel and Adam Treloar to return this weekend ahead of a massive challenge against Geelong on Saturday night.
He remained tight-lipped on where they'll play, but said team balance will guide their decisions ahead of the match.
"(Caleb) should be available. He'll train today, but we anticipate he'll be fine and will head down the highway to play the Cats," Beveridge told media on Thursday.
"We think (Adam) will be okay. Again, he'll train and if there's any doubt at all we won't play him, but we think he'll be fine."
"It's good for us so we'll work through it. The important thing is that they play the phases well together in whatever roles they're in so we've got to land that at the right place."
The Dogs currently sit in eighth spot, on percentage, with Beveridge well aware that they face a huge challenge against the ladder leaders Geelong at Kardinia Park on Saturday night.
"The Cats have been extremely impressive. Everyone's talking about them being the new benchmark, so obviously they're at the top of the ladder," he said.
When asked on where the Cats had excelled this season, Beveridge pointed towards their consistently even output across the ground so far this year.
"They've been extremely even... critical players that midfield area that have led up others to play well," he continued.
"And so the discipline in their game has allowed them to rise to the top... it's (this weekend's game) as challenging as they come.
"Their strength and power through all their lines and their ability to cover guys who haven't been available you know... on their wings (Sam) Menegola has been out for most of the year... (Jack) Henry out for a while (and they've) been out of cover him down back."
Beveridge spoke of his side's need to improve some defensive principles off the back of the Cats being more adventurous with the way they move the footy offensively this season, outlining that as the reason for Geelong's increased score aggregate.
Additionally, he described Cats' defence as 'sturdy', claiming they had the bodies to contend with the Dogs' big key forwards.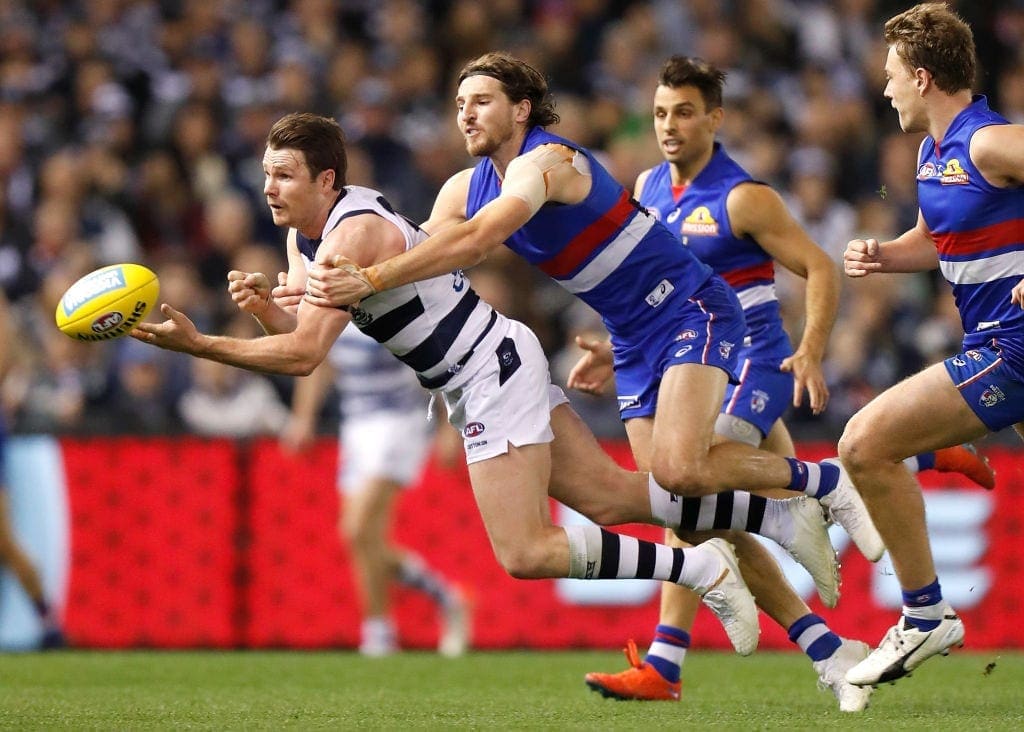 The Bulldogs' form has been difficult to gauge in season 2022, with their last month returning two thumping losses at the hands of Sydney and Brisbane, before impressive wins against St Kilda and Melbourne in the past fortnight.
The latter win, a three-point thriller, was highlighted by a career-best performance by Jamarra Ugle-Hagan, who established his presence forward of the ground, picking up five goals.
Beveridge said it was pleasing to see Ugle-Hagan's hard work rewarded through establishing a match-winning performance.
"It's going to be beneficial for him to be able to establish that sort of almost match winning performance against last year's premiers on the big stage," Beveridge continued.
"You know, a huge, huge game for us. And so just the circumstances and where that game fell for him to be so influential.
"I think as far as coming of age, he's worked extremely hard behind the scenes. Not only his preparation to play the game and the level of endurance and speed and power, but also on the skill aspects. And so he's getting some reward from that."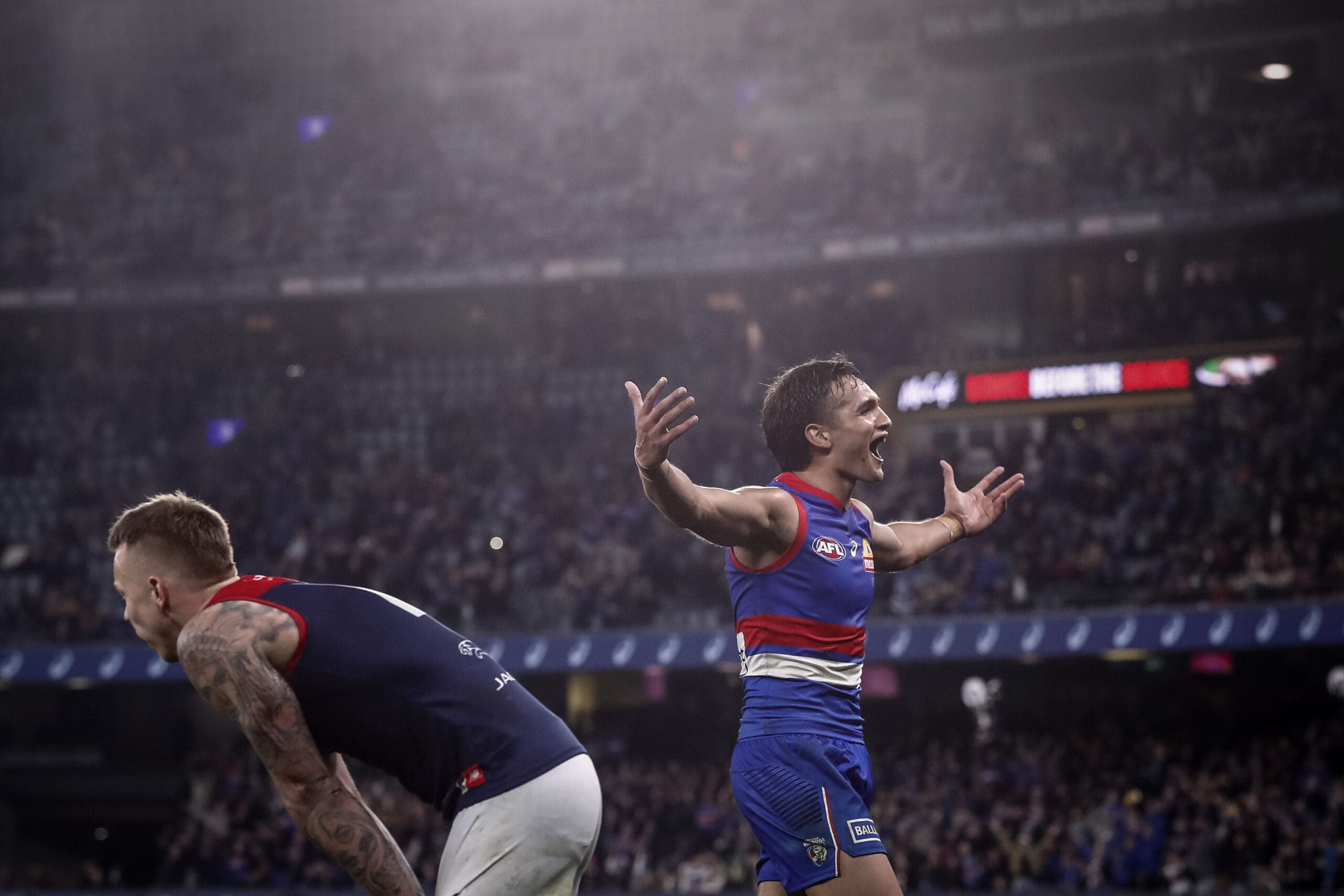 In light of Ben Miller's medical substitution last Friday night in Richmond's draw with Fremantle, Beveridge implored a rule change to remove the ambiguity of the medical sub.
Miller did not appear to suffer any visible injury, but the legitimacy of the substitution on medical grounds has been ticked off by the AFL.
"Don't make it a sub," he said.
"Like just to say you've got five on the interchange and can use them if you want. It'll add a bit of tactical intrigue.
"It creates a different angle but all it does is it removes all the red tape."
Western Bulldogs: "It removes all the red tape"

Senior coach Luke Beveridge calls for 5 players on the bench and no sub@aflratings pic.twitter.com/JPirewipZj

— aflratings.com.au (@aflratings) July 28, 2022
The Bulldogs face Geelong in a crucial match at Kardinia Park on Saturday night (7.25pm AEST).