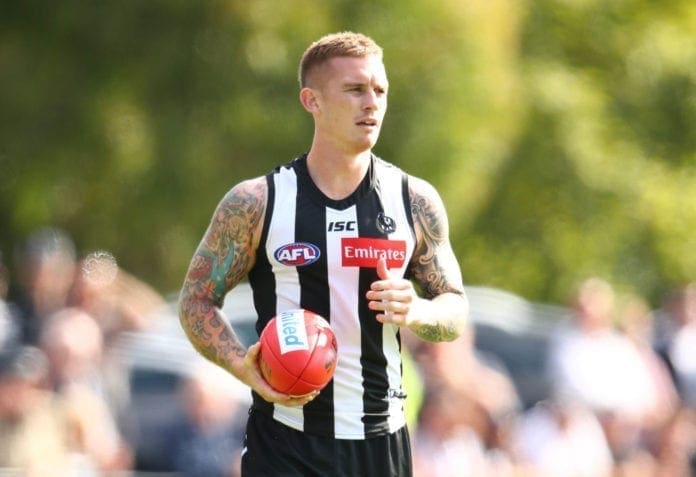 Collingwood midfielder Dayne Beams has spoken out about his indefinite leave from footy and his decision to auction his 2010 premiership medal to help support the bushfire cause.
The 29-year old stepped away from footy in December to address his ongoing mental health issues that caused him to miss a significant part of last season.
Beams is tracking well after a few weeks off, having found solace in art.
"I'm going pretty well," he told SEN Afternoons.
"I've found a bit of purpose with my art. I've decided to create a website for it and all the stuff I was doing was just stacking up in my son's room so we had to get rid of it somehow.
"We thought we'd team up with a mental health organisation and we'll sell some pieces and I'll donate a percentage of those to the Love Me Love You foundation who support mental health and do a wonderful job in that space.
"That's been going really well for me and I said, it's given me a purpose outside of footy and it has been really good for my head and it's something I find really therapeutic. It has been really good for me."
The auction for his medal has just ticked over $24,000 as of Tuesday afternoon, with Beams finding inspiration from Shane Warne.
The Australian cricket great put his baggy green on auction, which sat at $200,000 an hour after opening and is currently at over $300,000.
"I actually follow Warney on Instagram and I saw his post with his baggy green and it got me thinking 'what can I do?' and I thought one of my prized possessions is my premiership medallion and I decided to whack it up for auction and try to raise money for all the victims that have been impacted by the fires," Beams told SEN Afternoons.
"I guess for me it's a material object. For me, the things I treasure most are the ones in my head.
"I've got a lot of great memories of the premiership and they're never going to go away.
"It sits in my top drawer at home so it's not in any place where anyone can see it. It just sits in my drawer and I just thought there's a lot of people out there who need help and I can sell it and raise as much money as I can.
"I think Australia as a nation has been touched by the devastation of the fires and there's been a lot of sports people in the sporting fraternity who have come together.
"I love living in this country because when times are tough we always get behind one another so it is the least I can do."
Beams was hoping to raise $30,000, with the auction ending on Wednesday afternoon.
"Originally I was going to run my own auction on Instagram and it got a bit out of control and I couldn't keep up with it all," he said.
"One of my mates works at Lloyd's Auctions and he got onto me and asked me if I wanted to put it on the website.
"It's now on Lloyd's auctions and the link is in my bio on Instagram.
"We're aiming to get it over $30,000.
"It's still in great condition. It hasn't really left the drawer. Whoever gets it is going to be in possession of a pretty prized item."