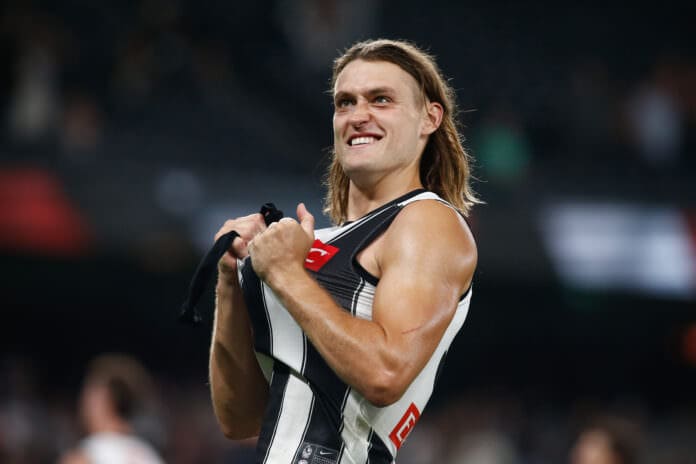 After yet another impressive Collingwood win, second-year coach Craig McRae spoke on the many windfalls he was witnessing unfold, especially those behind the ball.
Pies skipper Darcy Moore had a day out defensively, setting a new AFL record with 11 intercept marks. His dominant display led the Magpies from the back to a 29-point win over Carlton.
"Remarkable. At times you'd think he was the forward. He just out-reads the opposition and he's playing on incredible players. He just out-positioned them. He just had a day out didn't he," McRae said post-match on Sunday.
"The way he's playing right now, he's at the top of his game for sure."
The Pies' game plan revolved heavily around stopping Carlton's pair of Coleman medallists, Charlie Curnow and Harry McKay.
"You always think of your threats and those two are considerable threats. We don't have a second tall at the moment and we're playing undersized with (Nathan) Murphy and (Brayden) Maynard. You have concerns around if we've got the height to go with Harry (McKay)," McRae added.
"Ideally, we put pressure on the ball and it's less of an issue for us. Curnow is a great forward of the game, he's athletic, jumps at the ball so we thought that was a good matchup for Darcy (Moore)."
Throughout the season, the Pies have been a fast starting side, tending to outscore their opponents in the opening quarter and maintaining an early lead.
"We want to hit the ground running; this group's hard to stop when they move the ball fast," McRae professed.
Early in the second half, the Blues gained some momentum in what McRae described as an "arm wrestle". The game entered a defensive holding phase, with the dash and dare of the opening half dissipated as Carlton attempted a comeback.
"The game was played in the defensive half more than it was in the first half and to keep the opposition to low numbers; we can't choose or pick when they miss goals, but we can decide or force them into positions where they're having shots from wide," said McRae.
"It is a pleasing part of our game that teams haven't gotten momentum on us too much in recent times."
The Pies welcomed back their number-one ruckman Darcy Cameron as he made his first appearance since his MCL injury in Round 3.
"He's an important part to us. It allows Ash Johnson to stay forward more and then we'll have Dan McStay back in a couple of weeks, Billy Frampton back in a couple of weeks so then you get bigger bodies and be able to play a certain way", McRae said.
A key moment of the game was a Mark of the Year contender from Johnson. McRae explained his desire to "have players who express themselves" in the way that they play.
The Pies have had their fair share of injury concerns throughout the season, however, McRae is pleased with the ways in which his side adapted.
"In adversity in injury, we've got players playing multiple roles now, so we've got some flexibility amongst that", he expressed.
Collingwood moved to nine wins and one loss in an impressive start to their 2023 campaign.
The Woods' fixture is set to open up ahead of the bye, with fixtures against North Melbourne and West Coast across the next fortnight.