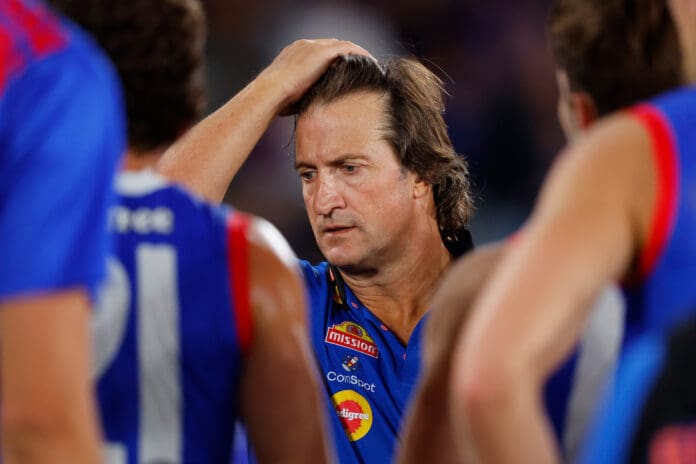 The Western Bulldogs may be at risk of wasting a golden age of top tier talent if they do not make a big decision in their fast-approaching off-season.
Sunday's three-point loss to Hawthorn came in a blatant coaching mismatch between Luke Beveridge and Sam Mitchell.
Yet again, Beveridge's men struggled to steal momentum away from a rampaging opposition and allowed strings of goals in quick succession, dampening the spirits of the playing group during a Round 22 trip to Tasmania against a bottom three side.
On six different occasions this year the Dogs have let a winnable position turn into an alarming defeat, and their most recent case study may have showcased the most unnerving signs of the lot.
The loss of Tom Liberatore was obviously crucial; taking away their number one ground-ball and clearance player despite a Finn Maginness tag.
But their perpetual knack of conceding bulk scores quickly, combined with a farcical display of late-game execution, highlighted a glaring problem for a football club who are now wasting the absolute prime of some of the game's best.
Down by three points with 47 seconds remaining, the Bulldogs were tasked with pulling off a coast-to-coast chain and goal to essentially keep their season alive.
Extraordinarily, it was 208cm ruckman Tim English who stepped up to kick out of full-back, rather than rush to set up as a marking option down the line.
The big man proceeded to take three bounces out of the goal-square, gaining roughly 30 metre in the process, and hack a drop punt to a one-on-one contest on the wing, where they coughed up a potential burst through the corridor and let the seconds tick down.
For a side with former premiership integrity and a recent grand final appearance, the Bulldogs showed no apparent two-minute emergency plan or tactic to win such an important game of football, and the fault must lie in the coaches box.
Post-match, Luke Beveridge conceded that "the influence of some of their (Hawthorn's) key playmakers around the stoppage... put us under pressure", yet failed to highlight any method of halting a 22-year-old Jai Newcombe on his way to 40 touches and a goal.
"We couldn't get any momentum, couldn't get any ball movement, couldn't get the ball", he added.
The Western Bulldogs may realistically boast three of the four starting All-Australian midfielders in 2023, with English, Marcus Bontempelli and Liberatore all in career-best form, rating as three of the competition's top six rated players.
Accordingly, the contest and clearance facet of their game as a whole might be the best in the competition - ranking second for groundball and clearance differential, and third for contest.
This should be a given when you cast your eye over the premium make-up of talent associated with those numbers.
The problem is that every other important facet of their game this season has been lacklustre.
Their forward structure relies on Aaron Naughton, Jamarra Ugle-Hagan or Cody Weightman creating something out of a dump kick or an even contest.
Their defence relies on Liam Jones' dominance and is flakey otherwise.
They are a bottom-eight team for intercept differential, meaning they aren't able to create turnovers at the rate of even the average AFL side.
This all begs the question; what is Luke Beveridge providing the Western Bulldogs' playing group in order to succeed in finals?
Their point of difference is their high-end talent; Bontempelli, Liberatore, English, Adam Treloar, Jack Macrae, Bailey Smith, Naughton, Jones, Ugle-Hagan, Weightman, Bailey Dale, EdRichards and Caleb Daniel.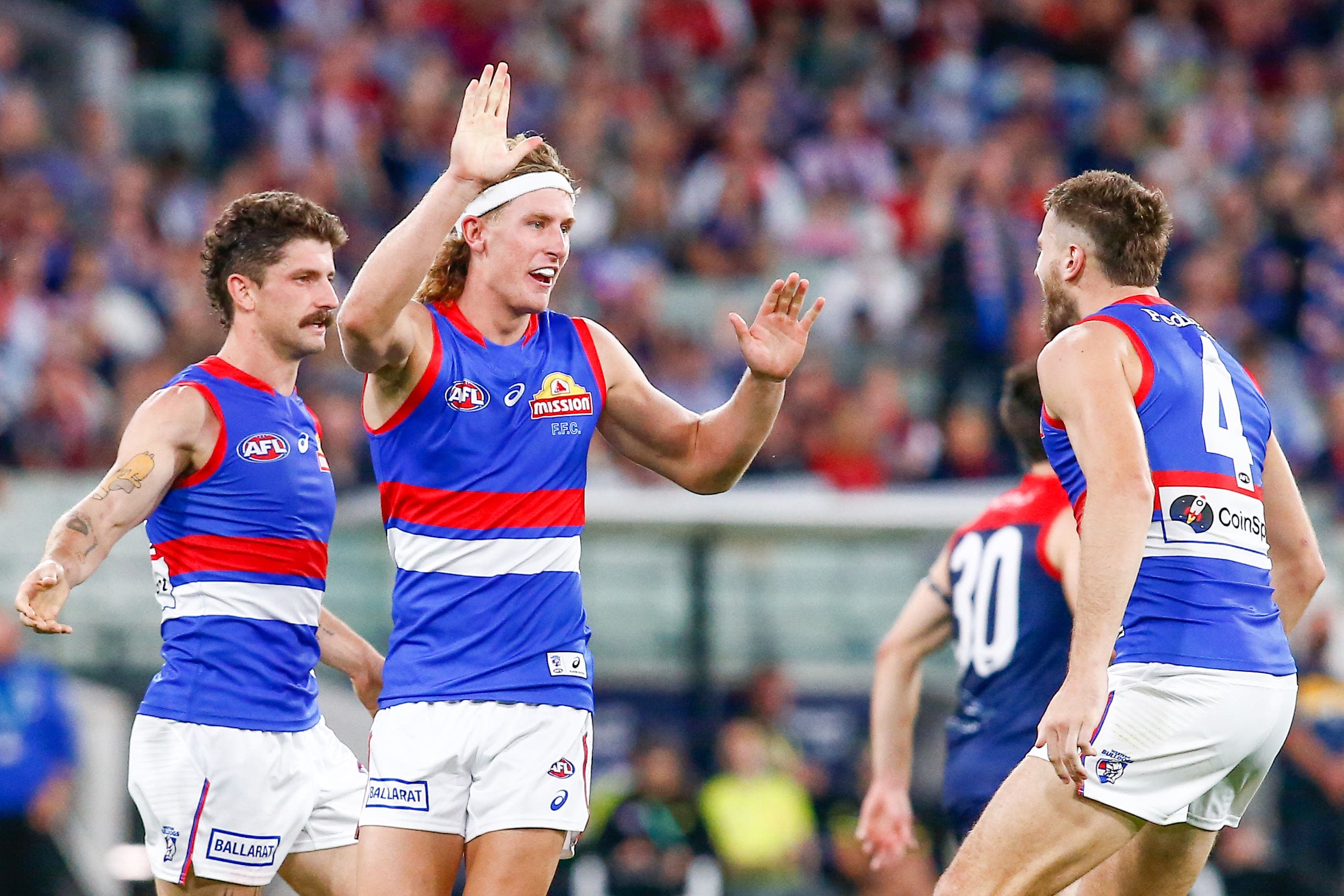 Their list management, while heavily midfield focussed, has produced a team littered with elite attributes like Liberatore's hunt, Naughton's clunks, English's size, Smith's run, Daniel's kicking or Bontempelli's unmatched skill.
This is a list that does not want for much.
So, did the Bulldogs dig themselves a hole by re-signing Beveridge last off-season?
There is enough evidence to suggest that September of 2016 produced one of the great aberrations in AFL history when the Bulldogs pulled off the ultimate four-week winning campaign to taste premiership glory.
In every season since, they are yet to finish top four and they routinely have their season ended in disappointing fashion.
Beveridge still has another year left on his contract, and the Bulldogs may have a hard time pondering this decision as their season fades once again.
Pundits will have little reason to back them in 2024, unless their method of play changes drastically.
The easiest way for that to happen is to change the coach, and after nine years at the helm, the Bulldogs may be due for a fresh start before the prime of Bontempelli and co. is wasted further.