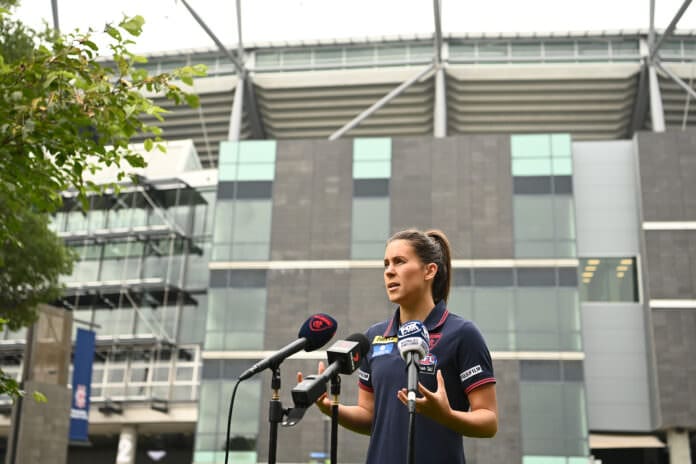 Melbourne finds themselves on the cusp of history as they're set to battle Brisbane for a spot in the 2022 AFLW Grand Final in the league's first game at the MCG.
An amalgamation of factors has prevented the mecca of footy from hosting the competition since its inception in 2017, such as the prominence of interstate sides Adelaide and Brisbane, scheduling conflicts with the cricket and Covid scares.
Demons All-Australian defender Libby Birch didn't shy away from her belief that the AFLW deserves more games at the G starting from next season.
The former Bulldog continued by alluding to how she was doubtful that this scenario would manifest but remained adamant that her side wouldn't succumb to the pressures of the moment.
"For us it's going to be about absorbing the week. We enjoy the moment without being overawed but really trying to stay in the moment," Birch said via The Herald Sun.
"I would absolutely love for more round games to be played here, not just finals. I think this is the point where we go we introduce women's footy to the 'G, and from there on in maybe some double-headers with the men – Collingwood and Melbourne, before or after.
"I feel like this game is more than just a 'prelim' between Melbourne and Brisbane. It's a chance for all footy fans to get out here and celebrate women's footy … I truly feel this is the game to do so."
As a means of addressing the league's impending expansion, the AFLW's administrators is pushing for an August start to their next season which would both allow an expanded schedule and longer season, in addition to securing the country's best grounds for their athletes.
When prompted for thoughts on the proposed changes to the AFLW season start, Birch spoke with excitement and optimism despite concerns raised surrounding such a short turnaround between seasons.
"I really like an August start, it's perfect timing, it harmonises the ability to play with the men and then also for us to have a bit of clean air," she said.
"Then the ability to play in good conditions but also to use the (main) stadiums which we can't do in summer because of the cricket pitches. I think there's (sic) multiple benefits for us playing in August.
"We want to just play more footy … have more opportunity to play on the best grounds, so I think that's heading that way."
Saturday's clash will pit the second place Demons against the reigning premiers in what will no doubt go down as a monumental spectacle for women's footy.