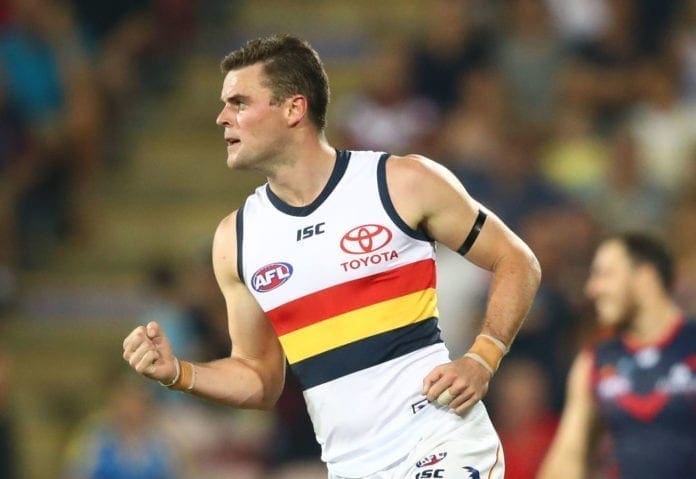 While admitting the Saints won't have the same impact they did in last year's exchange window, St Kilda list manager James Gallagher has revealed the club are pursuing a number of avenues to better their list for 2021.
Adelaide midfielder Brad Crouch has already elected the Saints as his club of choice as he looks to exercise his free agency rights, with the Crows likely to force a trade for their star onballer.
Speaking on AFL Trade Radio, Gallagher said the club won't be as bust as last year but have identified a number of targets for the off-season.
"(It's) fair to say we won't be as active as we were last year," he said on Trade Radio.
"We made a lot of change and we think we have done a quite a bit of work.
"We're growing, but need one or two to come in in this trade and free agency period to help our group improve again.
"I'm not sure what the compensation will look like for the Crows. We've put a really fair deal to Brad. We're still working through the fine points of it with his management.
"You'll get a reasonable idea of that deal when the compensation is announced when we lodge with the AFL, which opens at the end of the year."
Saints pair Jimmy Webster and Luke Dunstan were linked to a move to West Lakes last week in a deal to land Crouch, however Gallagher looked to quash any reports suggesting the duo could depart.
"They're both contracted and they are both good AFL players. It's just the way the season worked. They both got injured at the wrong time. Contracted for next year and at this stage we have had no indication that they won't be with the Saints in 2021."
The Saints have also been linked to delisted Essendon tall Shaun McKernan, with Gallagher suggesting the club are seeking some insurance for their current key forwards.
"It is more one that we were so impressed in Kingy in basically his first year of AFL. We see a big future for Max and we love having him at our footy club," he said.
"But I reckon we are a little bit exposed if we get the wrong injury in the wrong spot, that's not just Max. Our team worked well when we had the two tall forwards and Membrey.
"We don't want to be compromised with our structure if we get the wrong injury in the wrong position.
"It's not an area of the ground that we will throw a lot of assets and money at. We think we've got our number one forward, but we just need some more support if we get the wrong injury in the wrong position.
"He (McKernan) is one of a few. He has finished up at Essendon. There's a few marking forward types who are out of contract or finishing up at their current clubs and we have made number of calls to their management, but he's one."
Gallagher couldn't rule out a move for wantaway Kangaroos forward Ben Brown, but backed the development of King to lead the St Kilda attack.
"I'm not going to rule anyone in or out, it's early days. We've got a guy in Max King that we think is going to be our No.1 key forward and we will make sure that is the case and he gets the support and development that we hope he becomes."
Speaking on their defensive structure, Gallagher hinted the Saints may look to bolster their backline with height.
"Possibly. Bit similar to the forward line. We played Dougal and Jake (Carlisle) most of the year and that combination seemed to work. Even in the finals, Cal Wilkie (did a good job). That is an area of the ground we may look to stiffen up with next year."
Carlisle's future remains up in the air, with Gallagher hoping the club can finalise deals for the key defender and small forward Jack Lonie.
"Hopefully get a resolution sooner rather than later. We've got a deal in front of him (Carlisle) with his management. Hopefully that gets sorted in the next few days or week. We've got a deal in front of Lones and his management at the moment. I think we will know more there in the coming days. I did read there was some interest. I'm not sure if that's absolutely the case, but hopefully we get a resolution sooner than later."
For all the latest trade news, rumours and free agency updates, visit the Trade Centre.