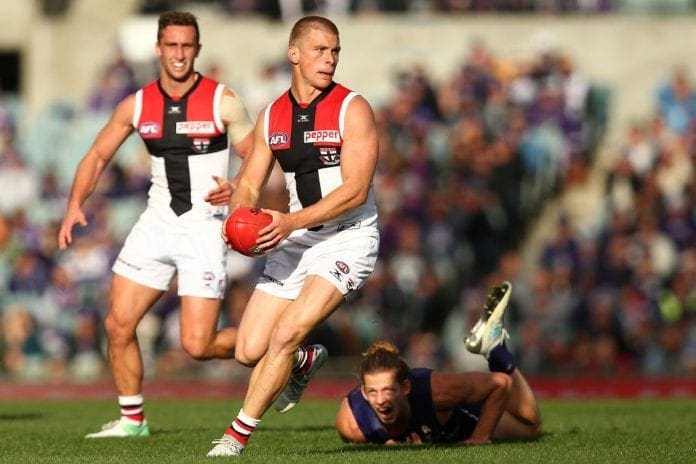 St Kilda midfielder Seb Ross has turned his back on free agency and signed a two-year extension with the Saints.
Mitch Cleary of Channel 7 is reporting that the 28-year-old did test the open market before eventually deciding to recommit to the Saints until the end of 2023.
Ross is the latest St Kilda free agent to be locked away at Moorabbin after Jack Billings put pen to paper on a four-year extension earlier this year.
Head of List Management James Gallagher said Ross' leadership and character was a terrific asset at RSEA Park.
"We're really pleased to have Seb recommit to the club," Gallagher said.
"A lot of Seb's work goes unnoticed externally, but inside the four walls we recognise just how important he is to our side on a number of fronts.
"Seb is an honest and genuine guy, who has been a very good player for a number of years. More recently his versatility and willingness to play multiple roles for the team has become a really important aspect of his football.
"He's played a prominent role in developing the likes of Ryan Byrnes and Jack Bytel during the past few seasons, and we have full faith he'll continue to do that for many other young Saints. 
"We look forward to seeing what Seb can produce in the coming seasons."
Ben Long has attracted interest from Essendon and could be used to bring in some draft capital, with the Saints keen to have a bigger play in the national draft than in previous seasons.
St Kilda currently hold picks 9, 46 and 64 and have two NGA prospects nominated for the 2021 draft. This includes Mitchito Owens, who is expected to be selected within the top 20, meaning the Saints will be unable to bid on him.
Just Jack Lonie, Dean Kent, Paul Hunter and Darragh Joyce remain without deals currently at St Kilda with most, if not all of them likely to know their fate after the trade period has finished on Wednesday, October 18.
Luke Dunstan has been informed by the club that he won't be receiving a new contract at St Kilda. He has also been linked with a move to Essendon with Bombers General Manager of Football Josh Mahoney saying that the Bombers could well be in a place to offer Dunstan a lifeline.