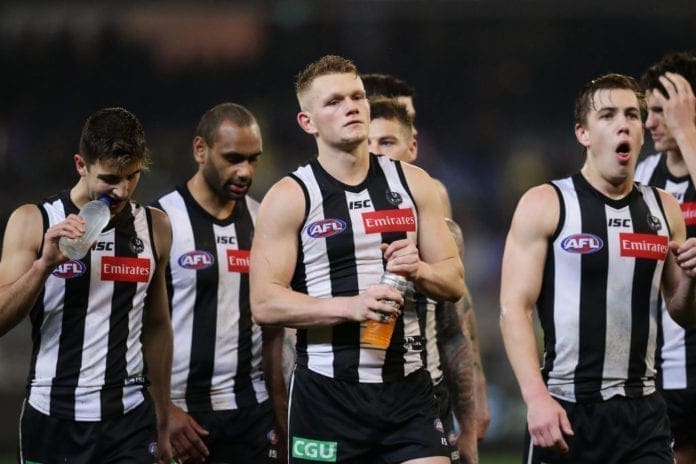 Collingwood list boss Ned Guy has spoken out on the state of play of six key names amid a defining trade period for the club.
The Magpies have been at the centre of trade speculation this off-season, with Adam Treloar, Jaidyn Stephenson, Tom Phillips and Mason Cox all linked to moves, while Brody Mihocek and Jordan De Goey remain unsigned for 2021.
Speaking on AFL Trade Radio's Trade Exchange, a tight-lipped Guy provided an update on several players in Collingwood's first public comments since the conjecture begun.
ADAM TRELOAR
"We're just working through a few things with Adam and his manager.
"I know there's been some conjecture about when were going to talk about it, but there's an agreement with Adam's manager that we weren't going to play this out publicly and discussions through the media.
"Adam is a very good player and we're working through things, Trade Period only started today and not in the last few weeks."
JAIDYN STEPHENSON
"A conversation with a player doesn't necessarily equate to them leaving ... I guess that (him playing at the Pies in 2021) remains to be seen (despite being contracted), we've got to get through trade period.
TOM PHILLIPS
"I think his manager Alex McDonald came out the other day and it was more of a discussion around his role. We moved Josh Daicos up to the wing this year and he had a super year and we've got Steele Sidebottom to come back. It's more around a role discussion.
MASON COX
"Again, constant discussions with Mason. He has hit a trigger for 2021 and even in discussions for potentially beyond 2021. A bit to play out there, but we're not wanting to have a running conversation there ... we, like all clubs, catch up with every other club once the season has finished. We literally go through every single player on every single list so his name comes up. As I said, we're in discussions with Mason beyond 2021 as well.
JORDAN DE GOEY
(Announcing a contract extension for him) "Hopefully sooner rather than later."
BRODY MIHOCEK
(Reportedly signing a three-year deal) "Yep. I don't think it's been announced so I probably shouldn't have said that, but yeah he has."
Guy also provided an updated in the Magpies' interest on Demon Tom McDonald: "In Tom's case, we did a bit of homework. I don't think we'll go down that path."
The AFL trade period runs from November 4-12.