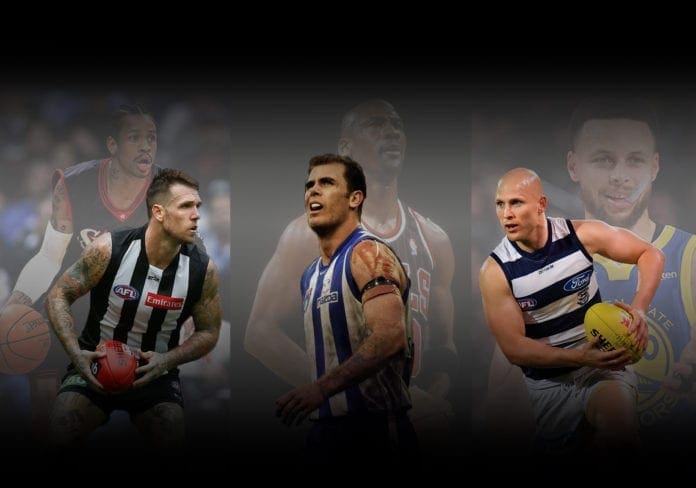 With all the hype around the NBA's 'The Last Dance' documentary, plenty of parallels have been drawn between the legendary Chicago Bulls team and other sporting icons.
The Zero Hanger team have gone one step further, comparing not only the Bulls' Big Three to their AFL counterparts, but drawing several other connections between some of each code's biggest names.
We've matched 20 of the AFL's biggest stars, past and present, to NBA superstars…
Wayne Carey – Michael Jordan
Pure greatness and sporting royalty. Both widely considered the greatest of all time, dominating the '90s and putting their underdog teams on the map. Everything they touched turned to gold and could single handily turn games. When these guys were on, there simply wasn't anything the opposition could do.
Both also switched clubs in the twilight of their careers with little success.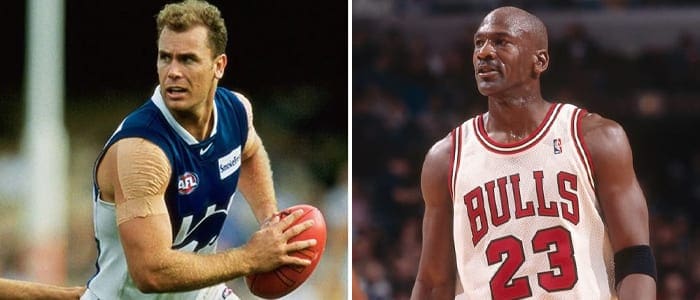 Corey McKernan – Scottie Pippen
McKernan was to Carey and the Kangroos what Pippen was to Jordan and the Bulls. On his day, McKernan was just as good as Carey, grossly underrated and underpaid across his career. Provided the perfect foil and number two option.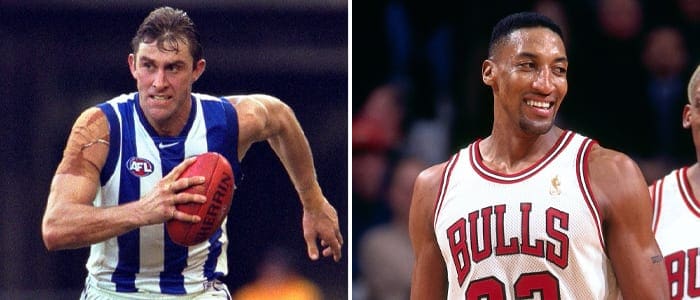 Glenn Archer – Dennis Rodman
We couldn't do Jordan and Pippen and not include Rodman!
Not the off-field party boy that went to Vegas and bleached his hair the colours of the rainbow, but the on-field maniac that did whatever it took to win, even if it meant sacrificing his own game. Make no mistake, Archer was just as sadistic as Rodman, with both players taking great pride in their defence and overstepping the line if they had to for the team.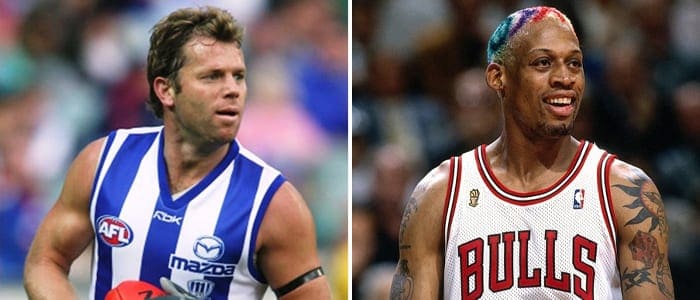 Gary Ablett Sr. – Magic Johnson
One word – showtime. These guys took the league by storm in the '80s with never-before-seen skills that changed the entertainment side of their codes forever. With highlight reels still played to this day, Ablett Sr. and Magic were not only two of the all-time great players, but performers too.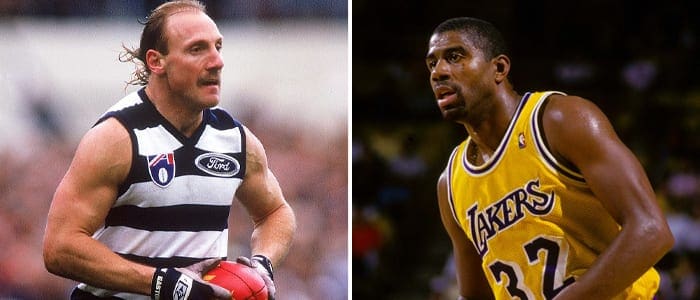 Jim Stynes – Dirk Nowitzki
The two big Europeans who joined the league and climbed to the top of the mountain, claiming MVPs and becoming the face of their clubs. Both great stories and widely considered two of the greatest international recruits.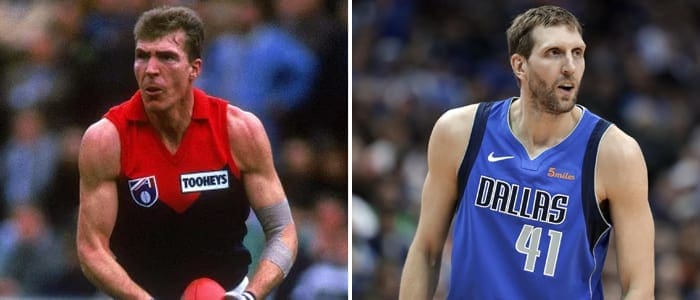 Tony Lockett – Shaquille O'Neal
Monsters. Two hulking bodies that used brute strength and sheer power to dominate their opposition. Plugger and Shaq were some of the most unstoppable physical forces we've ever seen who scored in bunches to become icons of their sport.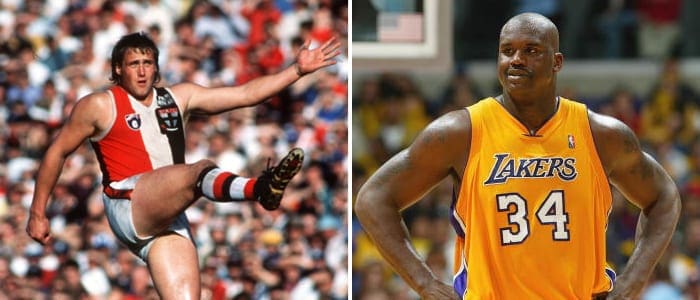 Scott brothers – Morris twins
Brad and Chris Scott were two of the toughest, and at times dirtiest players in the AFL. It reminds us of the Morris twins. When Marcus and Markieff Morris played together for the Phoenix Suns, you could bet there would be a biff at some stage if the opposition got on their wrong side.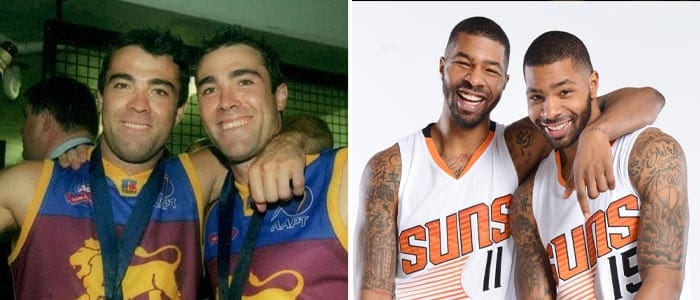 Alastair Clarkson – Gregg Popovich
Widely regarded as the two greatest modern day coaches – Clarko led the Hawks to four premierships between 2008-2015, while Popovich helped guide the San Antonio Spurs to five NBA championships from 1999-2014.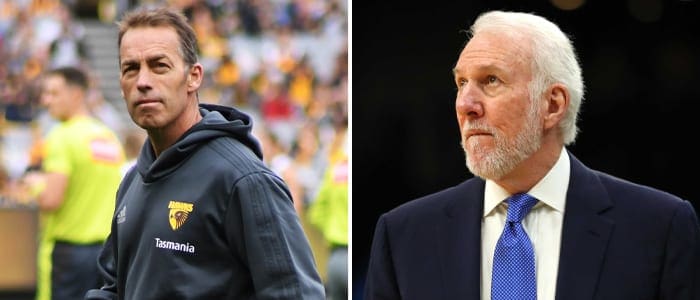 Chris Judd – Kobe Bryant
The ultimate professionals who inspired people and grew interest in the game. Transcended their codes in the 2000s as arguably the most dominant players of a generation and thrived on the big stage. The awards came in spades for Judd and Kobe, who boast some of the most decorated resumes in either sport.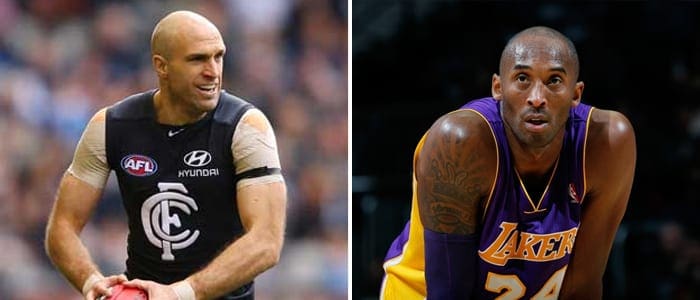 Luke Hodge – Dwyane Wade
Two of the most respected leaders to grace their respective codes who achieved the ultimate success on multiple occasions and were the MVP in some of those triumphs. Both would have finished their careers as one-club players if not for twilight moves elsewhere.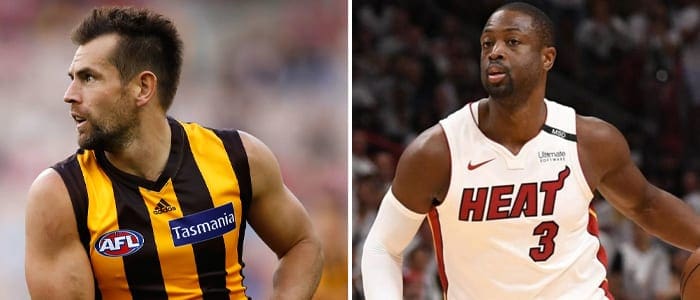 Dane Swan – Allen Iverson
The cool bad boys who were and still are universally loved by fans and changed the perception of how sporting athletes look. Iverson with his cornrows, shooting sleeve and baggy clothes and Swan with tattoos covering nearly every inch of his body. Both guys did it their way but were just as dominant as their star-studded peers, each winning MVPs.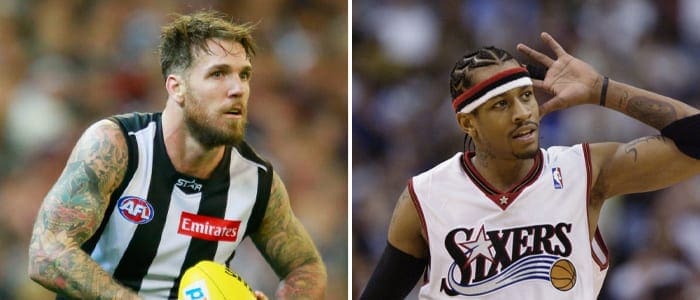 Brendon Goddard –  Chris Paul
Fierce leaders that would do whatever it takes to win, even it meant spraying teammates and causing tension in the locker rooms. Their drive to succeed is unmatched, however, silverware alludes both of these stars despite coming so close on some very good teams.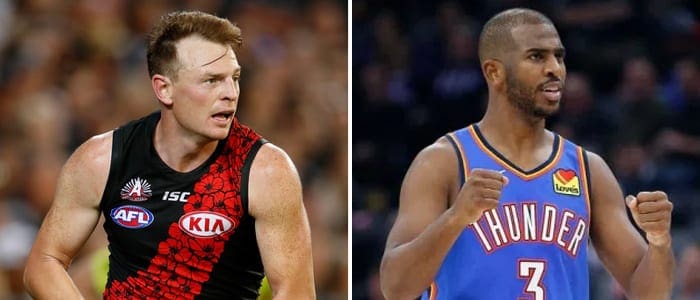 Lance Franklin – LeBron James
Incredibly talented physical specimens who revolutionised the game forever and will go down as two of the greatest. Franklin is arguably both the most athletic forward in AFL history and most dominant player from the last 20 years. Similarly, LeBron is the NBA's best of the 21st century and does things on the court court that defies physics.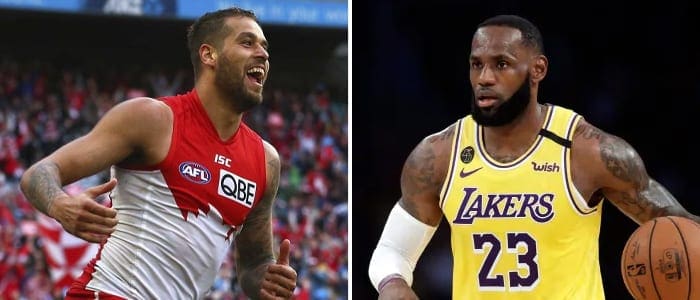 Gary Ablett Jr. – Steph Curry
Both followed in the footsteps of their famous fathers, and despite being short in stature, can well and truly rumble with the big boys. Ablett Jr. racks up disposals at the same rate Curry drops bombs from downtown, and each have cemented their own legacy as not just two of the greatest players of the modern era, but of all time.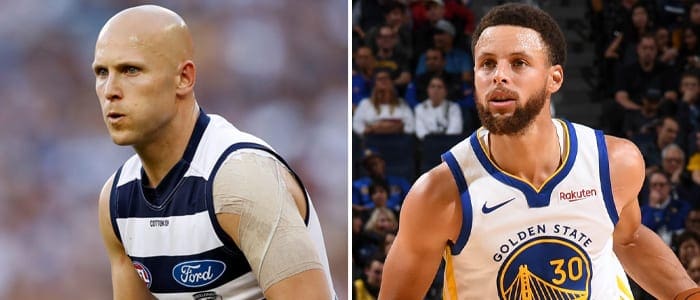 Paddy McCartin – Greg Oden
Both star juniors, both incredible talented big men, both taken with pick 1 in their respective drafts, passing on names like Jordan De Goey and Kevin Durant. And unfortunately, injuries have crippled both of their careers. For McCartin, it's been persistent concussion issues, while Oden had chronic knee problems.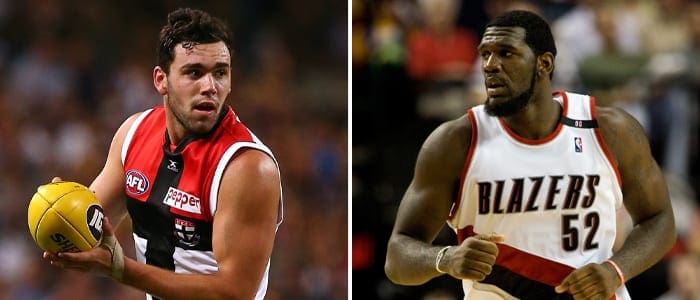 Patrick Dangerfield – Carmelo Anthony
Top 10 picks in their drafts who went on to become stars and gave everything to the foreign clubs that picked them up. Got close to the ultimate success with those teams, before seeking trades back to their home cities. They remain two of the greatest modern day players to never win the silverware.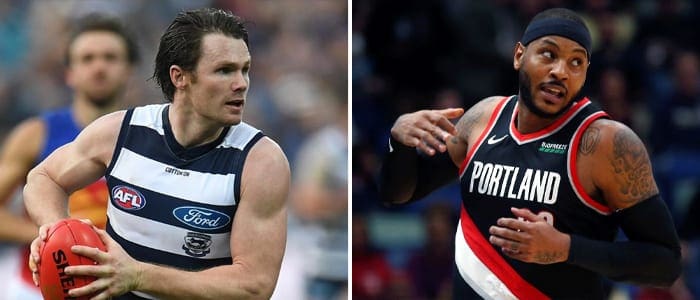 Tom Mitchell – James Harden
Two mega stars that probably don't get enough love or credit from fans despite being right up there with the best in their codes. After getting traded and taking on bigger roles at their new clubs, both went on to become MVPs and made racking up 50 the new normal amid stupidly massive stat lines.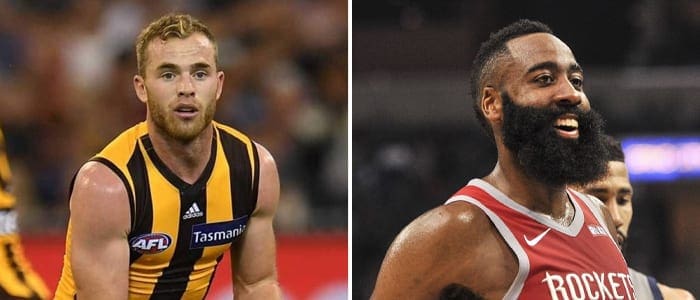 Nathan Fyfe – Giannis Antetokounmpo
Freak athletes who made their clubs relevant again at times through sheer individual brilliance. While neither have climbed to the top of the mountain, they are both MVPs and two of the most loved icons in either code.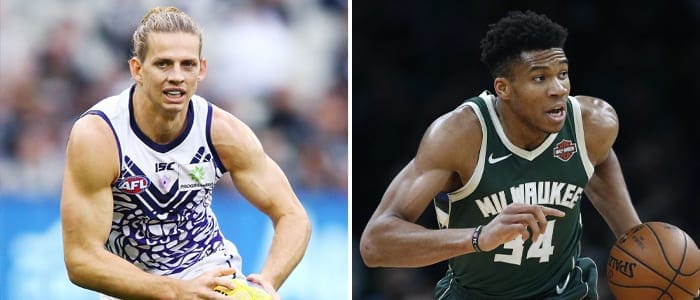 Tom Lynch – Kevin Durant
Star forward dominates for small market team but with little success, signs with dominant powerhouse and wins title. Sound familiar? While the Gold Coast Suns and OKC Thunder aren't exactly comparable, Lynch's move to Richmond mirrors Durant's to Golden State.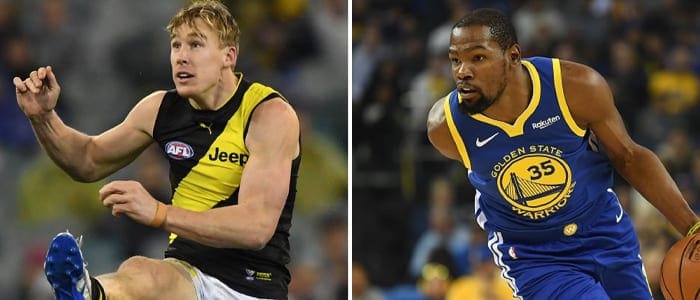 Patrick Cripps – Ben Simmons
The new-age, bid-bodied, onball stars with potential to become MVP and take on the mantle as the game's number one player. Revolutionising positions in their code, if these guys were playing yesteryear they'd be two of the biggest on the floor.