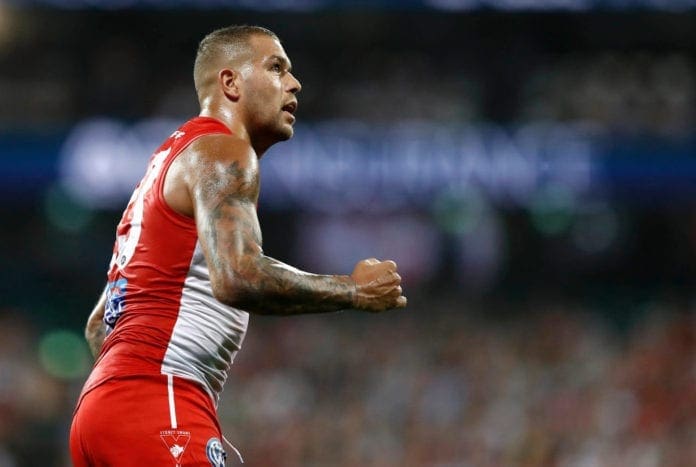 The AFL have put together plans to deal with the ground invasion for when Lance Franklin kicks his 1000th goal, with the league preparing for a 20-minute break after the milestone major is kicked.
Franklin currently sits on 996 goals, after kicking one goal against cross-town rivals GWS in their Round 1 win last week, putting him only four goals away from reaching a milestone that only five other players have reached in AFL/VFL history.
The Sydney Swans play Geelong at the SCG on Friday night, with reports of a 20-minute highlight package of Buddy's career to be played after the historic goal is kicked - if the milestone occurs this weekend.
Both teams are reportedly set to be escorted back to the change rooms with Buddy to be interviewed in the rooms before both teams return to play, which would allow security time to usher fans off the ground before play can be resumed.
Fines of up to $5500 are usually handed out to any spectator that runs onto the ground during play, but, with 40,000 fans expected to be in attendance at the SCG on Friday night, it would be hard to manage given the tradition of supporters rushing the ground to celebrate after a milestone goal is kicked.
RELATED: "We're really embracing that energy" - Swans comfortable with possible post-goal pitch invasion
AFL CEO Gillon McLachlan spoke on AFL 360 last week on how he expects the situation to play out when the milestone is hit, with a tongue in cheek response.
"Well, officially, you shouldn't run on the ground, but … it would be a good look, wouldn't it?" McLachlan said.
"I can't endorse it, but it wouldn't be the worst.
"It's just a big deal to have 1000 goals. Who knows if it happens again?"
AFL greats who have hit the milestone in Jason Dunstall, Gary Ablett Snr, Doug Wade and Tony Lockett have all been invited to the game, with Lockett the only one to knock back the invitation.
Swans coach John Longmire admits the milestone is outside noise to the playing group and that the historic occasion will happen when it happens.
"It'd be a great result when he's able to hit that mark but it's not something talked inside the football club because it's talked about outside the club," Longmire said.
"We have other focus areas. I take the view it will happen when it happens. There are other things for us to focus on as a team. There's no point focusing on it too much because you can't control that aspect of the game anyway. We have other things as a team to look at."
'Buddy' has not kicked four goals against the Cats since 2018, but averages three goals a game across his career.
The star forward is no stranger to ground invasions, however, having kicked his 100th goal of the season in round 22, 2008 against Carlton, sending the crowd into chaos as they stormed the field.
Similar scenes could be produced on Friday night as the Swans host the Cats at the SCG at 7:50 AEDT.