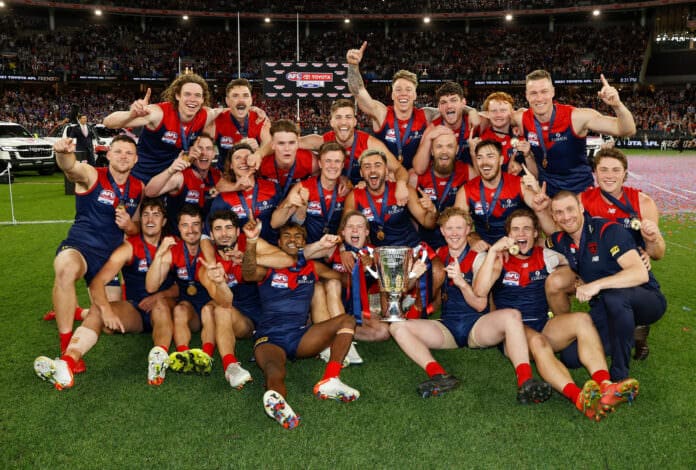 Following months of speculation, the AFL has shocked fans by announcing the 2022 AFL Grand Final will be held in the traditional afternoon timeslot.
The 2:30pm start time appears to be somewhat of a backflip, with many suggesting this year's showpiece would be held at twilight.
Perhaps bowing to fans' demand that the time not be changed, the AFL Commission reportedly came to the decision on Wednesday and relayed the news to all 18 clubs on Friday morning.
Following the past two grand finals being held either at night or twilight due to the Covid-19 pandemic, most inside the AFL industry - as well as fans - were expecting a twilight grand final in 2022.
Speaking about the decision, AFL CEO Gillon McLachlan spoke of tradition winning out.
"Prior to the start of this season, we emphasised that after two really challenging years, we all yearned to return to the footy rituals and routines that set the rhythms of our lives, to continue to focus on getting back to football and going go football as we know it," McLauchlan said.
"That return-to-rituals principle underpinned our decision making in ratifying a traditional start time - the prestige, nostalgia and atmosphere of the day Grand Final is something we all know and love.
SEE ALSO: Twilight grand final seems inevitable, but who wants it?
"Our role is to deliver fans the best possible game experience, whether that be at the match or the millions watching the broadcast, and together with our broadcast partner the Seven Network, we remain committed to creating an amazing event, and seeing 100,000 fans return to the MCG on that last Saturday in September.
"The 2022 Toyota AFL Grand Final is sure to be a fantastic spectacle for both the fans in the stadium and the millions watching around the country and overseas."
The Grand Final is set to start at the following times around Australia:
AEST (ACT, NSW, QLD, TAS, VIC) - 2:30pm
AWST (WA) - 12:30pm
ACST (NT, SA) - 2:00pm