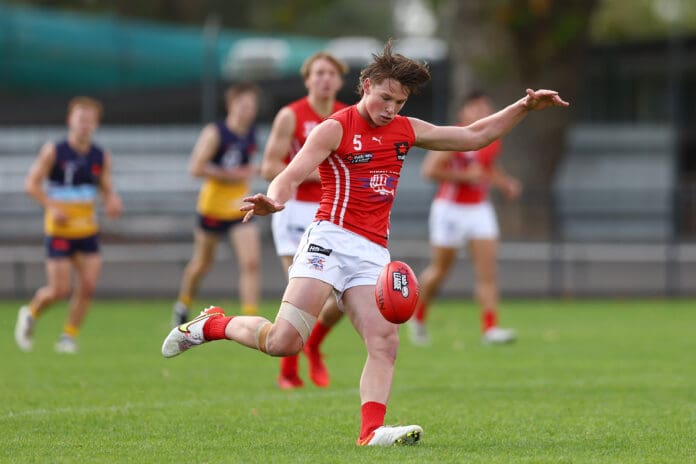 While the opening quaret of draft selections look seemingly locked in ahead of next Monday's National Draft, the succeeding six selections are seen as a "free-for-all".
Gold Coast, Hawthorn, Geelong, West Coast, St Kilda and Carlton hold picks 5-10 respectively, with several scenarios seen as a chance to play out on the opening night of the draft.
Essendon, who currently hold Pick 4, are tipped as the club that will shape the following six selections, with the Bombers heavily tied to Oakleigh Chargers midfielder Elijah Tsatas with their opening selection.
However, the Dons have reportedly floated Pick 4 as an available asset for rival clubs to attain through live trading and advance their position in the queue, meaning Tsatas could be on offer to the Suns when they come on the clock.
The Suns are likely to enter the draft at sixth overall following an expected bid on Brisbane father-son prospect Will Ashcroft early into the night, however the pool of talent they'll select from isn't likely to shift.
Western Australian Reuben Ginbey, who is likely to have attention from the Hawks and Eagles, is said to be among the Suns' priorities, while Gippsland Power gun Bailey Humprhey is another option for Gold Coast to consider.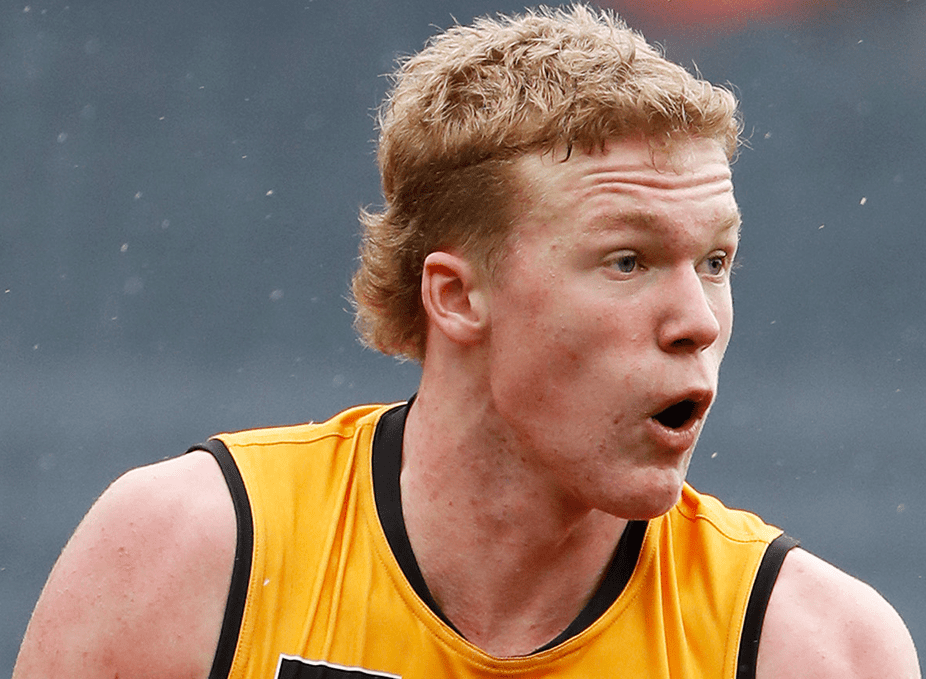 The Hawks will be hoping Tsatas slides to their first pick, but should he be swooped upon earlier in the night then Sam Mitchell's side might consider whoever is left over from Ginbey or Humphrey.
Geelong are sure to have their sights set on Queenscliffe talent Jhye Clark with their first selection, while the Saints also have a local link with Next Generation Academy graduate Cam Mackenzie potentially available comes Sy Kilda's first-round pick.
Looking over the second half of the top 10, Rookie Me draft expert Michael Alvaro told Zero Hanger TV that the Bombers will shape the bracket before the Suns come on the clock.
"I think Reuben Ginbey might top their list," Alvaro said of Gold Coast's potential plans. "Then you'll look at Bailey Humphrey.
"I think they're looking for a similar type of player with who they're gonna get. If Tsatas falls, I think he probably goes to Hawthorn.
"Then there's Geelong just after them. You've got Jhye Clark, a local boy and the natural sort of replacement for Joel Selwood. The fit is almost too good to be true. So it all sort of pans out nicely.
"Then you've even got St Kilda, a guy like Cam Mackenzie, who's in their Next Generation Academy, and you're thinking they wouldn't have gotten him through bidding so they can just draft (Mackenzie) themselves. So all the pieces sort of tend to fall into place.
"Carlton, who have pick 10 which will obviously drop back a little bit, could be [looking at] Ollie Hollands, they could pick up a key defender in Jed Busslinger, so it really is I think that Essendon pick that determines where the rest of the players go because that top 12 I think is quite universal.
"Most recruiters would have the same players in there."
Should the Suns or Hawks shift their thinking, a domino effect could occur that sees the Cats, Saints, Eagles and Blues all look at different options in the first round.
Alvaro added that the Hawks could have some interest in Clark, who boasts some similarities to Hawthorn's senior coach.
"That's why it's so interesting," he said.
"I think Jhye Clark's even a really good Sam Mitchell pick, because he's a tough, hard-at-it midfielder. Can kick both feet, which we know Sam Mitchell did so well as well.
"So that would make a little bit of sense, but I think they'd probably looked for a bit more power, a bit more speed with their midfield pick.
"They've just dished off Jaeger O'Meara and Tom Mitchell, who were a bit slower, those sort of accumulators and reliable ball winners, a bit like Jhye Clark.
"I think that they're looking for power, so someone like a Humphrey or a Ginbey, in particular, would be their man.
"The door is open for Geelong. I mean, if they don't get Clark, there are so many in that range that make sense.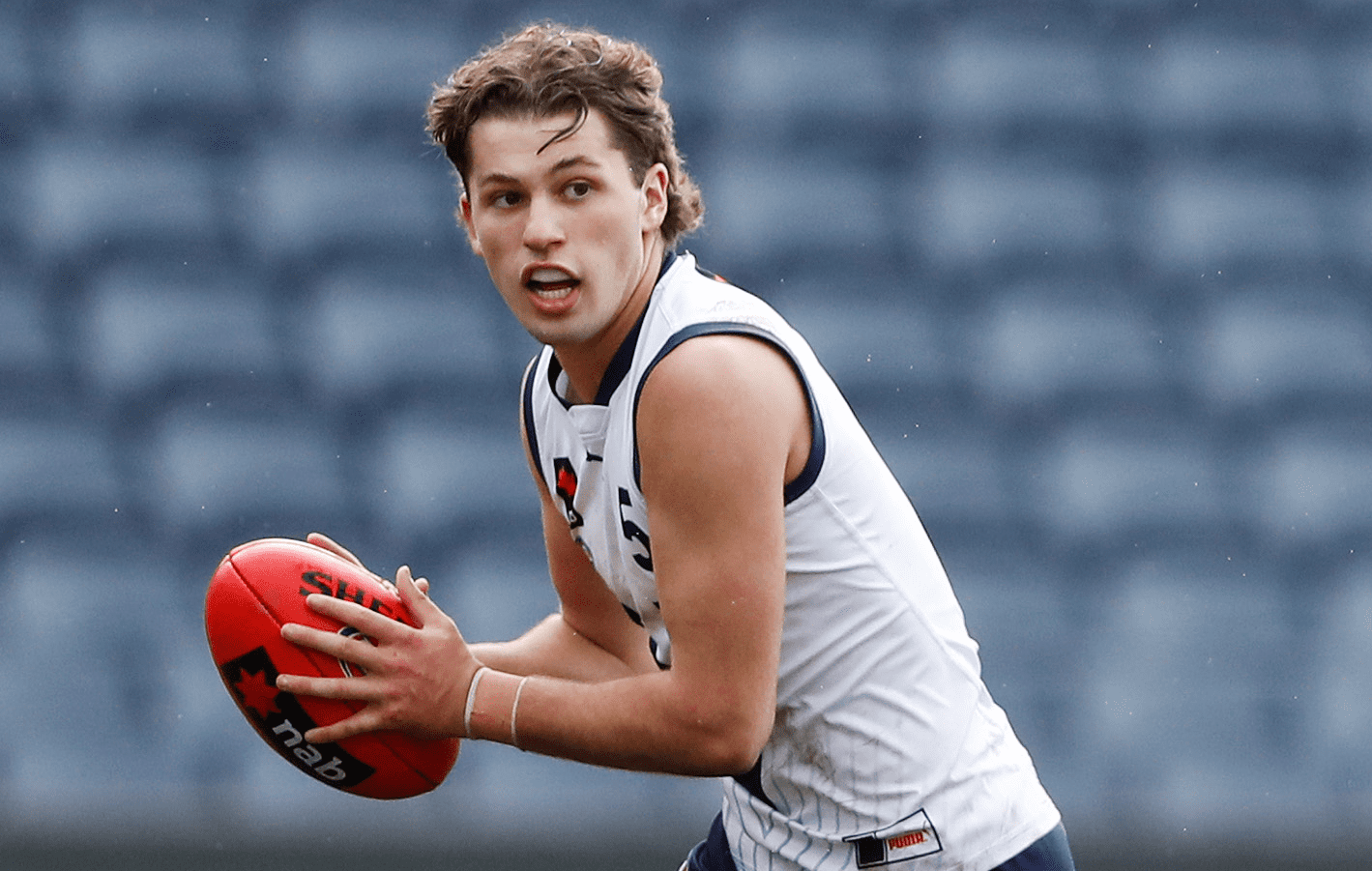 "From five to 10 anything goes. It's a free-for-all."
Zero Hanger's latest Mock Draft had Gold Coast selecting Humprhey following Essendon's move for Tsatas, with Clark (Hawthorn), Mackenzie (Geelong), Ginbey (West Coast) and SA talent Mattaes Phillpou rounding out the top 10 before Carlton land Busslinger with Pick 11.
You can grab a copy of the Rookie Me Central Draft Guide for FREE here.