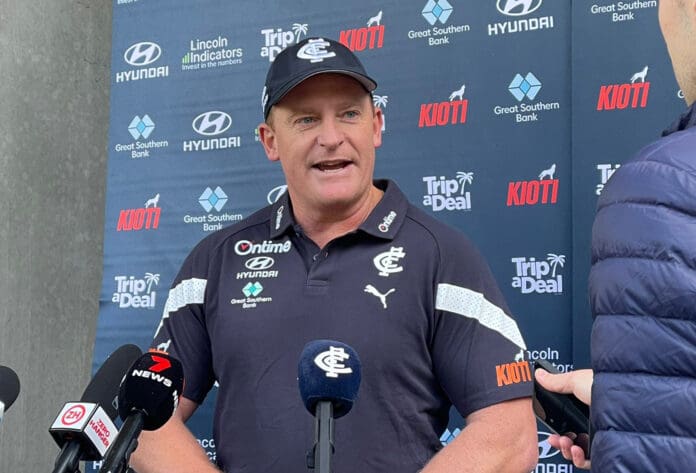 Carlton coach Michael Voss has highlighted the 'important' contributions of Jack Silvagni and Lewis Young in unconventional rucking roles in the Blues' big win over Fremantle on Sunday, detailing his side's overall maturation, as well as providing the latest on injured midfielder Matthew Kennedy.
Voss' Blues entered Sunday evening's bout without a recognised ruckman, following respective injuries to Marc Pittonet and Tom De Koning suffered prior to Carlton's win over Hawthorn a fortnight ago.
Forward Silvagni and defender-by-trade Young represented Carlton's rucking crop for the twilight clash, going against established Dockers Sean Darcy and Luke Jackson.
While Silvagni and Young combined for just 12 hit-outs against Darcy's 58 alone, Voss noted the larger emphasis on crumbing work instead of merely the hit-out numbers.
"It highlights the effort that 'Youngy' and 'SOS' have done, to be able to come in as best they can and try and neutralise the opposition's rucks, and then get to work on the floor," Voss said post-game while addressing the media.
"I don't have the stats in front of me but hit-outs (numbers) were well and truly behind (Darcy and Jackson), but our ability to be able to get the ball back and still win clearance and score from those plays was pretty important.
"That's the energy we were able to bring around the contest, and the boys are really buying into that and it's making a significant difference to us."
After suffering a six-game losing streak, the Blues have since won each of their last three games, knocking over the Gold Coast Suns, Hawthorn, and now Fremantle.
Asked about the condition his side is currently in, the ex-Port Adelaide assistant was positive, noting his underlings are 'pretty clear' about what's required of them.
"We feel like it's (our game) is in good shape right now, so if we're ever in doubt about what we need it to look like, we don't have that anymore," Voss said.
"We're pretty clear about what we need to be able to get done in our game to be able to make us play the best."
Quizzed on what's changed since Carlton's mighty struggles, Voss went into detail.
"A lot of lessons, a lot of conversations, a lot of reinforcement, buying into some of the basics of the game, we've no doubt simplified it a little bit and the boys have enjoyed that and certainly bought into it, and so as a result, we're obviously playing some better footy," he said.
"Sometimes you can grow when you're getting challenged and nobody sees it, you can still grow, and then all of a sudden when you start seeing the light you can actually see what it looks like.
"We had to do a lot of things over that period of time and it wasn't necessarily going that well for us, but we had to persist through it anyway, and I think through that persistence and that reinforcement and just trying to keep that clear picture around what it looks like and what it feels like, we've been able to turn a lot of that around.
"But, we also know that we've got a lot of work ahead of us. We're not taking anything for granted right now, we're just living in the present and taking it all in and enjoying these experiences and coming away together like we did today in a pretty challenging environment, and we walk away with the four points."
Aside from Kennedy's injury, which will require scans, and a corky or two, the Blues came away from Sunday mostly unscathed.
"(Kennedy's injury was a) knee, we'll get that scanned, [we're] not sure of the significance of it yet, so we'll get that scanned, I guess as early as we possibly can," said Voss.
"There were a couple of corkies, they were probably the other significant things that we had out of it, so the other boys should be okay."
Carlton faces a massive task next weekend when it plays Port Adelaide at Marvel Stadium on Saturday afternoon.