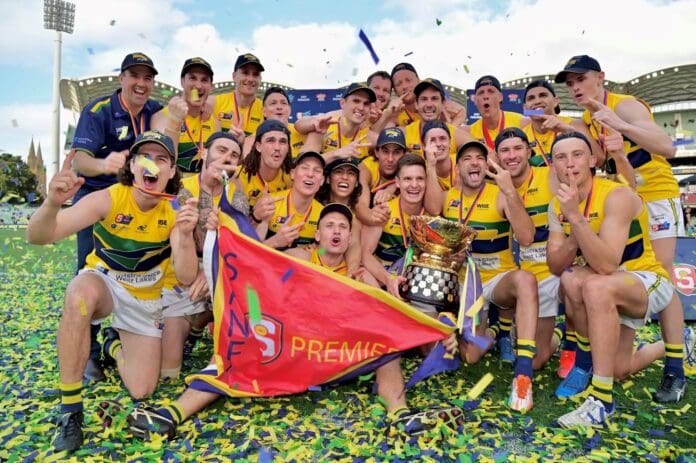 The SANFL fixture has been revealed, with the 2022 season set to begin on Friday, April 1 in an opener between Crows and Magpies at Adelaide Oval.
The league has bolstered their Good Friday fixture to five games for this year, which includes clashes between North Adelaide and Central Districts, and Norwood and Port Adelaide.
The SANFL have scheduled the Russell Ebert Tribute Match for Round 4, which will be played in Loxton between Port Adelaide and West Adelaide.
ANZAC Day will see grand finalists Woodville-West Torrens and Glenelg at Maughan Thiem Kia Oval.
The SANFL have also confirmed Mental Health Round and Indigenous Round will take place in rounds 6 and 13 respectively.
A majority of matches following Round 6 will have their times and dates confirmed later into the year.
ROUND 1
Friday 1 April: Adelaide v Port Adelaide Adelaide Oval 4:10pm
Saturday 2 April: South Adelaide v Central District Flinders University Stadium 2:10pm
Glenelg v Norwood ACH Group Stadium 3:10pm
Eagles v North Adelaide Maughan Thiem Kia Oval 4:10pm
West Adelaide v Sturt Hisense Stadium 7:40pm
ROUND 2
Friday 8 April: Norwood v Eagles Coopers Stadium 7:40pm
Saturday 9 April: Central District v West Adelaide X Convenience Oval 1:10pm
North Adelaide v Adelaide Prospect Oval 1:10pm
Sturt v Glenelg Wigan Oval 1:10pm
Port Adelaide v South Adelaide Alberton Oval 2:10pm
ROUND 3
Friday 15 April: South Adelaide v Sturt Flinders University Stadium 1:10pm
North Adelaide v Central District Prospect Oval 2:10pm
Glenelg v Adelaide ACH Group Stadium 4:10pm
Eagles v West Adelaide Maughan Thiem Kia Oval 4:10pm
Norwood v Port Adelaide Coopers Stadium 7:40pm
ROUND 4
Saturday 23 April: North Adelaide v South Adelaide Prospect Oval 1:10pm
Central District v Adelaide X Convenience Oval 2:10pm
Sunday 24 April: Norwood v West Adelaide Centenary Oval, Port Lincoln 2:10pm
Port Adelaide v Sturt Alberton Oval 2:10pm
Monday 25 April: Eagles v Glenelg Maughan Thiem Kia Oval 2:10pm
ROUND 5
Saturday 30 April: Central District v Eagles X Convience Oval 2:10pm
West Adelaide v North Adelaide Hisense Stadium 4:55pm
Sunday 1 May: South Adelaide v Adelaide Flinders University Stadium 1:10pm
Glenelg v Port Adelaide ACH Group Stadium 2:10pm
Sturt v Norwood Wigan Oval 2:10pm
ROUND 6
Saturday 7 May: West Adelaide v Adelaide Hisense Stadium 1:10pm
Norwood v South Adelaide Coopers Stadium 2:10pm
Port Adelaide v Eagles Alberton Oval 2:10pm
Sunday 8 May: North Adelaide v Glenelg Prospect Oval 1:10pm
Sturt v Central District Wigan Oval 2:10pm
ROUND 7
Friday 20 May: Norwood v Central District Coopers Stadium 7:40pm
Eagles v Adelaide Maughan Thiem Kia Oval 7:40pm
Saturday 21 May: Glenelg v South Adelaide ACH Group Stadium TBC
North Adelaide v Sturt Prospect Oval TBC
Sunday 22 May: West Adelaide v Port Adelaide Loxton 2:10pm
ROUND 8
Saturday 28 May: Central District v Glenelg X Convenience Oval 2:10pm
South Adelaide v West Adelaide Flinders University Stadium 2:10pm
Saturday 28 May: Port Adelaide v North Adelaide Alberton Oval TBC
Sturt v Eagles Wigan Oval TBC
Norwood v Adelaide Coopers Stadium TBC
ROUND 9
Saturday 4 June: Glenelg v West Adelaide ACH Group Stadium 2:10pm
Eagles v South Adelaide Maughan Thiem Kia Oval 2:10pm
Saturday 4 June: North Adelaide v Norwood Prospect Oval TBC
Sturt v Adelaide Adelaide Oval TBC
BYE: Central District, Port Adelaide
ROUND 10
Saturday 11 June: Central District v Port Adelaide X Convenience Oval 2:10pm
Monday 13 June: Glenelg v Sturt ACH Group Stadium 2:10pm
South Adelaide v North Adelaide Flinders University Stadium 2:10pm
BYE: Adelaide, Norwood, West Adelaide, Eagles
ROUND 11
Saturday 18 June: Eagles v Central Distict Maughan Thiem Kia Oval 2:10pm
Saturday 18 June: Port Adelaide v Norwood Alberton Oval TBC
West Adelaide v Adelaide Hisense Stadium TBC
BYE: Glenelg North Adelaide, Sturt, South Adelaide
ROUND 12
Saturday 25 June: Central District v North Adelaide X Convenience Oval TBC
Norwood v Sturt Coopers Stadium TBC
Port Adelaide v Glenelg Alberton Oval TBC
South Adelaide v Adelaide Flinders University Oval TBC
West Adelaide v Eagles Hisense Stadium TBC
ROUND 13
Saturday 2 July: Central District v South Adelaide X Convenience Oval TBC
Glenelg v Adelaide ACH Group Stadium TBC
North Adelaide v Port Adelaide Prospect Oval TBC
Sturt v West Adelaide Wigan Oval TBC
Eagles v Norwood Maughan Thiem Kia Oval TBC
ROUND 14
Saturday 9 July: Norwood v North Adelaide Coopers Stadium TBC
Sturt v Adelaide Wigan Oval TBC
South Adelaide v Glenelg Flinders University Stadium TBC
West Adelaide v Central District Hisense Stadium TBC
Eagles v Port Adelaide Maughan Thiem Kia Oval TBC
ROUND 15
Saturday 16 July: North Adelaide v Adelaide Bennett Oval, Whyalla 2:10pm
Saturday 16 July: Central District v Sturt X Convenience Oval TBC
Glenelg v Eagles ACH Group Stadium TBC
Port Adelaide v West Adelaide Alberton Oval TBC
South Adelaide v Norwood Flinders University Stadium TBC
ROUND 16
Saturday 23 July: North Adelaide v Eagles Prospect Oval TBC
Norwood v Adelaide Coopers Stadium TBC
Port Adelaide v Central District Alberton Oval TBC
Sturt v South Adelaide Wigan Oval TBC
West Adelaide v Glenelg Hisense Stadium TBC
ROUND 17
Saturday 6 August: Central District v Norwood X Convenience Oval TBC
Glenelg v North Adelaide ACH Group Stadium TBC
Sturt v Port Adelaide Wigan Oval TBC
West Adelaide v South Adelaide Hisense Stadium TBC
Sunday 7 August: Eagles v Adelaide Maughan Thiem Kia Oval 2:10pm
ROUND 18
Friday 12 August: Norwood v Glenelg Coopers Stadium 7:40pm
Saturday 13 August: Central District v Adelaide Adelaide Oval TBC
North Adelaide v West Adelaide Prospect Oval TBC
South Adelaide v Port Adelaide Flinders University Stadium TBC
Eagles v Sturt Maughan Thiem Kia Oval TBC
ROUND 19
Friday 19 August: West Adelaide v Norwood Hisense Stadium 7:40pm
Saturday 20 August: Glenelg v Central District ACH Group Stadium TBC
Port Adelaide v Adelaide Adelaide Oval TBC
Sturt v North Adelaide Wigan Oval TBC
South Adelaide v Eagles Flinders University Stadium TBC
FINALS
Sunday 28 August: Elimination Final Adelaide Oval TBC Qualifying Final Adeaide Oval TBC
Sunday 4 September: First Semi Final Adelaide Oval TBC
Second Semi Final Adelaide Oval TBC
Sunday 11 September: Preliminary Final Adelaide Oval TBC
Sunday 18 September: Grand Final Adelaide Oval TBC