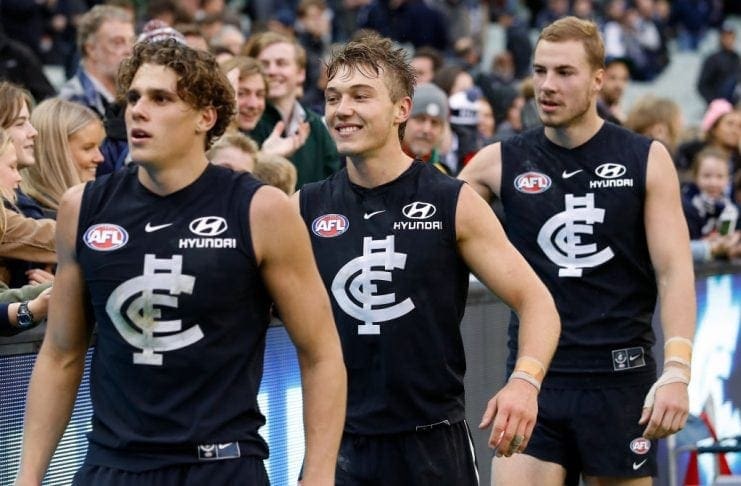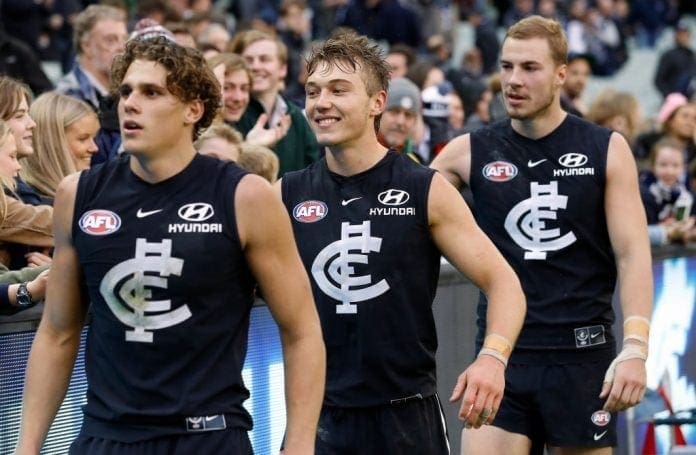 Leadership group: Marc Murphy (c), Patrick Cripps (vc), Sam Docherty (vc), Kade Simpson, Ed Curnow, Lachie Plowman, Matthew Kreuzer, Alex Silvagni
One of the league's youngest teams, Carlton are in year three of a "rebuild" led by young coach Brendan Bolton. When Bolton signed in 2015, it was a secret to nobody that the club was going to take its time in building a list for premiership contention.
Injuries
Unfortunately, three years on, it seems the Blues are not where they'd like to be in terms of a rebuild. Many attribute the slow progress to the lack of veterans on the team and others say it's impossible for a young team to grow with the amount of injuries the Blues have had to overcome this season.
Carlton's current Injury list:
| | | |
| --- | --- | --- |
| Dale Thomas | Knee | Test |
| Matthew Kreuzer | Heart | Test |
| Harrison Macreadie | Hamstring | Test |
| Pat Kerr | Soreness | Test |
| Sam Kerridge | Groin | Test |
| Cillian McDaid | Foot | 2 weeks |
| Jesse Glass-McCasker | Knee | 3 weeks |
| Kym Lebois | Hamstring | 4 weeks |
| David Cuningham | Hamstring | 4 weeks |
| Zac Fisher | Leg | Season |
| Liam Jones | Knee | Season |
| Andrew Phillips | Hamstring | Season |
| Tom Williamson | Back | Season |
| Sam Docherty | Knee | Season |
| Alex Silvagni | Achilles | Season |
| Lachie Plowman | Knee | Season |
Among those injured as of right now, Carlton have had many other stars miss games due to injury this season, including:
Jacob Weitering
Kade Simpson
Matthew Kennedy
Sam Rowe
Caleb Machbank
Matthew Lobbe
Ciaran Byrne
Injuries are a part of the game and every team needs to deal with them. The great teams are those who have enough depth to fill any void left by injury, however, in the case of such a young team, injuries definitely do their part in halting the team's progress.
On the bright side, The Blues are filled with young talent and it's rare to see young players lose the talent they possessed prior to the injury as they make their return. It's possible they lose quickness and agility, but with the money and time spent on player fitness these days, Carlton fans can be confident their youngsters return at full health.
Expiring Contracts
Much like any other club in the league, the Blues have many contracts set to expire at the end of this season. This doesn't mean the players have only five games left in the navy blue, but there's still a lot to do before finalising all the expiring contracts.
Players with expiring contracts include:
Jesse Glass-McCasker
Nick Graham
Sam Kerridge
Jed Lamb
Darcy Lang
Kym Lebois
Matthew Lobbe
Aaron Mullett
Cameron O'Shea
Jarrod Pickett
Sam Rowe
Matt Shaw
Alex Silvagni
Kade Simpson
Dale Thomas
Matthew Wright
The Blues have a mixture of veterans and youngsters with expiring contracts this season. It's likely they re-sign most of their older players as they've copped criticism for the lack of experience on their list.
If they wish to, Kade Simpson, Sam Rowe, Dale Thomas and Alex Silvagni will probably sign on with the club. Players such as Nick Graham, Cameron Polson, Aaron Mullett and Cameron O'Shea who bounce up and down from the VFL to the seniors look to have a difficult five weeks ahead as they try to impress the club and keep a long-term position in the team.
With the lack of competition however, it's likely Carlton choose to re-sign a majority of the talent. Unless they choose to go with the route they've taken in the past three years, which is to make as much change as possible and hope something works. The club has seen 42 players turned over since Bolton's inception.
Key Talent
In some ways, the Blues need to refrain from doing what they've been doing over the past three off-seasons. 42 players turned over is too high a number for a team looking to acquire sustained success. It's forgivable for the first few seasons of a rebuild, but the team needs stability to ensure players know what structure the team is looking to create. As the Blues look to gain sustained success, the following players are the vital pieces needed to win a premiership.
Patrick Cripps
Sam Docherty
Charlie Curnow
Ed Curnow
Kade Simpson
Zac Fisher
Sam Petrevski-Seton
Paddy Dow
Harry McKay
Jacob Weitering
Tom Williamson
The Blues have a plethora of young guns and now they need patience as they develop and grow. At age 23, Cripps looks to be equipped with all the talent and skills necessary to lead a team alongside another young star in Sam Docherty. Along with the veteran smarts and experience of Kade Simpson and Ed Curnow, the team has quality pieces as it looks to build.
Include players who know how to play their role such as Curnow as a key forward and Weitering as an intercept player off the back line, the Blues could grow to be one of the league's powerhouses.
What they need
A team which only wins one game in a season needs a lot of different assets. More on-ball pressure, more off-ball pressure, more scoring and a bit more effort. For the Blues in particular, their scoring in the last few years has left a lot to be desired. Since the departure of Brendan Fevola in 2009, the Blues haven't had a true goal scoring machine. As a result, they haven't been seen as an offensive team for a while, failing to score over 100 points in their last 50 games.
Regardless of what Bolton wants the structure to be, the Blues are going to need a solid big up forward to help with the team's scoring woes. Levi Casboult has been the man since 2012 but has only managed over 20 goals in two seasons. With Charlie Curnow, Pat Kerr and Harry Mckay looking to be the future in the Carlton forward line, a big name can only help speed up their development.
Also, the Blues may potentially be in the market for All-Australian Andrew Gaff, who's a free agent and is looking for a move back home to Melbourne. An all-around midfielder who's clean with the footy is somebody the young Carlton midfielders could learn a lot from.