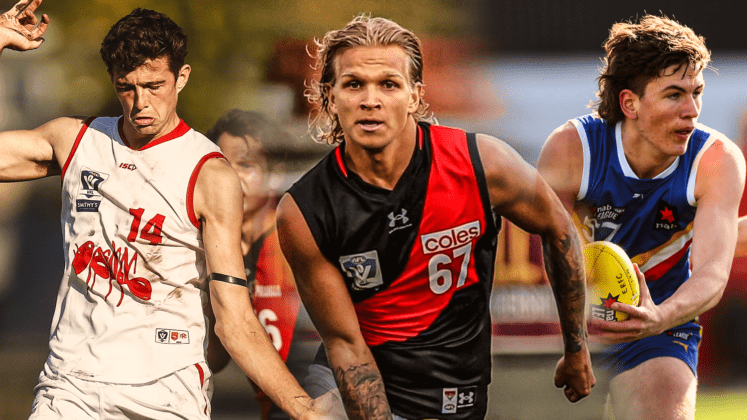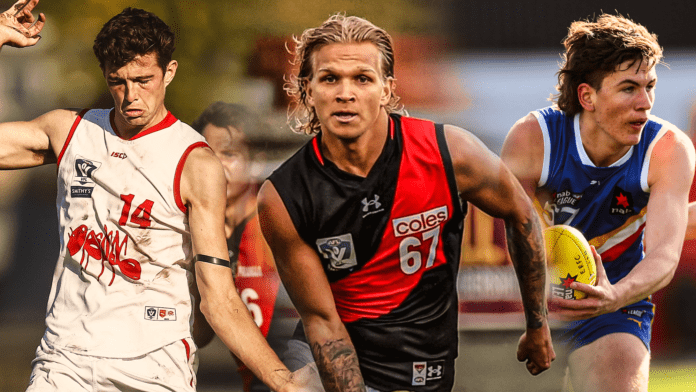 On the eve of the 2023 Mid-Season Draft, AFL clubs will be getting their final notes in order as they weigh up selections for Wednesday's count.
The order of the Mid-Season Draft is almost locked in, with as many as 11 clubs expected to have selections, with at least four potentially looking at adding multiple players to their list.
Here are 20 prospects that could be selected on Wednesday night, split across the leading names, the chasing pack, and the familiar faces.
VIEW: FULL LIST OF MID-SEASON DRAFT NOMINEES
The leading names 
Gippsland forward Ryan Maric is seen as the standout prospect for this year's mid-season intake, having impressed in 2023 across multiple levels to stake his claim for an AFL list spot.
The athletic forward sprung into Mid-Season Draft consideration off the back of three strong opening fixtures for the Power in the Coates Talent League, culminated with a four-goal, 23-disposal performance in his side's season opener against the Murray Bushrangers.
Maric would earn a Young Guns selection for the side's pair of performances against Vic Metro and Vic Country, showcase games that gave AFL scouts a greater glimpse into the mature-aged talent on offer for this week's draft.
While Maric didn't fire in the first of the two appearances, his switch to defence in the second showed the teenager had the flexibility to play at either end of the field on top of his efficient ball movement and ground-level work.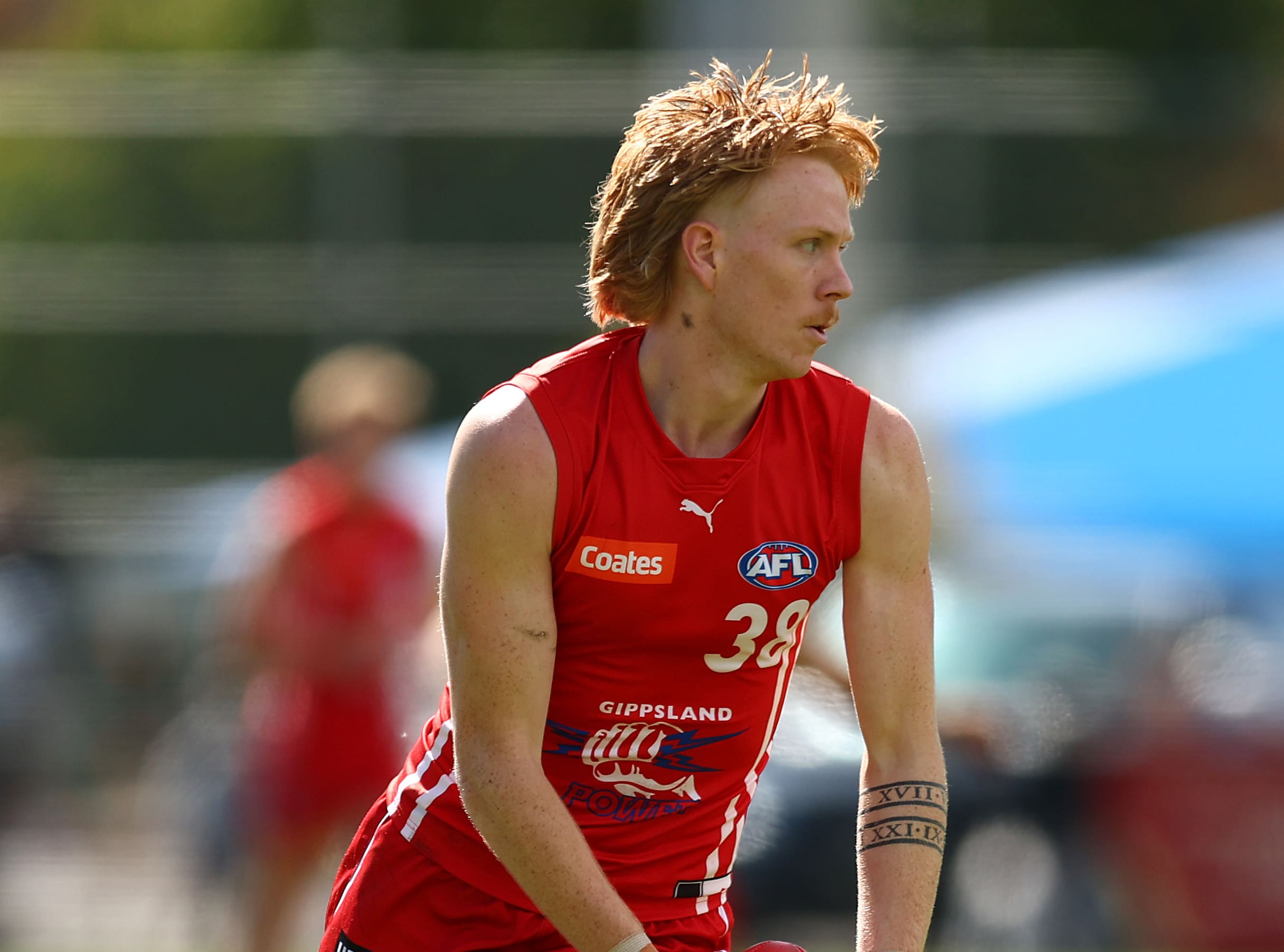 Instead of making a return with Gippsland after the early-season break, Maric would suit up for VFL outfit Box Hill, where he would boot four goals across two appearances for the Hawthorn's affiliate side against Southport and Essendon.
The teenager's rise is sure to have his name on the radar of the clubs with the opening picks, those being West Coast, North Melbourne and Hawthorn.
The Eagles will be looking closely toward the best available talent on offer, while Maric would also be a suitable selection fo West Coast as they look to build a forward pack around the in-form Oscar Allen.
If they aren't taking Maric when they first come on the clock, the Eagles are sure to consider local forward Jack Buller with Pick 1.
The 199cm, 99kg Claremont forward is a bustling key-position talent that has risen to prominence in the WAFL since being overlooked at the National Draft in 2019, with this year seeing Buller put his best foot forward in the hope of landing on an AFL list.
Buller has booted eight goals from his five WAFL appearances this year, showing off his contested marking strengths and capacity to work further up the field before a calf injury hampered his campaign earlier this month.
Outside of the forward pairing of Maric and Buller, versatile Eastern Ranges ruckman Clay Tucker firms as one of the next names sure to be in consideration for an early pick.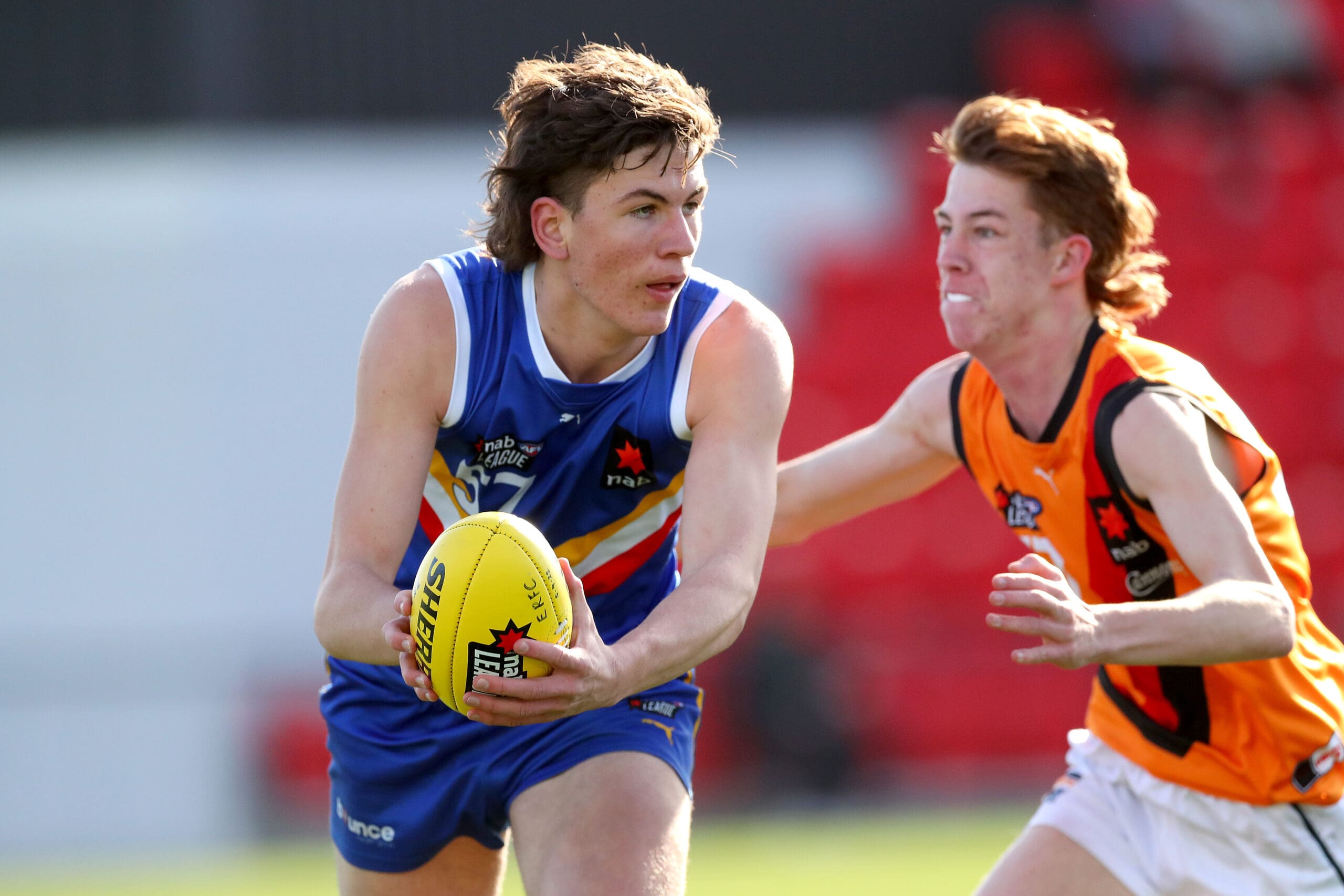 The over-aged Coates Talent League ruckman is averaging 10.4 disposals and 21.0 hit-outs per game for the Ranges, and would also join Maric in representing Box Hill over the most recent weekend.
Tucker would show promise against senior talent in the win with a strong opening half before ending his VFL debut with a similar stat line to his season with the Ranges, amassing 20 hit-outs and 10 disposals.
Seen as more of a long-term, project player-type option for clubs to mull over, Tucker will be enticing for AFL sides needing to add to their ruck stocks for the future - an area the Eagles can do without given the presence of Bailey Williams, Harry Barnett and Callum Jamieson.
North Melbourne could look toward Tucker as they prepare to look toward what the future holds without Todd Goldstein, with Tristan Xerri the club's first-string option that is set to front an untried pack of ruck reinforcements in Hamish Free and first overall pick from the 2021 Mid-Season Draft in Jacob Edwards.
Rounding out the leading pack is yet another face familiar to Box Hill, with hard-running flanker Ethan Stanley a prospect with a more conduit nature than those mentioned before him.
The young wingman joined the Hawks ahead of this season from Frankston YCW and only added to his strong run of form in the VFL with a standout outing in the Young Guns' second fixture against Vic Country - booting two goals and flexing his outside run.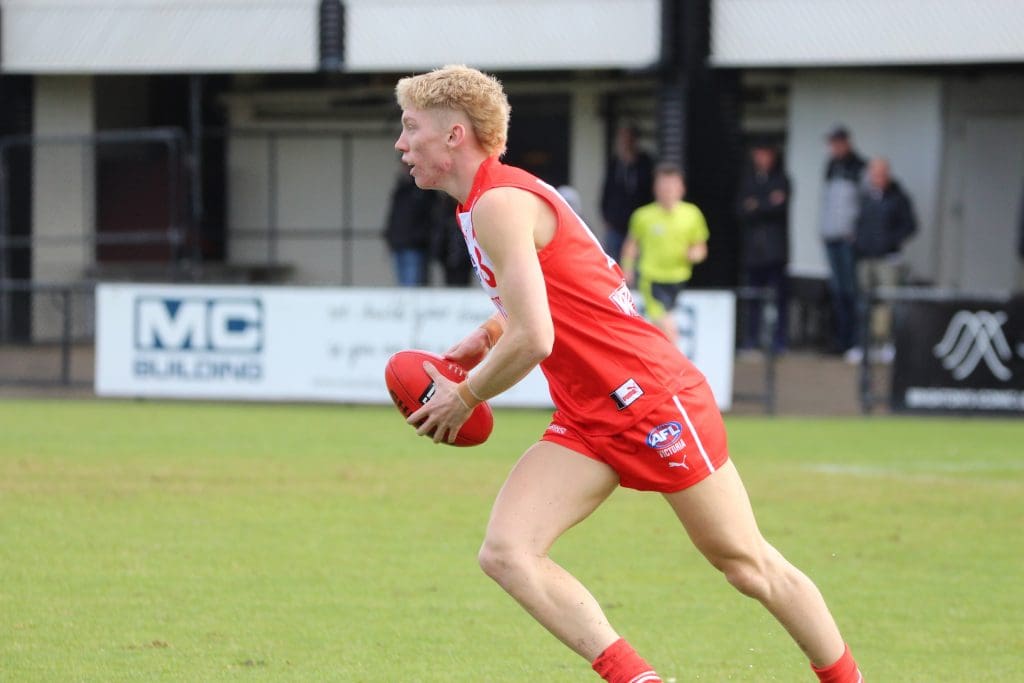 Working in tandem with Tucker and Maric, Stanley would boot two goals in Box Hill's 47-point win over the Bombers along with a season-high 16 disposals.
The 19-year-old would certainly be of interest to North Melbourne at Pick 2, while Hawthorn could follow the trend of selecting another prospect from their own four walls after adding Jai Newcombe and James Blanck to their list through from Box Hill the past two Mid-Season Drafts.
Hawthorn have gotten a good look at Stanley's services alongside their own midfield pack, having trained with and against the Hawks during the pre-season and in recent weeks.
The chasing pack 
Much like Box Hill's riches of promising prospects, Richmond's VFL program could again see one of their own selected through the Mid-Season Draft, having had Sam Durham and Massimo D'Ambrosio depart for Essendon in recent years.
In 2023, a trio of VFL-listed Tigers will be in consideration for AFL list spots, with overlooked defensive-minded midfielder Luke Teal, Richmond recruit Mutaz El Nour and Tooradin-Dalmore product James Trezise all seen as ideal prospects for clubs to consider.
Both Trezise and El Nour were among the 11 players invited for medical testing ahead of the draft at the request of AFL clubs, a good indication that there's some level of interest in their services.
Trezise swapped regional western Victoria for Punt Road this year and has played nine games in the yellow and black, with a Round 8 performance highlighting his best ability in the back half of the field.
Able to trade between the defensive third and midfield, Trezise is seen as a player that can light up a game with his smooth ground-ball work and high-flying aerial ability.
Alongside him and under Steve Morris you'll find El Nour, who moved from the Northern Bullants over the recent off-season to refine his defensive effort after a strong campaign at Preston City Oval.
A tall defensive stopper that separates himself from the pack with his balance of intercepting and run out of defence, El Nour gained reported attention from AFL clubs last year and is looking to be on the radar again.
Teal was among last year's draft crop, playing for Vic Metro and the Oakleigh Chargers as a half-back and midfield utility. Overlooked last November, Teal has remained with the Chargers this year as an over-age talent while also making his VFL debut with Richmond, where he has played four games.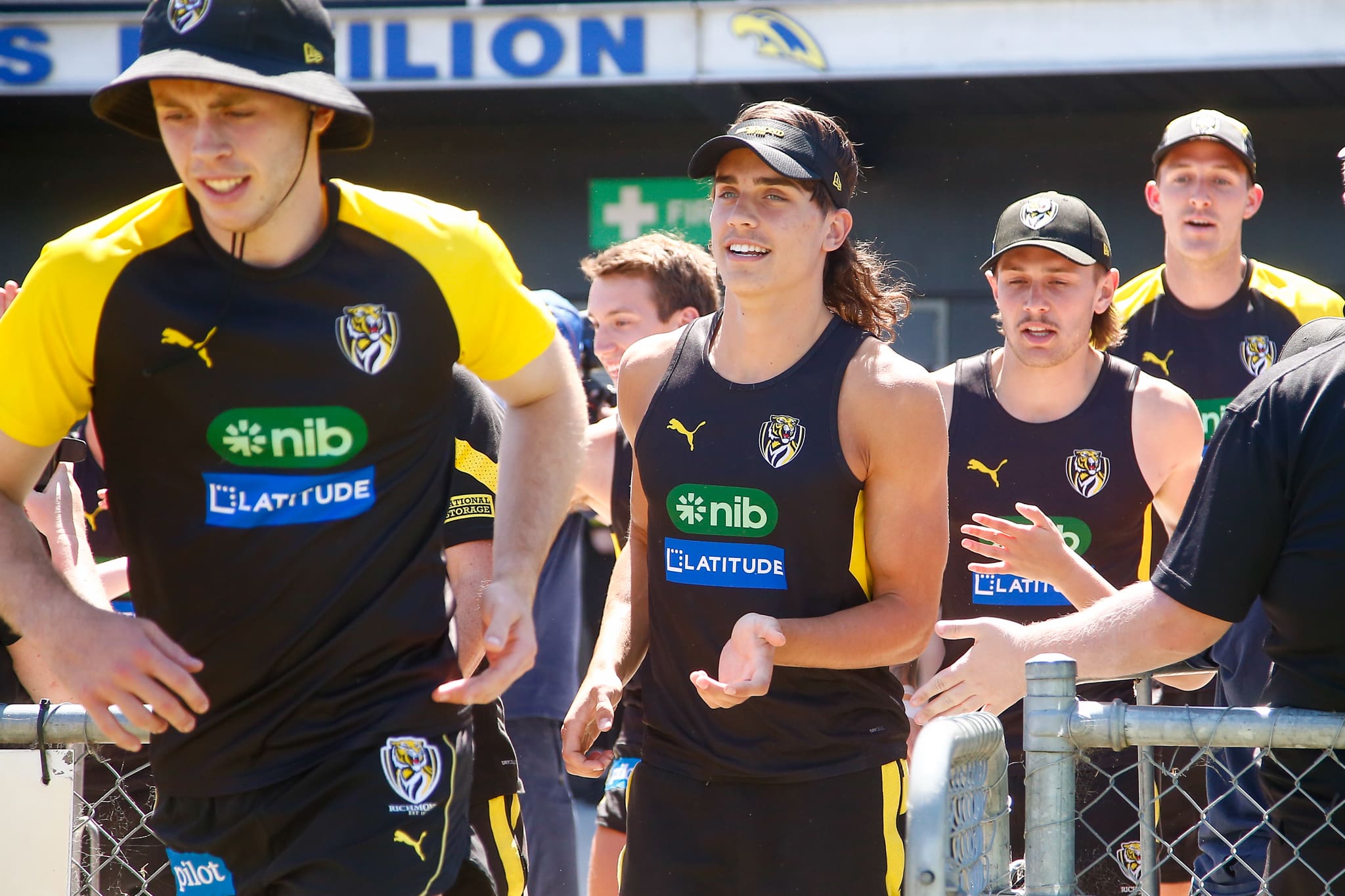 Teal trained with the Tigers in the pre-season as a potential Supplemental Selection Period pickup for the Victorian powerhouse, and could very well be in Richmond's sights for an AFL list spot, alongside Trezise and El Nour.
The Western Bulldogs and Sydney may also look toward El Nour in the hope of adding to their defensive depths.
Further names that have remained in the Coates Talent League after missing the draft include Northern Knights ruckman Flynn Riley, Calder Cannons defender Rye Penny and Oakleigh Chargers tall Will Elliott, the son of former Australian Test cricketer.
The trio were also listed for medical testing in recent weeks, with both Riley and Elliott seen as promising long-term ruck avenues for clubs that might miss out on Tucker's services come draft night.
At the state league level, Perth's Jaiden Hunter and Subiaco's Robert Hansen Jnr were also among the 11 prospects tested and join the aforementioned Buller in being among the WAFL's leading prospects for the Mid-Season Draft.
Hansen, 19, is a lively goalsneak from the Mines Rovers who has shown flashes of his forward pedigree with Subiaco in 2023, a campaign that follows a strong Colts season where he booted 13 goals from 10 matches.
Hunter was a surprise name to be listed for medical testing, but the Demons' tall forward has shot into Mid-Season Draft consideration and hasn't looked back, booting 23 goals across six games this year, split evenly between senior and reserve level.
He booted five goals in his most recent performance for Perth, a game that might be his last in the black and red.
In a similar position is North Adelaide's Noah Casalini, who also recorded a bag of five over the weekend in a narrow win against Port Adelaide's SANFL side.
RELATED: SANFL'S BEST MID-SEASON DRAFT CHANCES
Casalini is more of a medium-sized forward at 190cm, averaging over 12 disposals and two goals this season for the Roosters.
You can expect Port Adelaide, who will hold the last pick in the opening round, as a keen suitor for both Casalini and Jaiden Hunter.
Across the VFL, 200cm Northern Bullants Brandon Ryan firms as one of the competition's biggest Mid-Season Draft chances alongside the stars out of Box Hill and Richmond.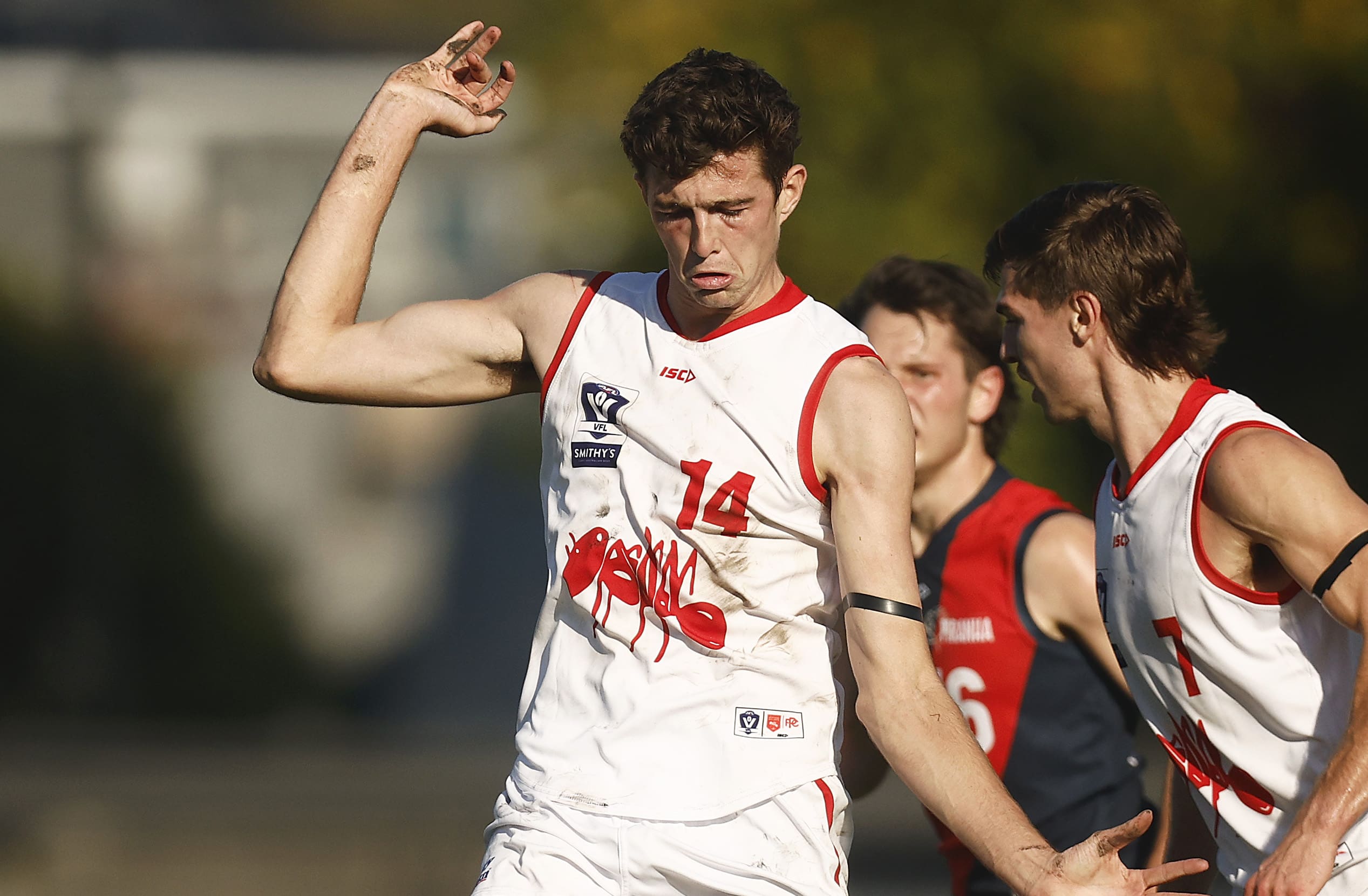 The athletic key-position utility has impressed in his first year with the Bullants and has emerged on Hawthorn's radar.
A darkhorse within the VFL would be Werribee livewire Shaun Mannagh, who has burst onto the scene this year with the Tigers as a forward-midfield link player.
With pace to burn and a keen eye for goal, Mannagh has emerged as one of the VFL's best this season, highlighted with a 40-disposal and four-goal effort in Round 3 against Southport. 
Clubs looking for speedy half-forward conduits will likely look Mannagh's way on draft night, but his chances on an AFL list will likely rely on how the early selections play out.
Familiar faces 
All three Mid-Season Drafts since 2019 have seen ex-AFL names earn lifelines with new clubs.
Ryan Gardner, Matthew Parker and Sam Durdin were among those to secure reprieves after going unwanted elsewhere, with 2023's count another avenue for recently outcasted individuals.
Former Sydney ruckman Sam Naismith has been among the most talked about prospects for the Mid-Season Draft at 30 years of age after finding strong form in the VFL with Port Melbourne.
Naismith was delisted from the Swans at the end of last year after an injury-riddled nine years in the Harbour City, suffering multiple ACL setbacks that hindered a promising career.
Since moving to Victoria in linking up with the Borough, Naismith has emerged as a live chance to find a second AFL club, averaging over 40 hit-outs, 15 disposals and five clearances per game in the second-tier competition.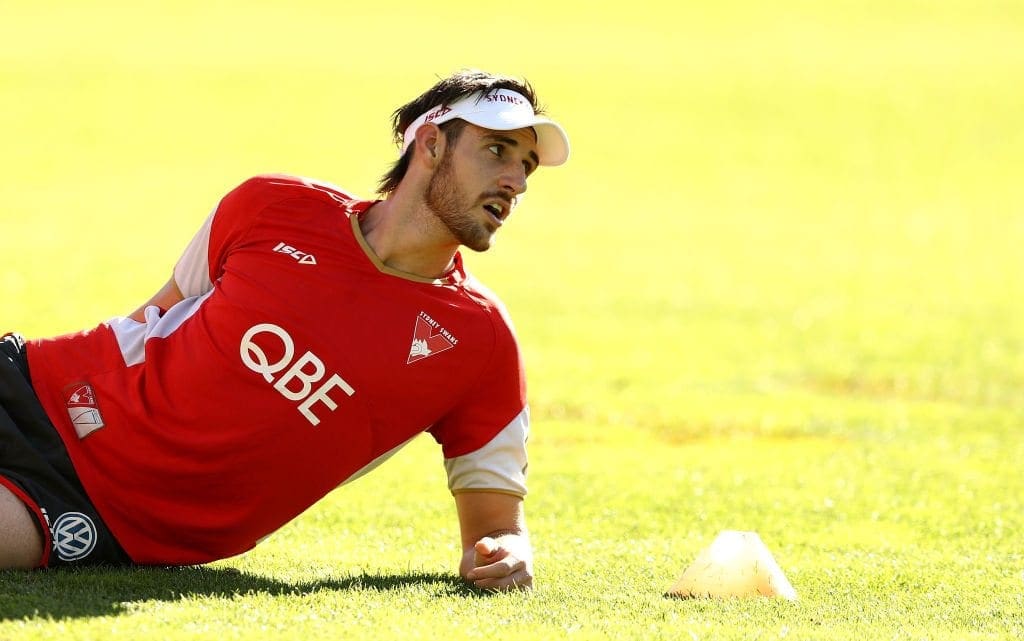 Others among last year's delisted crop include ex-Geelong midfielder Quinton Narkle and former Demon and Blue Oscar McDonald, who have made moves to VFL clubs Essendon and Williamstown respectively.
Narkle, who was on Richmond's radar in the pre-season during the SSP, turned to Tullamarine in his first season after leaving the AFL system and has been among Essendon's best performers this year.
McDonald landed with the Seagulls alongside former teammate Marty Hore in the off-season and is seen as a viable key defender for a club like Sydney to consider given their injury concerns down back.
Much like McDonald, Hore has found strong form in the VFL after making the move to Williamstown, having added plenty of runs on the board since leaving the Demons when he turned to North Melbourne's VFL unit.
Lastly, ex-Swan Ryley Stoddart has enjoyed a stellar season with Frankston in 2023, averaging 27.4 disposals and six marks for the Dolphins in his second season with the club since moving from Carlton's reserves.
Stoddart played six games across three years with Sydney before being delisted at the end of the 2020 season and would be in the sights of clubs looking to add run and carry to their defensive system.