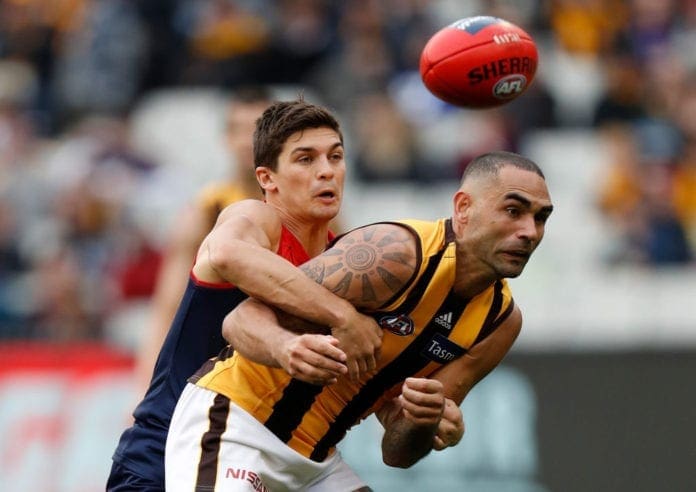 5 Votes: Jay Lockhart 
It wasn't too long ago that Jay Lockhart was plying his trade in Tasmania, and even more recently that he was showcasing his talents at Casey Fields. Fast forward to last weekend, and Lockhart provided one of the standout rookie performances of the round.
The 23-year-old was instrumental in Melbourne getting the four points in their win over Hawthorn, recording 20 possessions, eight marks and a crucial late goal to gift Melbourne their second win of the season.
Demons teammate Michael Hibberd appears to be very impressed with what Lockhart has offered to the club so far.
"You just know what you're going to get with Jay. He is as hard as nails and probably one of the toughest players I've come across in footy," Hibberd told foxsports.com.au.
"He might only get eight, 10 or 12 possessions, but you know that when the ball is in his area he is going to have 100 per cent effort and commit his body to the contest."
Demons fans will continue asking for that calibre of performance from Lockhart, who might be the spark that Melbourne needs.
4 Votes: Jackson Hately
Another newcomer into the rookie votes for 2019, Hately provided a polished and composed performance for the Giants against St Kilda on Saturday afternoon.
Recruited from Central Districts, Hately picked up 22 possessions in his debut in Round 5, and when called back into the side over the weekend, the 18-year-old didn't disappoint.
The young Giant couldn't keep away from the footy, collecting 21 disposals against the Saints, operating at a disposal efficiency of 80%.
With a range of Giants set to return to the senior fold, it remains unclear whether or not Hately will be able to hold his spot in the best 22 for now.
If he keeps providing performances as he did on Saturday though, he's going to be pretty hard to ignore.
3 Votes: Gryan Miers
The Cats' young gun just never fails to impress.
Having already had an emphatic start to 2019 - and his career - Miers showed no signs of slowing down anytime soon, providing a strong performance against Essendon on the weekend and being a constant headache for the Bombers' defence.
The 19-year-old amassed 25 disposals on Sunday afternoon, registering seven score involvements while being able to pick up a goal of his own as well.
2 Votes: Bailey Smith
Much like Miers, Doggies youngster Bailey Smith is beginning to put a number of impressive performances together back-to-back, becoming a consistently impressive operator in the Bulldogs' line-up.
Smith featured heavily in the Bulldogs' upset 47-point win over Richmond on Saturday night. The 18-year-old recorded 21 possessions at 77% efficiency, generating 11 score involvements and six marks in what was a bleak night for the Tigers.
It remains hard to put your finger on exactly where the Bulldogs are at, but if the new blood coming through the ranks such as Smith continue to perform, then it's easy to assume where they could be headed.
1 Vote: Tom Atkins
Atkins was yet another glowing example of the talents that mature-age recruits possess, and what they can bring to the table.
Having played all games so far this season, Atkins saved his best performance so far for Sunday afternoon against the Bombers.
The former Geelong VFL captain picked up 23 disposals and six tackles, being a constant presence in the Geelong side and helping them remain at the top of the ladder after seven rounds. Atkins and his fellow Geelong newcomers have certainly been influential in the Cats' premiership challenge so far this year.
Season Leaderboard:
18 – Sam Walsh (CARL)
10 – Charlie Constable (GEEL)
9 – Gryan Miers (GEEL)
9 – Connor Rozee (PORT)
8 – Jack Ross (RICH)
5 - Jay Lockhart (MELB)
5 – Michael Gibbons (CARL)
5 – Xavier Duursma (PORT)
5 – Sydney Stack (RICH)
4 – Bailey Scott (NM)
4 – Bailey Smith (WBD)
4 - Jackson Hately (GWS)
4 – Zak Butters (PORT)
4 – Callum Wilkie (StK)
3 – Marty Hore (MELB)
2 – Lachlan Schultz (FREM)
2 – William Drew (PORT)
1 – Matthew Parker (StK)
1 – Josh Rotham (WC)
1 - Tom Atkins (GEEL)
1 – Will Hayes (WBD)