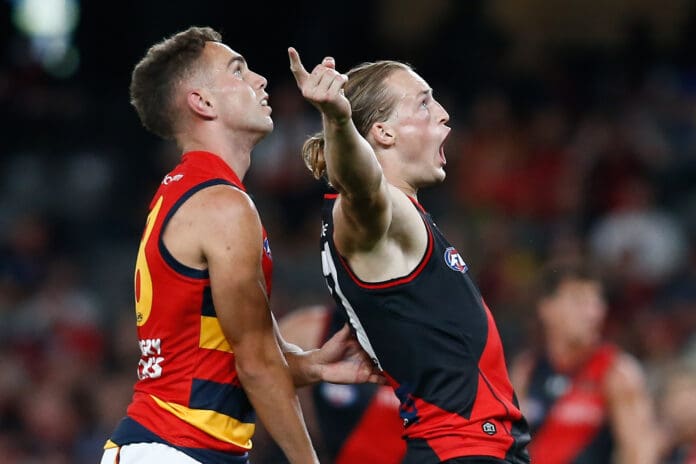 Essendon skipper Zach Merrett has confirmed his attempts to have free agent Bombers pair Darcy Parish and Mason Redman remain at Tullamarine beyond this season, revealing he has got "in their ear" recently in hopes of securing their signatures, while the Bombers have reportedly utilised club legend Simon Madden in a recent pitch presentation to Redman.
Redman, a South Australian native, has continually been linked to the Adelaide Crows, while Parish has reportedly been monitored by Geelong.
Speaking on AFL 360 on Tuesday evening, Merrett admitted that while he didn't want to breathe down Parish and Redman's necks at the start of the year, he has started to "get in their ear" about wanting them to recommit.
"I've given them their space to start the year, but, as the season goes on, I feel like the way we're playing is going to have the most impact on those guys and their decisions," said the Essendon captain.
"I'm starting to get in their ear more and more now."
Questioned about whether he's concerned that despite the Bombers' solid form Parish and Redman haven't signed at this point in the season, Merrett gave a coy response, stating that he can empathise with the pair's difficult position and won't look to rush any decisions from them.
"I think the landscape's shifted the last few years, I went through it myself," Merrett continued.
"I know what these guys are going through, I'm there to support and help them, and I want them to sign, absolutely, but I'm not going to force or rush them into a decision."
Meanwhile, according to SEN's Garry Lyon on Wednesday morning, Merrett's Bombers have included club icon Simon Madden as part of a "full-on" presentation made to Redman recently in an attempt to convince him to remain in red and black for the long term.
"When players used to be out of contract, the manager would go in with the CEO and they'd nut it out. Nowadays it's a much more detailed process than that. So when someone who is very valuable is coming out of contract they don't want to leave it to chance," Lyon began.
"I'm told that there was a full-on presentation made by the Essendon Football Club to Mason Redman to try and ensure that he stays a Bomber and we know that there's massive interest from Adelaide to try and get him back (home).
"They sat down, they did a full presentation about where the club is at, where it's going, what his role is – I'm assuming the money would've been spoken about.
"It was such a full presentation to the extent that Simon Madden, a famous Essendon number 27, was part of this presentation."
If Redman, Essendon's current number 27, and Parish decide not to re-sign between now and the end of the season, they have the ability as free agents to sign anywhere in the league without needing the Bombers to orchestrate a trade agreement with that club, unless a rival's bid is matched by the club.
The Bombers prepare to travel to West Australia to battle the out-of-form Dockers this weekend.