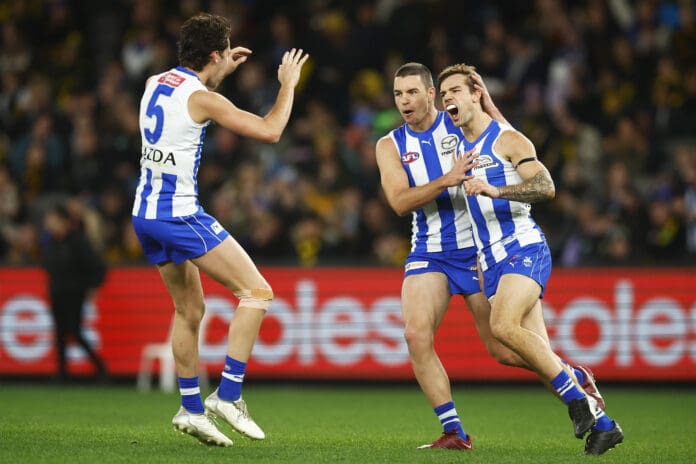 North Melbourne are brimming with confidence off the back of their streak-snapping win over Richmond in Round 18, with the young Roos now setting their sights on an in-form Hawthorn outfit.
Last Saturday's victory over the Tigers saw the Kangaroos end a 14-game winless run in what was the club's first game in the wake of David Noble's departure after just 38 matches at the helm.
Looking to show more mettle through an arduous period in the club's history, North were able to overcome a surging Richmond side, with an inspiring performance from midfielder Jy Simpkin a catalyst in the win.
Currently anchored to the 18th rung on the ladder, Simpkin and the Roos have their sights set on lifting themselves off the ground floor through their trip to Tasmania this weekend.
Speaking to Zero Hanger, the reigning Syd Barker medallist reflected on the club's recent performance against the Tigers, which has kindled newfound confidence ahead of Saturday's bout with Hawthorn.
"[We] definitely get a lot of confidence out of it going into this week against the Hawks," Simpkin said of the thrilling four-point triumph.
"There's so many guys on our list, I think Flynn Perez had played 14-15 games and that was his first win, so a lot of relief off a lot of guys' shoulders. So yeah, we'll go in with a great deal of confidence.
"It's been a tough couple of weeks with 'Nobes' being let go.
"It is grinding when you're not winning many games and you keep fronting up. It does get tough at times.
JY SIMPKIN
Midfield

North Melbourne

ROUND 18 STATS

34
Disposals

6
Tackles

9
Clearances
"We've got a great group of guys down at the Kangas, we all get along really well, so it does make it a lot easier coming into work every day.
"We're ready to attack the last five games."
The 24-year-old will be seeking bragging rights over young Hawks gun Changkuoth Jiath at Blundstone Arena, with the pair already sparking a rivalry of their own this week.
"We've been getting into each other a little bit," Simkpin laughed.
"They're obviously really confident as well. They're playing some good footy so hopefully it's a good hit-out."
For Jiath, the flashy Hawks back flanker was equally enticed by claiming victory over his Kangaroos counterpart, with Sam Mitchell's side looking to win three successive games for the first time this season.
"I'm pretty excited for it," Jiath said prior to a knee injury that ruled out his chances of pulling on the boots for Round 19.
"It'll be a good game and we're looking forward to a nice fight. It would be nice to get three on the trot for the Hawks because it's been a while since we've done that.
"So I'm looking forward to it."
Jiath has been an incumbent piece within a galvanised Hawthorn defence this year, with his name among All-Australian conversations this season following a breakout 2021 campaign.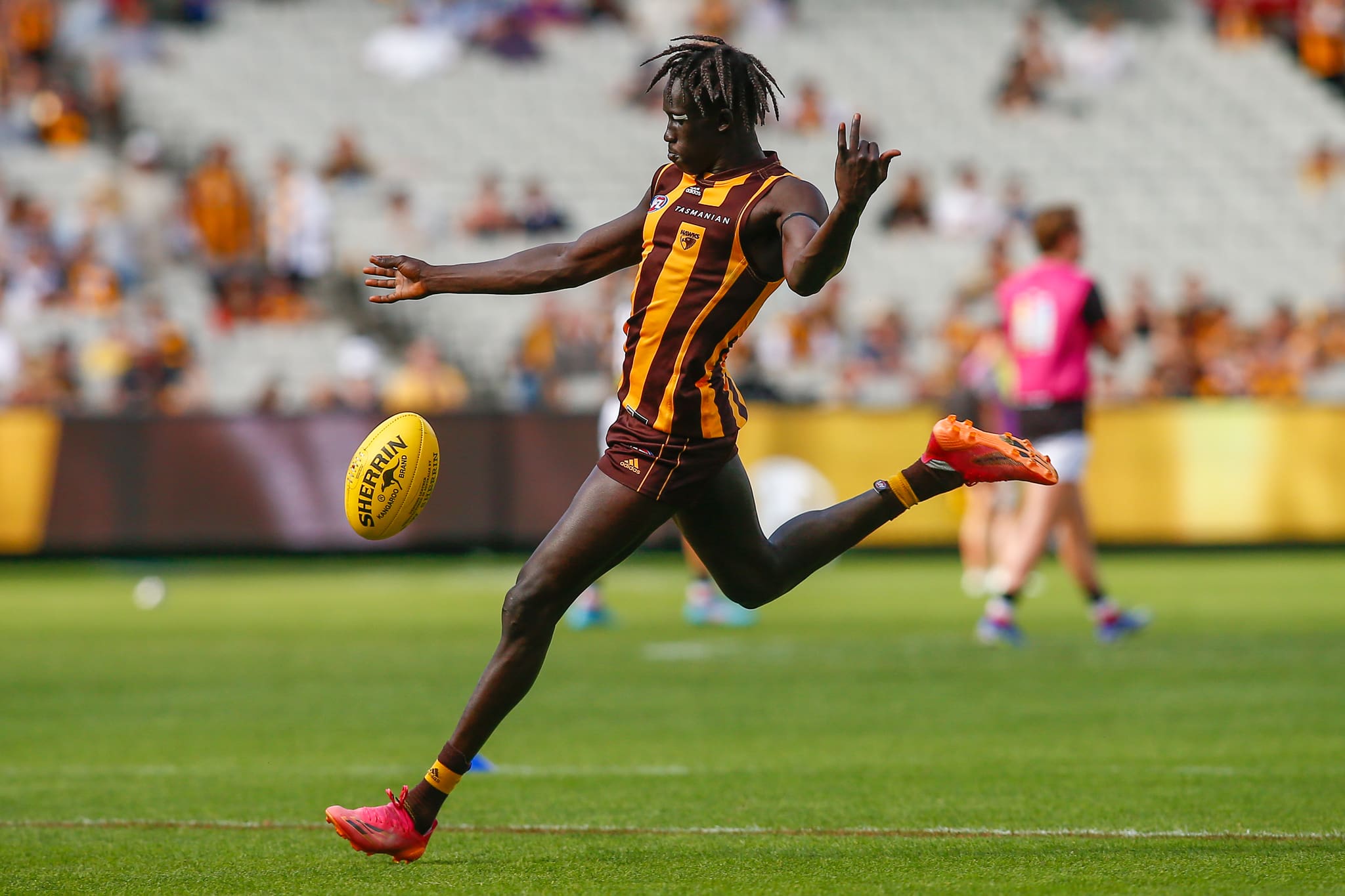 But while personal accolades are sure to see the Mekelle-born backman honoured for his efforts, Jiath and the rest of Mitchell's rearguard are engrossed in a team-wide goal for the dying embers of this season.
"We've focussed a lot around spreading the leadership," he said.
"Not just being one person to lead the team, but pretty much have all the players on the field do their part and lead as a collective.
"We've built a lot of chemistry in the background. We're starting to cement ourselves and lead in the space we want to be in.
"We're playing an exciting brand of footy at the moment. We're playing tough, hard and fast, and it's been more about expressing yourself and playing in a manner that allows us to score and I think we've built on that pretty well."
The Hawks and Roos will commence their hit-out in Hobart at 1:45pm (AEST) on Saturday, with wins crucial to either side's concluding campaign.