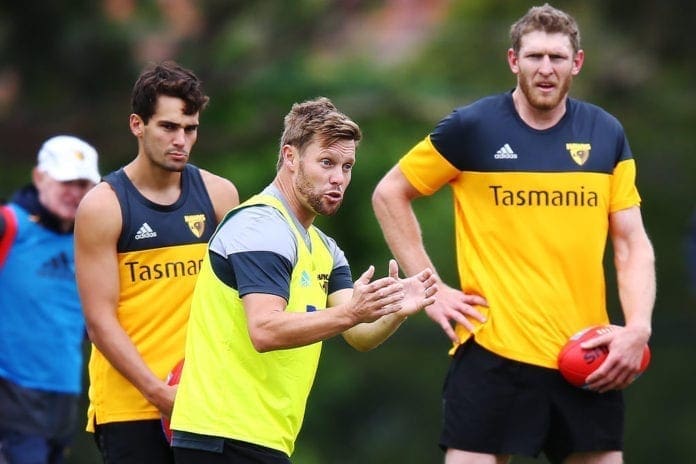 Rookie coach Sam Mitchell has stated his side aren't too focused on the early expectations ahead of his maiden coaching campaign at Waverley.
The 39-year-old is set to lead one of the youngest core groups in the league for next season, having welcomed five further fresh faces through last week's National and Rookie Drafts.
Headlined by Northern Knights star and Pick 7 selection Josh Ward, the Hawks' new group of neophytes will look to add to the club's list rebuild under Mitchell for the coming years.
Ward was joined by fellow draftees Jai Serong, Sam Butler, Connor MacDonald and Ned Long at Bunjil Bagora - the new name of Hawthorn's headquarters - alongside Mitchell.
Speaking to media, the Hawks coach said the club's current focus is to have the new group on the same wavelength before diving into expectations for the new year.
"We won't be worrying too much about (expectations)," Mitchell told media on Monday.
"We'll be putting our plans together, we'll be trying to make sure everyone knows what each other are doing on the field and we'll be trying to play the best footy we can.
"Now, we don't have a clue what that will look like and you guys (the media) will have plenty of ideas about what you think that will be, but we won't know that until March at the earliest.
"I'm sure I'll continue to get that question but the answer will be the same.
"We're going to try our very, very best to get aligned, get on the same page and figure out the game style that will give us the best chance for success."
External expectations for the Hawks' 2022 campaign fall among the lower bracket of the competition, with the club diving further into redeveloping their list following successive bottom five finishes across the past two years.
The Hawks were ranked among the top half of the AFL for average age across their list however, a metric the club has since looked to lower.
The club managed to cull several senior figures this off-season in order to aid their rebuild, while veteran ruckman Jonathon Ceglar joined Geelong and high-flying swingman Tim O'Brien ventured to the Bulldogs in the exchange window.