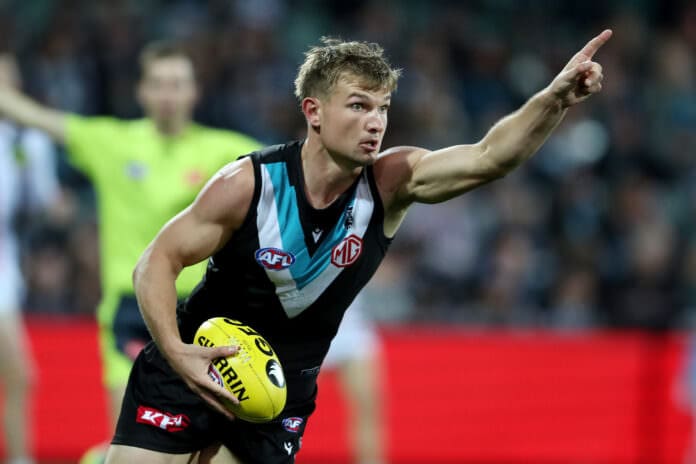 Brownlow Medallist Ollie Wines has spoken about his bizarre interaction with "a thousand anti-vaxxers" following his heart issue earlier in the season.
The star Port Adelaide midfielder was subbed out of his side's drab loss to Melbourne in Round 4 with a heart irregularity, consequentially missing the Power's defeat of West Coast.
Speaking on 3AW on Thursday, Wines detailed an "uncomfortable" experience where his Instagram account was flooded with messages from anti-vaxxers.
"I was certainly uncomfortable because I've never had that many 'Insta' DM's in my life," Wines said.
"I had a thousand anti-vaxxers coming at me saying I've 'got to speak up' but it wasn't something I couldn't handle...I'm in the clear, and everything's fine".
The midfielder laughed off outlandish suggestions from those inundating his inbox positing he was being paid off by "big pharma," and detailed how his heart issue "was nothing to do with the vaccine".
Wines explained that the issue is a rare heart rhythm irregularity that can occur in elite athletes more predominantly than in members of the general community.
"Once I got the diagnosis from the experts who do years of study to work out what is going wrong, I was really assured and we've been able to take some steps from there," Wines said.
With two wins on the trot behind them, Port Adelaide and Wines will face the sporadic Bulldogs on Friday night at Adelaide Oval as they look to recover from a shocking 0-5 start to their 2022 campaign.