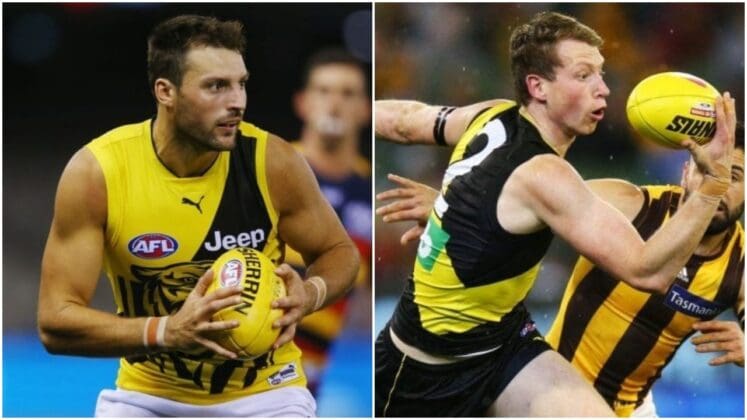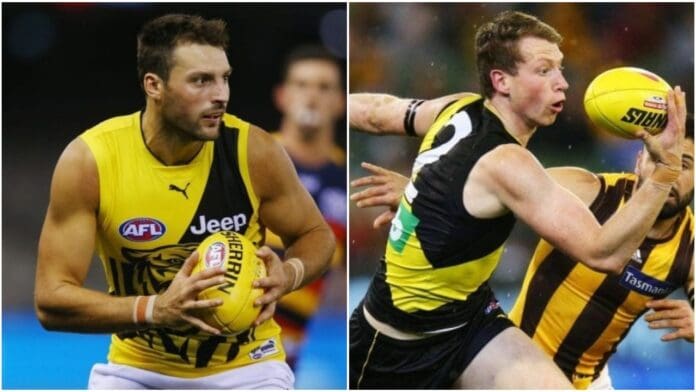 Following the appointment of Dylan Grimes and Toby Nankervis as co-captains of the Richmond Football Club, there has been much speculation about whether or not the Tigers have made the right choice.
Such a move raised eyebrows of the AFL landscape for two reasons. Not only did Richmond announce two co-captains - a club first - but they also appointed Toby Nankervis, a seemingly media-shy, old-school ruckman.
Speaking at Punt Road just 11 days before the announcement, three-time Coleman medallist Jack Riewoldt said that "It's going to be exciting for one player to step into those shoes of the captain of the Richmond Football Club," leading footy fans to believe that Richmond would pick one sole skipper.
However, as Damien Hardwick said at his press conference: "It is fair to say we entered this decision expecting to end up with one captain, but it became clear to us after an exhaustive process that we had two fine leaders ready to represent and lead our football club."
There were a plethora of suitable candidates for the Tigers to choose from, comprising of Brownlow medallist Dustin Martin, All-Australians Jack Riewoldt and Shane Edwards, young bull Jack Graham, Nick Vlastuin and ex-Gold Coast co-captain Tom Lynch.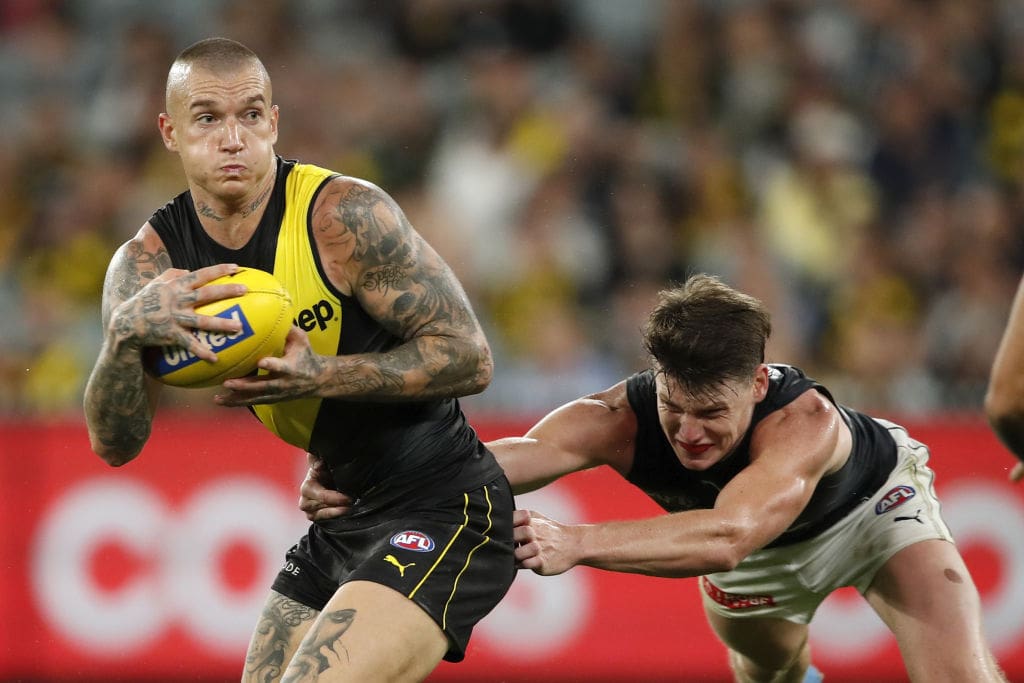 Whilst Dylan Grimes was always seen as a potential suitor for the role, Nankervis seemed an unusual choice to the majority of football fans.
Strangely, even Nankervis himself claimed that the appointment came as somewhat of a surprise.
Reassuring fans, he went on to declare that "there's no reason for me not to think I can do the job and I'm really excited to attack it and just give it everything I've got."
Here is why we think that this decision isn't as left-of-field as it perhaps initially seemed to be.
Nankervis was strongly backed by those at the club
According to all reports, Nankervis was strongly backed by the playing and coaching groups to take over as co-captain.
The process of announcing the two captains was a long, tedious quest that began ever since Trent Cotchin stepped down as captain at the end of the 2021 season.
As Grimes said in his first press conference as co-captain: "It's been a little bit slow but in some ways, it's really filled us with confidence that the decision that was made was the right call."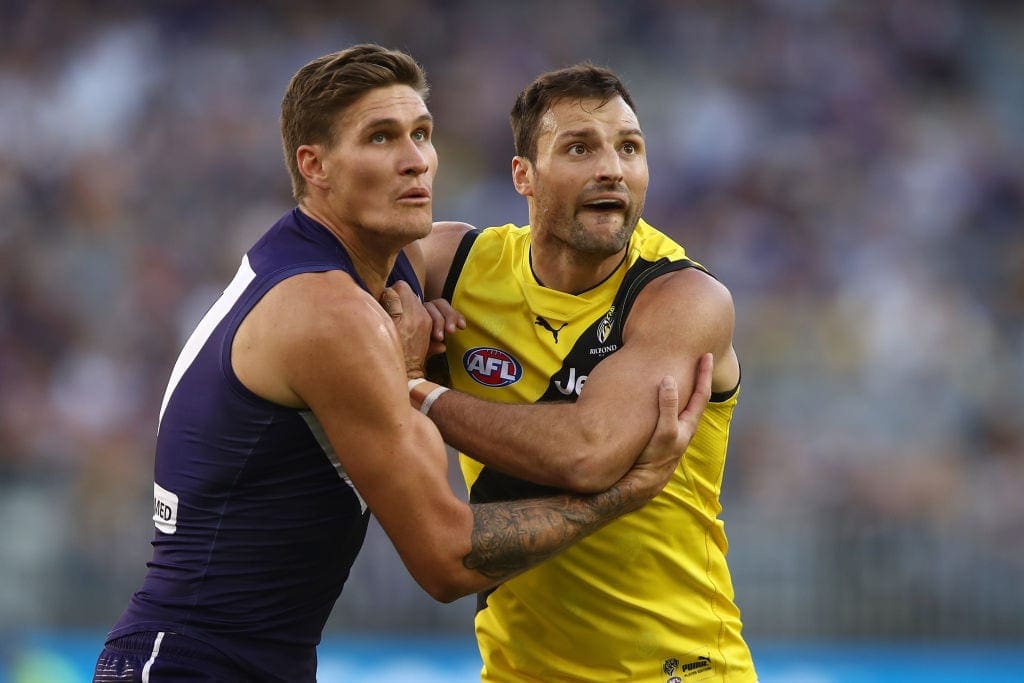 Whilst we as fans don't know what is happening inside the four walls of the club, it seems as though the playing group value Nankervis' company and personality.
Adding to this support, three-time premiership coach Damian Hardwick lauded the "tough, uncompromising, and team orientated" nature the pair bring.
'Nank' complements Dylan Grimes perfectly
Ever since Richmond's culture shift in 2017, the Tigers have always spoken publically about the need to be vulnerable. Engendering this to a great degree has been Grimes, who has always bravely and honestly told of his vulnerability. Grimes has always appeared to be extremely friendly towards both the playing group and the media.
Meanwhile, Nankervis has always been a very media-shy ruckman. The most infamous example of this was when Nankervis refused to talk to Brian Taylor on a Friday night segment of "Roaming Brian".
Nankervis appears to have a certain edge and aggression about him which accompanies Grimes' game style very well. He is a ruthless player and has the personality to match, something which matches up really well with his star defender.
Not only do their personalities go hand in hand with each other, but also, their positions on the field will provide leadership on all fronts.
Since Alex Rance's shock retirement ahead of the 2019 season, Grimes has not only taken over as the last man standing for Richmond's defence but has also taken on a more defined leadership role in defence.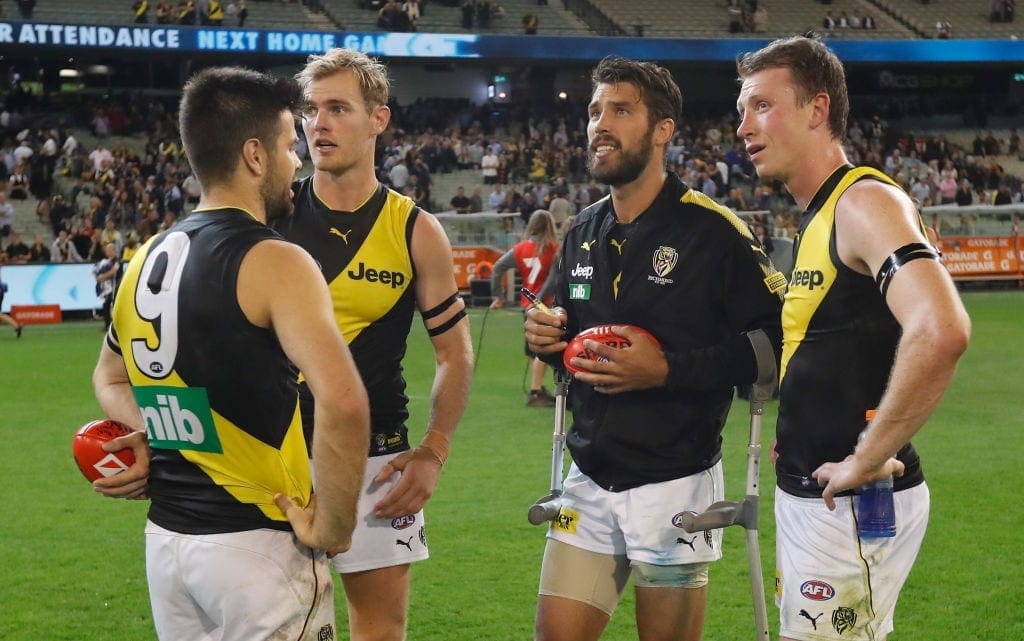 Whilst he was always going to continue with this role in 2022, it would have been difficult for him to be an on-field leader with those up the ground.
This makes Nankervis perfect as a leader up the ground since he would be able to support those in the midfield and forward line. He can also learn right from Cotchin - one of the most successful captains of all time - at centre bounces and in between goals.
New skippers embody what it means to be a Richmond player
On Monday, Damien Hardwick told the media his definition of what it means to be a Richmond player: "tough, uncompromising and team-oriented".
Both Grimes and Nakervis match the criteria. Add to this their ability to play well in the big moments and their amazing level of consistency and you have two really good leaders of the club.
Exemplifying this, Grimes was able to completely shut out livewire forward threats across his decorated career of finals football.
Meanwhile, Nankervis put together a massive fourth quarter in Richmond's preliminary final against the Power in 2020. In this game, the big ruckman amassed four massive intercept marks in the wet to get the Tigers over the line in a scrappy affair.
Both players know what it takes to get it done having been a part of three premierships each.
Both co-captains have admitted that whilst they are quite "daunt(ed)", they are both "super excited and incredibly humbled by that decision".