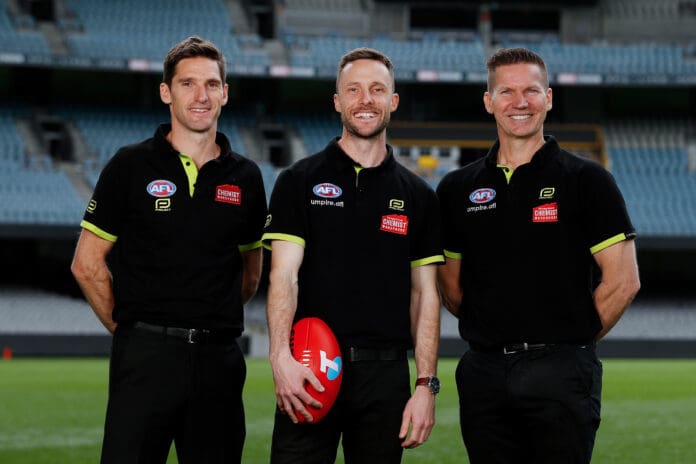 The AFL have announced the umpire appointments for Saturday's grand final.
Veterans Matt Stevic and Simon Meredith will be joined by Brendan Hosking who will be making his first grand final appearance. Hayden Gavine has been named as the emergency.
It will be the tenth time Stevic has had the whistle in operation on the final day of the season, while Meredith will officiate his eighth season decider.
Michael Marantelli will be joined by Christopher Gordonand, Matthew Konetschka and Ben McDonald to patrol the boundaries of the MCG. Matt Tomkins will be the emergency boundary umpire.
WATCH: 2022 AFL Grand Final - Who wins and why?
WATCH: How disciplined Swans can restrict runaway Cats
WATCH: Geelong's hot streak to culminate in glory?
Between the sticks will be Matthew Dervan and Sam Walsh. Dylan Benwell has been named as the emergency goal umpire.
AFL Head of Umpiring Dan Richardson praised the team of officiators for their selection.
"Matt, Brendan and Simon have done an exceptional job umpiring throughout the 2022 season and the honour of officiating the Toyota AFL Grand Final is well and truly deserved," Mr. Richardson said.
"This strikes a great balance between years of umpiring experience and also new talent officiating the biggest game of the year.
"I also want to take this opportunity to congratulate each boundary and goal umpire selected for the 2022 Toyota AFL Grand Final and thank each and every umpire who officiated this season – their professionalism and dedication is unmatched."
AFL Umpires Head Coach Michael Jennings spoke of the pride he had in those selected for the 2022 AFL Grand Final.
"I want to thank every umpire who has participated in officiating a game this season, and their families – without their commitment and support the game wouldn't be possible," Mr. Jennings said.
"The umpires selected in the 2022 Toyota AFL Grand Final are the best in the industry and are very deserving of this privilege – congratulations to all of them and I wish them the very best for Saturday," Mr Jennings said.