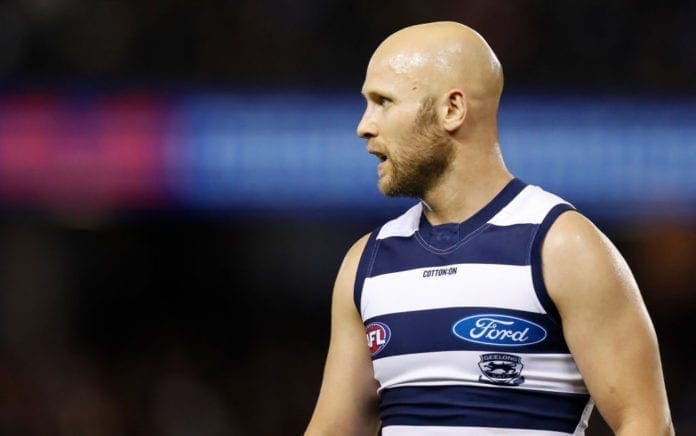 To state that the career of a professional footballer is taxing, is to present an understatement surpassed only by those of Monty Python's limbless knight.
Athletes are drafted wide eyed with a spring in their step. Their bodies are resilient with the rigours of a preseason, twenty plus games and countless training sessions seen out with relative ease.
However, as the tally of games grows and the injuries mount, their once ebullient chassis begins to moan and groan.
Father time is undefeated when it comes to retiring footballers.
Some have run him close (think Harvey, Fletcher, Bartlett and Tuck), though his loss column remains unblotted.
With list sizes and the salary cap set to shrink next season, the chances of many veterans returning to the fold has begun to slim.
Although we are obviously not in the business of retiring footballers or presiding over list management decisions, it is worth predicting which old hands may be back next season.
Of the 11 veterans on this list, all are out of contract at the end of this season and face a certain level of ambiguity about their future in studded boots.
Here are our predictions for who ceases and who continues next season. Let us know if you agree or not.

David MacKay
For a large portion of his 230 game career, David Mackay has been a whipping boy for folks from the city of churches.
Whether you agree with their contention or not, it can't be argued that the former third round draft pick has served the Crows admirably across 13 seasons.
However, in a season that concluded with suspension, Mackay's numbers have leveled off dramatically.
With the West Lakes club looking to rebuild with draft picks and youth, the 32-year-old Victorian may find himself surplus to requirements.
That is just magnificent from David Mackay! #AFLPowerCrows pic.twitter.com/beCWdmjaP5

— AFL (@AFL) April 8, 2017

Grant Birchall
With four premierships and more than 250 games to his name, Grant Birchall has lived a full football life.
Although not done yet, with his Lions still well and truly in premiership contention, the lanky Tasmanian does look set to hang them up at season's end.
Having replaced his former mentor and captain Luke Hodge in the Brisbane backline, Birchall has performed commendably in what is surely his swansong season.
Nevertheless, if the Lions are to replicate their successes in this millennium's young years, it will be off the back of their up and comers.
Let's hope the oft underrated, raking left footer can go out with another flag, this time at his adopted home.
Grant Birchall with a trademark goal on the run! 🙌#AFLNorthHawks pic.twitter.com/dVPRLa4hfc

— AFL (@AFL) August 2, 2019

Travis Varcoe
For a player that has seemed impossible to stop over fourteen seasons, it may only be a global pandemic that halts Travis Varcoe.
Having crossed from the Cattery at the end of 2014, Varcoe has continued his dynamic, line breaking game style in black and white stripes.
Varcoe complements coach Nathan Buckley's game plan of heading wide and hitting his spread-out forward targets with precision. This was evidenced with his borderline telepathic relationship with Will Hoskin-Elliott in 2018.
With lists and caps shrinking next season, if Varcoe is to stay a Pie, it will undoubtedly be at a minimum cost to the club.
Collingwood's plethora of small forwards will also hinder the 32-year old's chances of selection.
TRAVIS VARCOE LOVES A FIRST GOAL!#AFLGF pic.twitter.com/3DxR8WUxsN

— AFL (@AFL) September 29, 2018

David Mundy
The metaphorical phrase of evergreen does insufficient justice to David Mundy.
Across 332 games for the Fremantle football club, Mundy has proven his class as not only an accumulator and distributor, but also a match winner.
What just happened! 😱 David Mundy, take a bow. #AFLTigersFreo pic.twitter.com/jkkyEvtMw1

— AFL (@AFL) May 14, 2017
The 35-year old's hairline may be receding, but his footballing ability is still in stark contrast.
With so many talented midfielders at Cockburn still reliant upon Mundy's guidance and delivery, you can expect the ageless Docker to don the boots again next season.

Gary Ablett
Put simply, Gary Ablett is the most competitive and classy footballer many of us have ever witnessed.
His CV is too long to list and with the Cats in a qualifying final this weekend, there is still another chapter to write.
Although the little master is still running rings around those who had his poster on their bedroom wall, the end is nigher than many wish to believe.
With his days in boots coming to a close, another premiership for Ablett would provide the perfect completion to a near perfect career.
With all that being said, he has more than earnt the right to retire on his own terms. So should fans see him breaking banners and tackles in 2021, please, don't take him for granted.
Should Gary Ablett reconsider his decision to make 2020 his last season?

Subscribe via iTunes 👉 https://t.co/zgDnwiF699
Subscribe via Spotify 👉 https://t.co/oMMk5GFWOF pic.twitter.com/UkReWBt1I4

— RSN927am (@RSN927) September 21, 2020

Harry Taylor
As wise off the field as he is on in, Harry Taylor has spoilt forward's days for over a decade.
In his 250 plus game career, Taylor has reached the premiership summit twice (2009 and 2011) and has been named an All Australian defender twice (2010 and 2013).
Now silver haired and acting as the grandfather of the Geelong backline, Taylor will almost certainly call time on his career come the end of this season and allow for Blicavs, Henry, Henderson and Stewart to fill the void.
Like Ablett, the 34-year-old stopper will be desperate to salute with a third Geelong flag.
Ahead of Harry Taylor's 250th tonight, rewind to 2012 for his 100th game - where he kicked a career-high six goals against the Giants. pic.twitter.com/Qx8Zlgmqow

— AFL (@AFL) June 22, 2019

Heath Shaw
Although without doubt one of the game's greatest characters, an uncertain summer faces the nonchalant Heath Shaw.
In his 16 seasons in the AFL, Shaw has saluted as a premier in 2010 and then reinvented himself as an orange clad Giant.
Shaw's steadying influence as the Giants' 'exit kick' for seven seasons has not only allowed high end draft picks to prosper around him, but for the soon to be 35-year-old to continue chasing a second flag.
With the Giants season ending acrimoniously outside of the eight, Shaw has been shown the door in Sydney's west. However, with fuel left in the tank, a Victorian club could do worse than to offer the veteran a frugal, short term contract.
An Arden Street reunion with brother Rhyce could well be on the cards.
If not, you can be certain to find the larrikin back plying his trade in the ammos at Diamond Creek.
This week, Heath Shaw plays his 300th game!

In the lead-up, we're celebrating all things Heater, starting with these very important Stats that Matter he shared ahead of his 250-milestone.#Heath300 pic.twitter.com/QMy5xOHXFU

— GWS GIANTS (@GWSGIANTS) July 22, 2019

Nathan Jones
Say jump and he'll ask how high. Provide a brick wall and he'll shatter the mortar with ease.
The short and long of it is that Nathan Jones is a warrior.
For nearly 300 games (many of which have ended in disappointment), the midfielder that resembles a tow ball, in both looks and utility, has cracked in without fear for his safety.
Sadly, with a contemporary premium placed on pace and pristine skills, Jones faces a stiff challenge to crash through crepe paper and contests in 2021.
If it does happen to be the end of the former captain's career, it is a shame that it ended without the accolades he richly deserved.
Nathan Jones kicked two quick goals and made sure his brother Zak knew all about it!#AFLSwansDees pic.twitter.com/YHo8yJYQGJ

— AFL (@AFL) April 11, 2019

Bachar Houli
Now before you bite my head off, Tiger Army, Houli has only been named due to a similarity in age and contract status to his contemporaries on this list.
For these reasons and due to an interrupted season due to family matters, it shouldn't surprise the masses if the bearded Tiger hangs them up at season's end.
If Richmond and Houli are able to add the thirteenth cup to the Tigerland trophy cabinet, it would provide a perfect platform for the 32-year-old to do so.
With that being said, the much loved Houli may continue down the David Mundy route.
As one of his many admirers, I'm hoping this is the case.
What a man 🙌

Daisy talks to one of the most popular players in the comp, Bachar Houli #AFLGF pic.twitter.com/HfcfNFsNXK

— 7AFL (@7AFL) September 28, 2019

Paddy Ryder
As another veteran who looks to have followed Ponce De Leon in drinking from the fountain of youth, Paddy Ryder has rejuvenated himself as a Saint.
With his budding partnership with Rowan Marshall beginning to bear fruit, it seems inconceivable that Ryder will be anywhere else but Moorabbin next season.
His bounty of crucial goals, leadership and hit outs to the advantage of the previously starved St. Kilda midfielders have proven crucial in his new club's rise up the ladder.
A hit-out to advantage...with his back heel 😱

Paddy Ryder wound the clock back last night. pic.twitter.com/gPaBIt80oL

— St Kilda FC (@stkildafc) September 19, 2020
Long suffering Saints fans will be hoping the trend continues not just in the coming month, but also in seasons to come.

Shannon Hurn
Having already climbed the dais and accepted the premiership cup as skipper, Shannon Hurn will be desperate to repeat the dosage this season.
Although his eyes will be set on this mammoth task, his mind may be wandering to what comes next.
Should the amazingly reliable defender salute again as skipper, the stage will be set to conclude his surprisingly underrated career.
If not, who knows how fueled the fire in the 33-year old's belly will be?
Shannon Hurn is a Premiership captain! #AFLGF pic.twitter.com/IToeLACKvY

— 7AFL (@7AFL) September 29, 2018