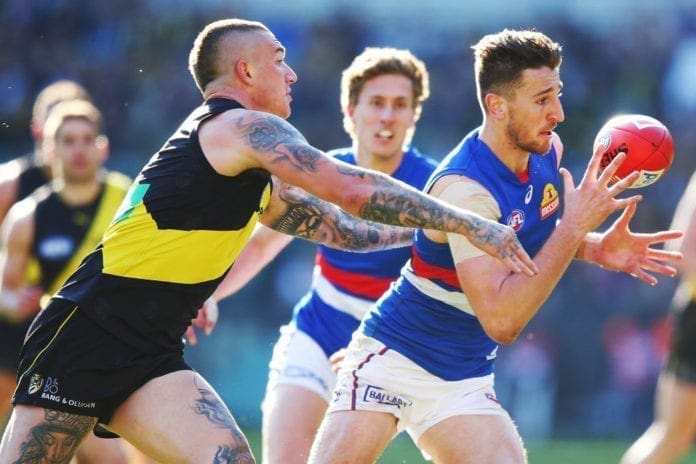 Win, lose or draw, a drought is set to be broken at the MCG this Saturday afternoon.
Although neither the sexiest nor the longest, St Kilda's home final against GWS at the home of football will see the duo break a September duck, becoming the 127th different finals pairing in AFL/VFL history.
And with Carlton, Melbourne and Port Adelaide joining the Giants in the race down the straight for the flag, combinations 128, 129 and 130 may also be cracked before September's end.
But just how many AFL clubs are yet to face off in the finals furnace?
More than one would first imagine, we can assure you.
Take a gander at the list below.
*DISCLAIMER: Only clubs with the ability to break their droughts have been listed. Also, teams listed in bold are able to break droughts this year.
| | | |
| --- | --- | --- |
| Teams | Total appearances | First clash |
| Footscray/Western Bulldogs and Richmond | 160 | Round 8, 1925 |
| Carlton and Footscray/Western Bulldogs | 152 | Round 11, 1925 |
| Fremantle and West Coast | 57 | Round 7, 1995 |
| St Kilda and West Coast | 54 | Round 8, 1987 |
| Richmond and West Coast | 50 | Round 1, 1987 |
| Fremantle and Richmond | 41 | Round 1, 1995 |
| Fremantle and St Kilda | 41 | Round 10, 1995 |
| Carlton and Fremantle | 40 | Round 13, 1995 |
| Melbourne and Port Adelaide | 39 | Round 9, 1997 |
| Brisbane Lions and Hawthorn | 38 | Round 3, 1997 |
| Carlton and Port Adelaide | 37 | Round 10, 1997 |
| Brisbane Lions and West Coast | 37 | Round 7, 1997 |
| Fremantle and North Melbourne | 35 | Round 11, 1995 |
| Brisbane Lions and Fremantle | 34 | Round 8, 1997 |
| Brisbane Lions and Gold Coast | 25 | Round 7, 2011 |
| Gold Coast and North Melbourne | 19 | Round 12, 2011 |
| Carlton and Gold Coast | 18 | Round 2, 2011 |
| Adelaide and Gold Coast | 18 | Round 8, 2011 |
| Gold Coast and St Kilda | 18 | Round 19, 2011 |
| Gold Coast and GWS | 17 | Round 7, 2012 |
| Gold Coast and Melbourne | 17 | Round 4, 2011 |
| GWS and Melbourne | 17 | Round 13, 2012 |
| Gold Coast and Hawthorn | 17 | Round 13, 2011 |
| Gold Coast and Western Bulldogs | 16 | Round 3, 2011 |
| Essendon and GWS | 16 | Round 9, 2012 |
| Carlton and GWS | 16 | Round 6, 2012 |
| Gold Coast and West Coast | 16 | Round 11, 2011 |
| Gold Coast and Sydney | 16 | Round 16, 2011 |
| Geelong/Gold Coast | 15 | Round 10, 2011 |
| Gold Coast and Port Adelaide | 15 | Round 5, 2011 |
| Fremantle and GWS | 14 | Round 7, 2012 |
| Fremantle and Gold Coast | 14 | Round 15, 2011 |
| Essendon and Gold Coast | 14 | Round 6, 2011 |
| Collingwood and Gold Coast | 14 | Round 18, 2011 |
| GWS and Port Adelaide | 14 | Round 19, 2012 |
| GWS and Hawthorn | 14 | Round 15, 2012 |
| Gold Coast and Richmond | 13 | Round 17, 2011 |
| GWS and North Melbourne | 13 | Round 2, 2012 |