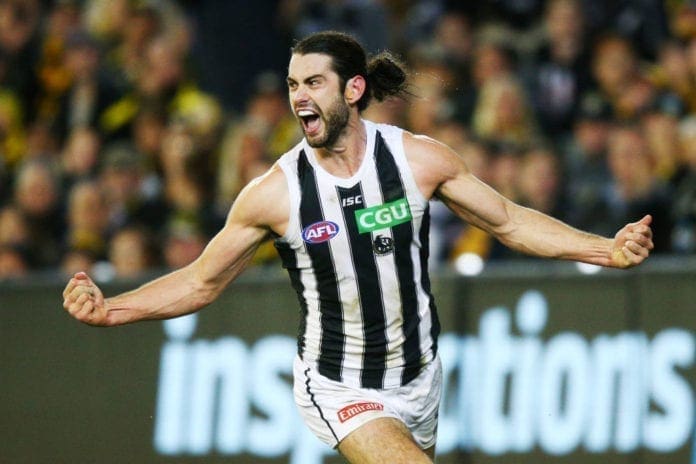 Following last week's NAB AFL Draft and the arrival of a new batch of rookies, Champion Data has provided an insight into each club's demographics heading to the 2020 season.
With the oldest list in the league, at an average age of 24.88 as at round one of the 2020 season, Collingwood will be under immense scrutiny to contend for a flag next year. The Pies also boast the fourth-most experienced squad, averaging 75.93 games each, meaning there is little room for excuses if the club falls short of their premiership aspirations.
Conversely, the Gold Coast Suns' struggles are expected to continue, with both the youngest (23.41) and most inexperienced (52.08) side in the competition. The club has just three players with 151 games of experience or more, the equal-lowest tally alongside Melbourne.
Following the retirements of Hayden Ballantyne and Aaron Sandilands at the end of last season, Fremantle's are now the only club to have less than three players over the age of 30, with 34-year-old David Mundy the sole member of the exclusive club.
Meanwhile, Hawthorn and Geelong have the largest veteran contingents, with seven players aged 30 or older within their squads, and both clubs, along with West Coast, lead the league in 151+ game players with 12 apiece.
Despite having the fifth-most experienced list in the competition, with an average of 69.03 games played, Port Adelaide also has the most players playing 20 games or less, with 22 players in that bracket.
Club-by-club age breakdown
| | | | | | |
| --- | --- | --- | --- | --- | --- |
| | AVG AGE | 18-21 | 22-26 | 27-29 | 30+ |
| 1. COLL | 24.88 | 15 | 16 | 8 | 6 |
| 2. WCE | 24.8 | 14 | 15 | 11 | 4 |
| 3. HAW | 24.66 | 19 | 13 | 5 | 7 |
| 4. NMFC | 24.66 | 14 | 15 | 12 | 3 |
| 5. GEEL | 24.65 | 21 | 8 | 10 | 7 |
| 6. GWS | 24.56 | 16 | 18 | 6 | 5 |
| 7. STK | 24.3 | 13 | 24 | 5 | 3 |
| 8. ESS | 24.19 | 13 | 20 | 6 | 3 |
| 9. RICH | 24.01 | 18 | 13 | 9 | 4 |
| 10. WB | 23.99 | 14 | 21 | 7 | 4 |
| 11. PORT | 23.9 | 20 | 12 | 9 | 4 |
| 12. ADEL | 23.87 | 17 | 16 | 7 | 3 |
| 13. MELB | 23.86 | 13 | 22 | 5 | 3 |
| 14. CARL | 23.75 | 16 | 20 | 3 | 6 |
| 15. BL | 23.54 | 21 | 16 | 5 | 4 |
| 16. FRE | 23.54 | 20 | 16 | 8 | 1 |
| 17. SYD | 23.54 | 20 | 16 | 6 | 3 |
| 18. GCFC | 23.41 | 19 | 18 | 9 | 3 |
*Ages at round one, 2020
Club-by-club matches breakdown
| | | | | | | |
| --- | --- | --- | --- | --- | --- | --- |
| | M | <20 | 21-50 | 51-100 | 101-150 | 151+ |
| 1. GEEL | 80.72 | 19 | 7 | 5 | 3 | 12 |
| 2. HAW | 80.25 | 19 | 3 | 8 | 2 | 12 |
| 3. WCE | 77.89 | 14 | 10 | 5 | 3 | 12 |
| 4. COLL | 75.93 | 18 | 5 | 7 | 6 | 9 |
| 5. PORT | 69.02 | 22 | 2 | 7 | 6 | 8 |
| 6. NMFC | 68.95 | 18 | 5 | 7 | 8 | 6 |
| 7. GWS | 68.87 | 17 | 6 | 8 | 7 | 7 |
| 8. RICH | 68.82 | 20 | 5 | 7 | 2 | 10 |
| 9. CARL | 64.33 | 17 | 8 | 11 | 3 | 6 |
| 10. ESS | 62.83 | 15 | 6 | 11 | 5 | 5 |
| 11. STK | 62.2 | 18 | 8 | 8 | 6 | 5 |
| 12. MELB | 60.42 | 17 | 6 | 11 | 6 | 3 |
| 13. ADEL | 59.19 | 21 | 5 | 5 | 6 | 6 |
| 14. WB | 57.67 | 17 | 9 | 7 | 10 | 3 |
| 15. BL | 56.15 | 21 | 7 | 6 | 6 | 6 |
| 16. SYD | 55.6 | 18 | 9 | 8 | 6 | 4 |
| 17. FRE | 54.11 | 18 | 9 | 11 | 3 | 4 |
| 18. GCFC | 52.08 | 21 | 9 | 8 | 8 | 3 |