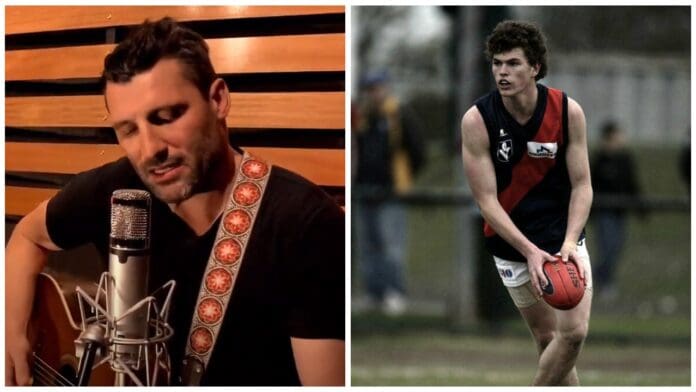 Music is something that brings people of all shapes, sizes and cultures together. An aspect of everyday life that a lot of people hold close and dear to their hearts, and athletes are no different.
There have been a number of footballers over the years that have shown their musical talents in one way or another, either having gone on to a career in music, or perhaps have just had one of those moments, creating memories that will be remembered forever.
Here are some former and current players you may have forgotten or not known of that have shown that they are just as niche with an instrument or on the vocals as they are on the football field, while mentioning some famous moments in time where music has crossed paths with players that have created long lasting memories.
VANCE JOY
Prior to starting a career in the music industry, Vance Joy - known simply as James Keogh -played for the Coburg Tigers in the VFL during the 2008-09 seasons, where he won the best first year player award in 2008, seemingly set for a promising career in football.
After receiving offers from clubs at the end of 2009 to play at the elite AFL level, Keogh chose to pursue a career in music instead, making it known his heart wasn't fully set on teh rigours of full-time footy, and it turned out to be a pretty good decision in the end.
In 2013, Vance Joy released his first EP, God Loves You When You're Dancing. His single 'Riptide' shot him to fame, going as high as number 6 on the ARIA singles charts and was used on a 'GoPro' TV ad in the USA.
In 2014, Joy announced his debut album, Dream Your Life Away. Also chosen as the supporting act on Taylor Swift's The 1989 World Tour, where he performed on the tour in the USA, United Kingdom and across Australia.
In 2015, Vance Joy won the 'Best Male Artist of the Year' award at the ARIA music awards for his Dream Your Life Away album.
He released a two singles in 2017 which would come up on his second album Nation Of Two, the following year, with 'Lay It All On Me' nominated for the 'Song of the Year' award at the 2018 ARIA music awards.
During 2019, Joy was the supporting act for P!nk's Beautiful Trauma World Tour.
In 2021, Joy released singles 'You' and 'Missing Piece', with the latter featuring in an episode of the medical drama 'Grey's Anatomy'.
A pretty good career choice.
TONY WOODS
Tony Woods played 173 games over the course of his AFL career with Fitzroy, Collingwood and Hawthorn, spanning a 14-year period beginning in 1988, and ending in 2002.
In 1998, Woods' media career started to kick off and is where music crossed paths with his football, with regular appearances on 'The Footy Show' on Nine Network and, as it turns out, also playing a big part in the music production of the show, often appearing behind the keyboard, and even releasing a "Footy Show" album.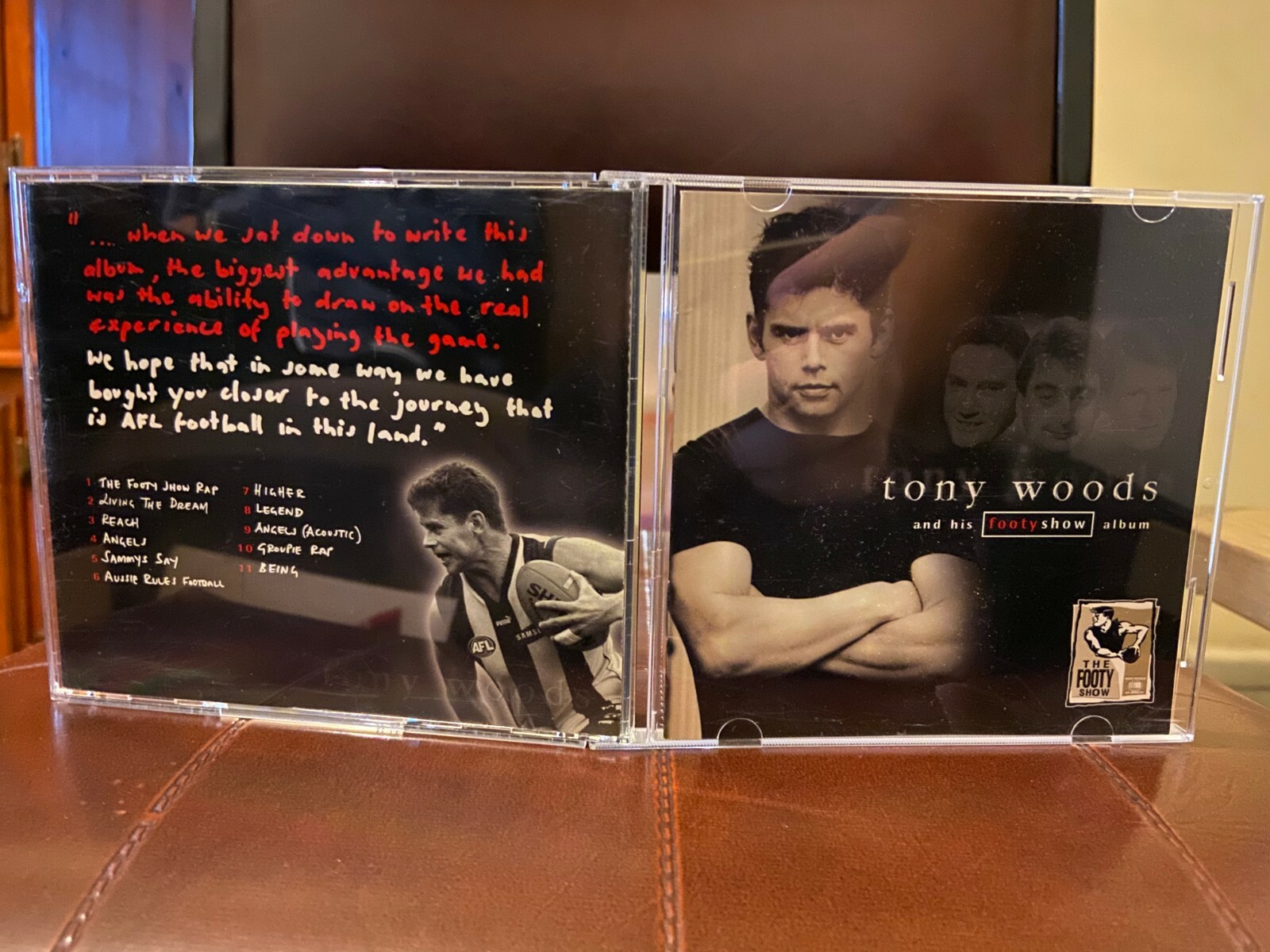 Woods has since gone on to important business roles with Triple M Football, Southern Cross Austereo, and even led the AFL's first international strategy. Woods is currently the Head of Commercial for Champion Data.
MARK 'JACKO' JACKSON
Mark 'Jacko' Jackson played 81 games in his VFL career from 1980-1986 with Richmond, Melbourne, St Kilda and Geelong.
Jackson was Melbourne's leading goalkicker in 1981, the same at St Kilda during his lone season at the club, and also led Geelong's goalkicking in 1984.
He also played for South Fremantle in the WAFL in 1979 and 1987, where he was the club's leading goal kicker in 1987 before finishing his football career.
But it was in 1985 after retiring from the VFL, Jackson singing career took off.
His first single 'I'm An Individual', hit #3 on the Australian music charts. After a couple of unsuccessful tunes after his initial single, Jackson decided to give up singing and would then turn to an equally (un)successful acting career.
WARWICK CAPPER
"CAPPAAAAAAAAAAAAAA!"
Who could forget the blonde locks, the short shorts, that colourful personality, and the unreal football ability?
Warwick Capper played 124 games over the course of his football career from 1983-1991 with the Sydney Swans and Brisbane Bears, kicking 388 career goals and taking some of the best marks you will see.
The music aspect ties in when in 1985, Capper released his single 'I Only Take What's Mine', which featured his flamboyant pink sports car and was one of the more interesting music videos to ever be released.
After retiring from football, Capper become somewhat of a media personality, popping up in a range of entertainment channels from TV ads to guest appearances on shows such as 'Neighbours' and 'Celebrity Apprentice Australia,' while he also dabbled in Queensland state politics, and the adult industry with a self-released sex tape.
He always had skills.
RUSSELL ROBERTSON
Russell Robertson had a very good career for Melbourne over a 12-year period from 1997-2009, playing 228 games for the Demons, kicking 428 goals in the process.
Robertson wasn't necessarily known solely for his football ability though, but rather his ability as a high flyer, taking some unbelievable hangers over his time in the AFL that would electrify a crowd like very few could.
Outside of football though, Robertson is a musician, regularly singing and playing the guitar in public performances.
In 2008, Robertson released an album titled Higher and also made an appearance on the television show 'It Takes Two', where he performed with partner, Kate Ceberano.
In 2018, Robertson also performed the Australian national anthem before the VFL Grand Final.
NIC NAITANUI
'Nic Nat' is one of the most electrifying players to ever grace an AFL ground.
Standing at 6'7 and 110kg, Naitanui can move around the ground with players half his size, and is arguably the most athletic ruckman that's ever played the game.
But what you didn't know though, is Nic Nat has sneaky-good musical ability as a singer and guitarist. Nothing famous - yet - but it does seem to be just another thing that Naitanui is great it.
In the 2021 release of Amazon Prime's 'Making Their Mark' series that went behind the scenes with particular players and clubs during a COVID ravaged season, there is a particular part where Naitanui grabs a guitar and plays and sings in front of teammates... and it is amazing.
Nic Nat being able to play the guitar and also sing just seems unfair pic.twitter.com/qvyPaGhado

— SgtButane (@SgtButane) March 12, 2021
Yep, unfair.
IZAK RANKINE
Rankine is only 21 games into his short AFL career, but - at age 20 - he's showing he has the capabilities to be a very special player in the competition.
With speed, breakaway ability and an eye for goal, Rankine has the tools to continue to grow and develop into one of the best small forwards in the game.
It also turns out he's pretty special off the footy field, with a recent Instagram video of him playing a tune, which -  like Naitanui above - sounds pretty spectacular.
And some others, not so good...
It goes without saying there have been some amazing and hilarious moments where music has also crossed paths with AFL football that can't go unmentioned.
How could we forget Stephen Kernahan's famous rendition of 'Stand By Your Man' in 1987?
The vocals might need a bit of work, 'Sticks', but this is clearly a Carlton historical moment that will forever be cherished by the football community.
And, what about Nick Riewoldt and St Kilda's 'Virgin Australia Film Festival' short film, where the Saints hired a "Vocal Coach" to teach the players how to sing?
In an incredible football career, this was not one of 'Rooey's' finest moments.
And last but certainly not least, how could we forget Jack Riewoldt's 'killer' performance post their drought-breaking 2017 AFL Premiership victory?, singing 'Mr. Brightside' on stage with The Killers.
What a vibe!
Can you think of any others? Let us know in the comments or on social media!