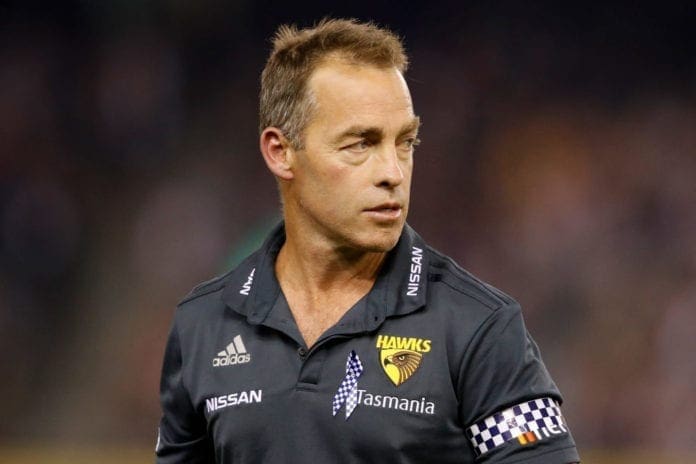 Carlton look set to part ways with current coach David Teague as early as Monday next week with the Blues independent review findings now sitting at the feet of the board and new president Luke Sayers.
The Carlton job is arguably the most attractive head coaching role to open up in recent times with the Blues seemingly on the verge. Their list is stocked with talent but has been let down by injuries and lapses in gameplan throughout the year.
The race for the Carlton job is viewed as a two horse race between Alistair Clarkson and Ross Lyon. The latter said he would be willing to take a phone call from the Blues should they come knocking.
Clarkson however has continued to say he has no plans to coach next year. That can be taken with a grain or two of salt with the four-time premiership coach also saying he would be at Hawthorn next year just weeks ago.
Gerard Wheatley believes Carlton's offer may be too much to refuse for Clarkson.
Speaking on SEN's Crunch Time, Whateley said that the Blues history of godfather offers for a quick fix may be too good for Clarkson to turn his back on.
"Three times he spoke about how much he's not finished with coaching and how his family is excited about what comes next," Whateley said.
"So if in his heart he knows he's going to coach again then I just think next week, probably Tuesday, he sits there and goes 'okay, I am going to coach again. Let me just have a look at this Carlton job, so Weitering, McKay, Cripps, Walsh, and I can take this job next week can I?'
"I think he's being incredibly respectful not to deviate from Hawthorn, but on Tuesday next week when his manager rings him and says 'Carlton want to talk to you. Do you want to talk to them?' He's going to sit down and go 'it's going to be hard to say no'.
"It's going to be very hard to say no to that."
Wheately was joined by journalist Sam Edmund who believes the blues won't be able to help themselves should Clarkson be interested in the role.
"You can almost hear it can't you?" Edmund added.
"The beeping of Carlton just backing the truck up, opening up the back doors and just the cash pouring in."