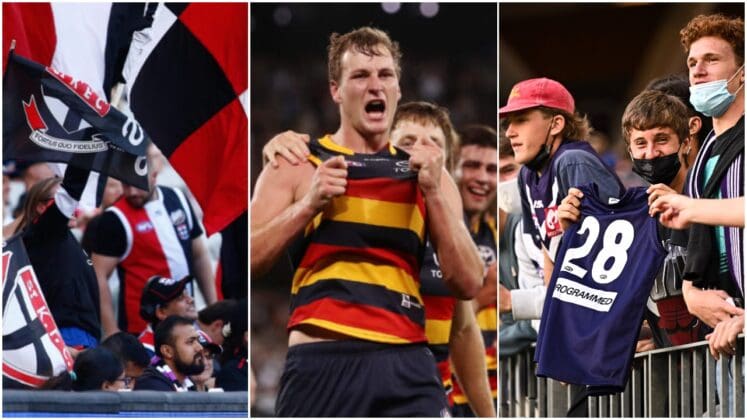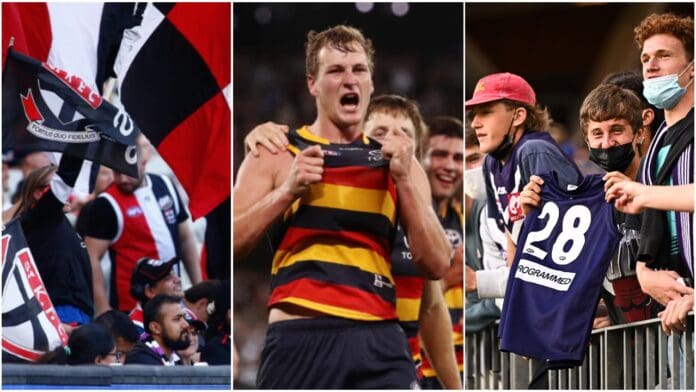 Over 130,000 rugby league fans are expected to flock to Brisbane this weekend to attend the NRL's Magic Round.
The concept sees all eight matches for the round take place at the same venue, Lang Park's Suncorp Stadium.
A true festival of football, 'Magic Round' attracts astounding domestic tourism numbers across the three-day period after having been highlighted on the NRL calendar the second the fixture is announced.
The concept is one that would prove a greater difficulty for the AFL, given longer games and a total of nine matches for the weekend.
On top of its potentially cramped schedule, there isn't a singular standout location for the AFL to select for a Magic Round-type event, however, the league does have several formidable options at its disposal.
Weighing up the venue, fixture, and games, we take a look at how an AFL Magic Round might take shape...
The Venue
While Victoria with its ten clubs stands as the AFL centre of Australia, the destination for an AFL Magic Round could rightfully be placed away from the Melbourne Cricket Ground or Marvel Stadium.
Perth's Optus Stadium and Adelaide Oval are both rated among the highest for venue fan feedback, leaving Western Australia and South Australia rivaling Melbourne as the home of Magic Round.
With recorded crowd numbers likely to surpass the 43,340 per day average the NRL recorded in 2021, grounds with a capacity of at least 50,000 seats is a necessity in these considerations.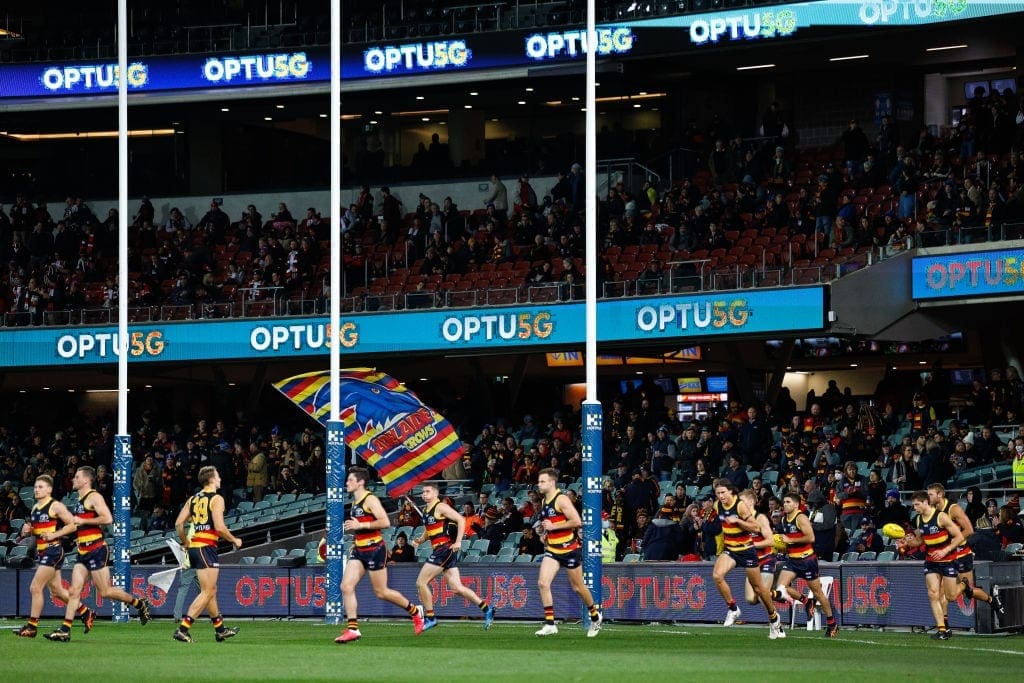 While the AFL-owned Marvel Stadium would be a venue league executives would want in play for Magic Round considerations, its limited seating capacity (approximately 54,000) is dwarfed by its cross-town competitor in the MCG.
The famous 'G is seemingly the first option that comes to mind for an AFL Magic Round when pondering potential destinations, given its monumental national landmark status and capability of squeezing in 100,000 fans.
Should Victoria get the nod, it's an easy decision.
Optus Stadium's 60,000 capacity and unparalleled entertainment facilities would have the WA venue well placed in consideration, with the 2021 AFL Grand Final and Dreamtime fixture highlighting the potential for delivering a quality spectacle for attending fans.
Magic Round on the country's west coast would also allow more flexible time slots for games, given the majority of viewers would be on the east coast, with the AFL able to fit in more fixtures throughout the day while appealing to the common fan.
As far as aesthetics and atmosphere, Adelaide Oval could be placed above its aforementioned rivals, with South Australia's flagship stadium arguably the best in the country for gameday experience.
Its limit of 50,000 seats does hinder such prospects, but there's no doubting the experience may be best set at a tighter venue, as seen with the NRL's event at Suncorp Stadium.
A more central destination would also satisfy travelling fans, who would flock from all corners of the country, an easy trip from all of Western Australia, Victoria, New South Wales, and Queensland.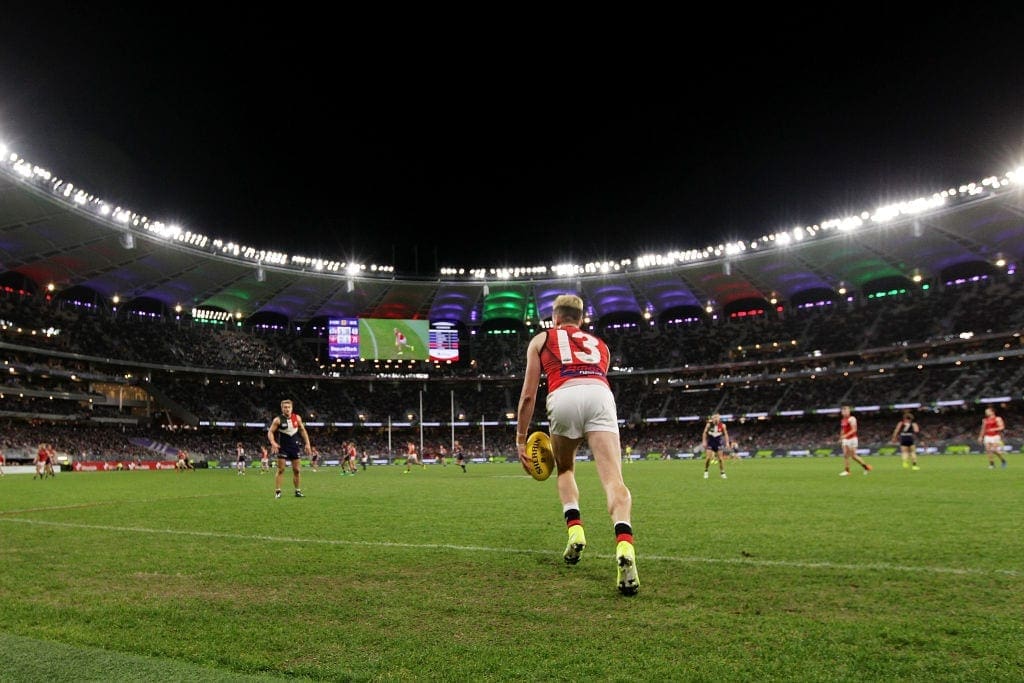 The attractive concept in the NRL's Magic Round is the fact that a majority of its fans are from New South Wales, planning the trip interstate for the weekend a long time in advance.
Similar would be expected of Melbourne's football community, with a trip interstate for the full round - and the ticket sales as such - giving WA or SA an advantage.
A fitting proposal would be to rotate the destination each year, with Victoria, Western Australia and South Australia all receiving a fair share of hosting, while the AFL could ponder further venues in New South Wales and even Tasmania given proposed developments to stadiums in either state.
The Schedule
To squeeze in all nine fixtures with no overlap, leaving enough time for pre and post-game commitments, there's one aspect of an AFL Magic Round that must be considered...
A long weekend.
With nine games spanning a required four hours each, the flexibility to work through an entire round at a single venue on a weekend is going to require some flexibility.
To best aid this dilemma, the freedom to play one or two games on the Monday would greatly benefit the league and the schedule for fans, while, for example, an Easter weekend Magic Round could also open up earlier games on Friday, too.
Ideally, with a standard three-day long weekend - such as the Queen's Birthday weekend - the fixture may look like this (all times AEST for this example):
Friday:
Game 1 - 7:30pm
Saturday:
Game 2 - 12:00pm
Game 3 - 4:00pm
Game 4 - 8:00pm
Sunday:
Game 5 - 12:00pm
Game 6 - 4:00pm
Game 7 - 8:00pm
Monday:
Game 1 - 12:00pm
Game 2 - 4:00pm
Conversely, should an AFL Magic Round occur across Easter, two matches could be held on Good Friday starting as early as, say, 3:00pm, while a sole fixture could take place on Monday to allow fans to make their way back home at a reasonable hour.
The Games
All footy fans can ask of the AFL is for competitive games. Given the rolling fixture remains a presence this season, the league could utilise such fixture flexibility to schedule contending clubs against one another.
Should an AFL Magic Round occur in WA or SA, then starting with a Western Derby or Showdown in the Friday night time slot may seem like a fitting opening, but overall it would likely hinder the potential ticket sales numbers across regular home and away rounds where those matches could be optimised as standalone events.
Taking 2022 as an example, the league could get the most out of a Fremantle vs Melbourne affair from its neutrals, while matches between the likes of Carlton/Sydney, Collingwood/Geelong, Hawthorn/Adelaide and Essendon/GWS would attract fans given the standards of the contests each matchup may present.
For a Victorian round, a traditional rivalry would work as the perfect curtain-raiser, likely pulling in an estimated 80,000 at the MCG to begin the weekend.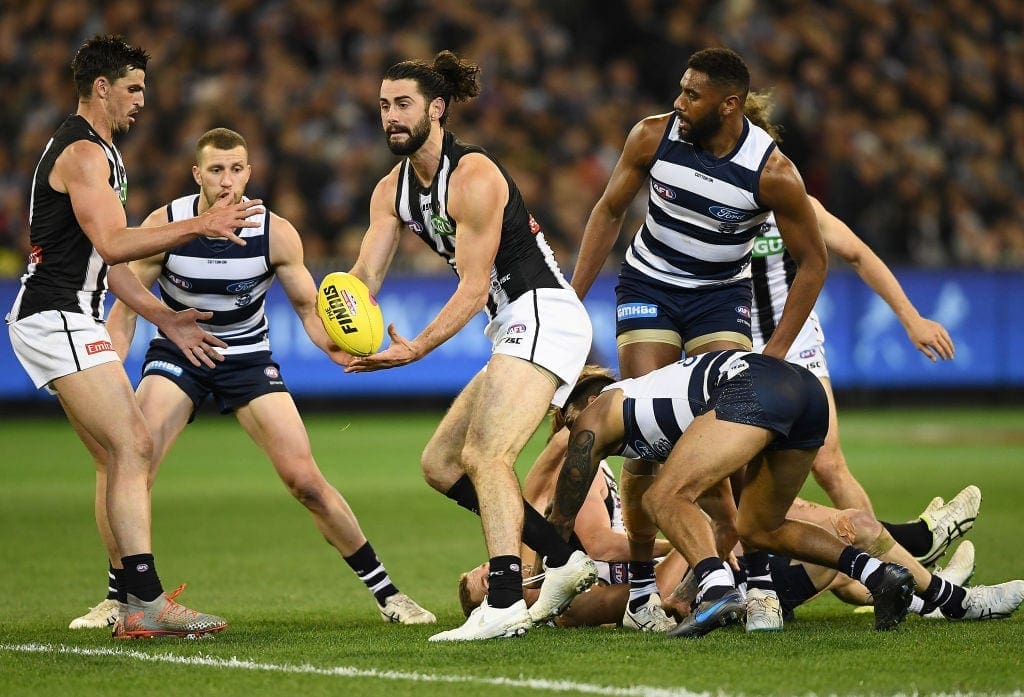 Brisbane and Richmond could be given the nod for the opening game, with other fixtures in the form of St Kilda/Port Adelaide Gold Coast/North Melbourne and West Coast/Western Bulldogs round out the eventful weekend.
Friday:
Game 1 - Richmond vs Brisbane
Saturday:
Game 2 - St Kilda vs Port Adelaide
Game 3 - North Melbourne vs Gold Coast
Game 4 - Melbourne vs Fremantle
Sunday:
Game 5 - Western Bulldogs vs West Coast
Game 6 - Carlton vs Sydney
Game 7 - Collingwood vs Geelong
Monday:
Game 1 - Essendon vs Greater Western Sydney
Game 2 - Hawthorn vs Adelaide