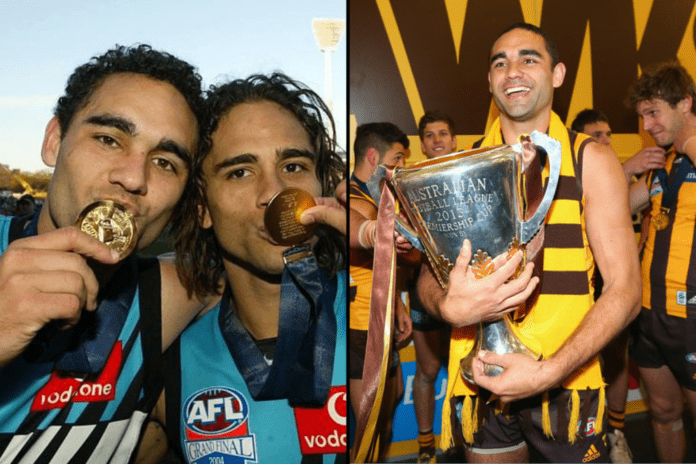 Shaun Burgoyne will run out for his 400th AFL game this weekend when Hawthorn host Port Adelaide at Marvel Stadium on Saturday night.
It is fitting that he faces his former team in Port Adelaide, who took him at pick 12 in the 2000 AFL draft.
Burgoyne would have to wait a year before making his senior debut against St Kilda in round 3 on April 14th 2002, and would go on to become an integral part of the Power side who would win the 2004 AFL Premiership.
'Silk' has become an all-time great since making the move to the Hawks, winning three  more premierships and this week will become just the 5th player in VFL/AFL history to play at least 400 senior games, behind retired stars Brent Harvey (432), Michael Tuck (426), Kevin Bartlett (402) and Dustin Fletcher (400).
We take a quick rewind back to 2002 to reminisce on what the world was like when Shaun Burgoyne debuted on April 14.
You think you're the biggest Shaun Burgoyne fan ever?! Introducing his four beautiful kids! 😍

Watch as they watch some of the best bits of their dad's career! 💛 #Silk400 pic.twitter.com/gRv3Vca4vI

— Hawthorn FC (@HawthornFC) June 29, 2021
SPORT
Tiger Woods (golf) won back-to-back Masters tournaments on April 14, 2002 and his 7th major overall.
Tom Brady (NFL) had played only 16 games in the NFL, winning his first Super Bowl with the New England Patriots, defeating the Los Angeles Rams 20-17. Brady has now played 344 games for six more Super Bowl victories, and is still playing with the Tampa Bay Buccaneers.
Melbourne Storm (NRL) legend Cameron Smith made his NRL debut against the Canterbury Bulldogs on the same weekend as Burgoyne. Smith would go on to play 430 games with the Storm.
Richmond ruckman Ivan Soldo celebrated his 6th birthday on this day.
Michael Schumacher (Formula1) won the 2002 Australian Grand Prix, his 54th Grand Prix victory.
Jennifer Capriati (Tennis) won the 2002 Women's Australian Open, defeating Martina Hingis in three sets.
Thomas Johansson (Tennis) won the 2002 Men's Australian Open, defeating Marat Safin in four sets.
POLITICS
George W. Bush Jnr. was the President of the United States.
Tony Blair was Prime Minister of the United Kingdom.
POP CULTURE
Jennifer Lopez's 'Ain't It Funny' was the the number 1 song in the USA.
The movie 'Changing Lanes' starring Ben Affleck and Samuel L. Jackson was at the top of the Box Office, grossing $95 million.
'Friends' was the most popular TV show on the planet at the time.
'Star Wars II: Attack of the Clones' was released in cinemas.
'Chicago' had just won Best Picture at the Academy Awards.
TECHNOLOGY
The Nokia 3310 was one of the most popular cell phones on the market.
LimeWire was the most popular software program, allowing users to share and download music, software and videos.