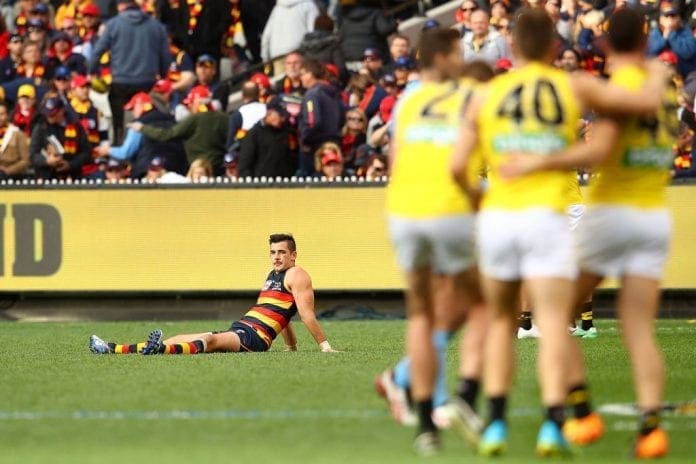 Saturday's decider in the West is set to be an epic encounter with both the Dees and Dogs clearly being the best two teams of 2021.
However, as we very well know, one of these sides will go back to Melbourne devastated knowing that their performance on the day wasn't good enough to taste the ultimate success.
It's this pure and unadulterated sorrow that makes our game, and sport in general, mean a lot more than non-fans maintain it should.
Going off history, what does a Grand Final loss do to teams in the years following the defeat? Do they sink or swim? Does the loss signal the start of something brilliant or the conclusion of what was a flash in the pan moment?
Let's have a look back over the decade that was and analyse the fate of each losing grand finalist.
Collingwood (2011, 2018)
The Pies came up short in 2011 against the Cats after a disappointing final quarter saw Chris Scott's side pile on five unanswered goals to win their third flag in five seasons.
2018 is still firmly at the forefront of Collingwood supporters' minds, with Nathan Buckley's side only a Dom Sheed clutch goal short of winning the flag despite being so far ahead for large portions of the match.
Dom Sheed: "I wasn't meant to be on the ground."

Players and coaches re-live the epic moments of the 2018 AFL Grand Final. pic.twitter.com/gWJelRrbJa

— 7AFL (@7AFL) April 6, 2019
From 2012-2017 the Pies had an average finishing position of 11th and post-2018 their average has been 10th, meaning that their shortcomings on the final day in September typically mean their next opportunity will be a while off.
Hawthorn (2012)
Alastair Clarkson's side came tantalisingly close to winning the big dance in 2012, with a Nick Malceski over-the-shoulder snap sealing the Hawks' second-place fate.
Nick Malceski on the left boot with less than a minute to go, need we say more?

Watch the final moments of the thrilling 2012 Toyota AFL Grand Final, thanks to @WolfBlassWines. pic.twitter.com/0uyYQuVTZH

— AFL (@AFL) September 15, 2021
However, fans don't need to be reminded of the historic three-peat that Hawthorn pulled off from 2013-15, with the Hawks proving one of the only sides to show extreme resilience after missing out on a premiership cup.
It's useless to examine their finishing position the years after their loss, as their final placements on the ladder in 2013, '14 and '15 were first, second and third respectively.
Fremantle (2013) 
The Dockers made their first Grand Final appearance in 2013 under Ross Lyon, however, Fremantle couldn't make it count against the Hawks when it mattered, going down by 15 points on the big day.
It didn't help they were 1.6 at half-time, but the balance of the game says that it was a definite missed opportunity for Fremantle to win their first-ever AFL premiership.
Although the Dockers finished fourth and won the minor premiership in 2014 and 2015 respectively, the side failed to make another grand final and finished 16th in 2016 to entrench themselves firmly in the bottom 10.
Sydney (2014, 2016) 
Sydney had two bites at the cherry following their 2012 premiership win, with both occasions seeing John Longmire's side coming up as bridesmaids.
2014 saw a rematch of the aforementioned winning Grand Final, although this time with a vastly different result, with Alastair Clarkson's Hawks belting Sydney on the day to the tune of 63 points in front of a 99,454-strong crowd.
Fast forward another two years to 2016 and it was another 'L' for the Swans in a historic encounter with the Western Bulldogs, who broke a 62-year drought by claiming victory.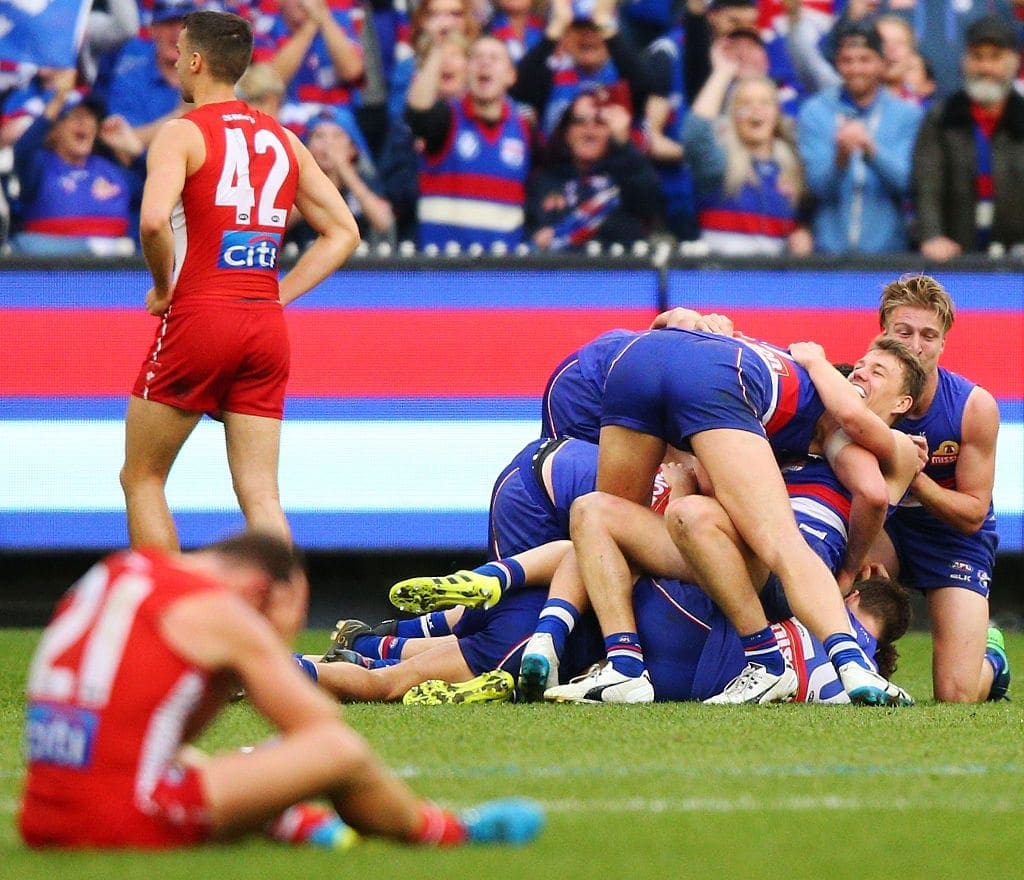 Their year out of the big dance saw them finish fourth whilst their average finishing position post-2016 was 10th, meaning their premiership window effectively ended with the final siren in 2016.
West Coast (2015)
The Eagles went into the encounter against the Hawks with genuine hope - from fans and neutrals alike - that they could overcome the might of a side who had just gone back-to-back.
However, all hope was effectively snuffed out by half-time, as the Eagles were unable to cope with the class of Alastair Clarkson's side, ultimately succumbing by 46 points.
For 2016 and '17, West Coast finished sixth and eighth before their second-placed finish and subsequent flag in 2018 saw them finally get a taste of September glory again.
Post-premiership, the Eagles have been underwhelming and have had an average final ladder position of seventh with their biggest slide being this year, emphasising the need for a rebuild.
Adelaide (2017)
The Crows look destined to take the flag back to Adelaide in 2017, with Taylor Walker infamously reserving a seat on their return flight for the cup to sit in.
What ensued would linger in the halls at West Lakes for decades to come, with Don Pyke's side going down by 48 points to a bloodthirsty Richmond side.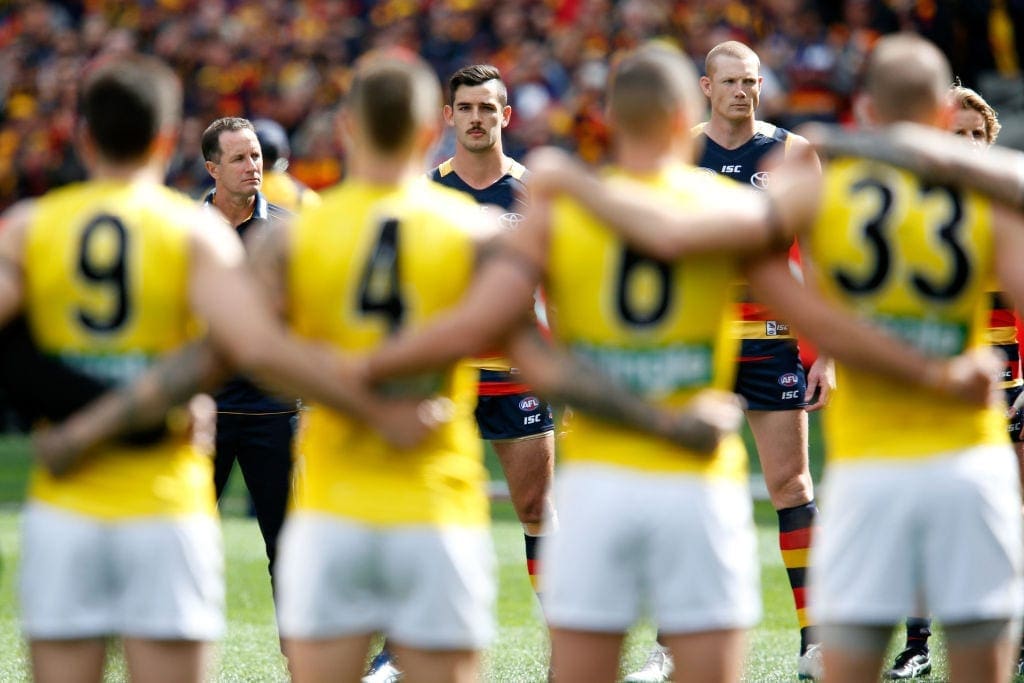 Moreover, the notorious 2018 pre-season camp saw the morale of the playing group doused further and their form in the following season putting it on display for all to see.
The Crows fell hard after their 2017 loss, with their average finishing position being 14th and failing to feature in any of the following season's finals series.
Greater Western Sydney (2019)
The big, big sound romped into the 2019 decider after knocking off the Pies at the 'G a week earlier. Though the big day did not go according to plan for Leon Cameron's side in any way, shape or form.
The Giants were absolutely decimated to the tune of 89 points, only managing three goals and slumping to their lowest ever score.
2020 and 2021 saw them finish 10th and seventh respectively, with the side not being back to the same heights since that fateful day in 2019.
Geelong (2020) 
The Cats rolled into the first ever Grand Final held interstate looking to send off legend Gary Ablett Jr. in style.
Their half-time lead of 21 points was solid, however, a late Dustin Martin goal in the second stanza meant they could - and probably should - have been further in front.
As we all well know it was the aforementioned Martin who put on the greatest individual Grand Final performance yet to bring the flag back to Punt Road and leave the Cats with more questions than answers.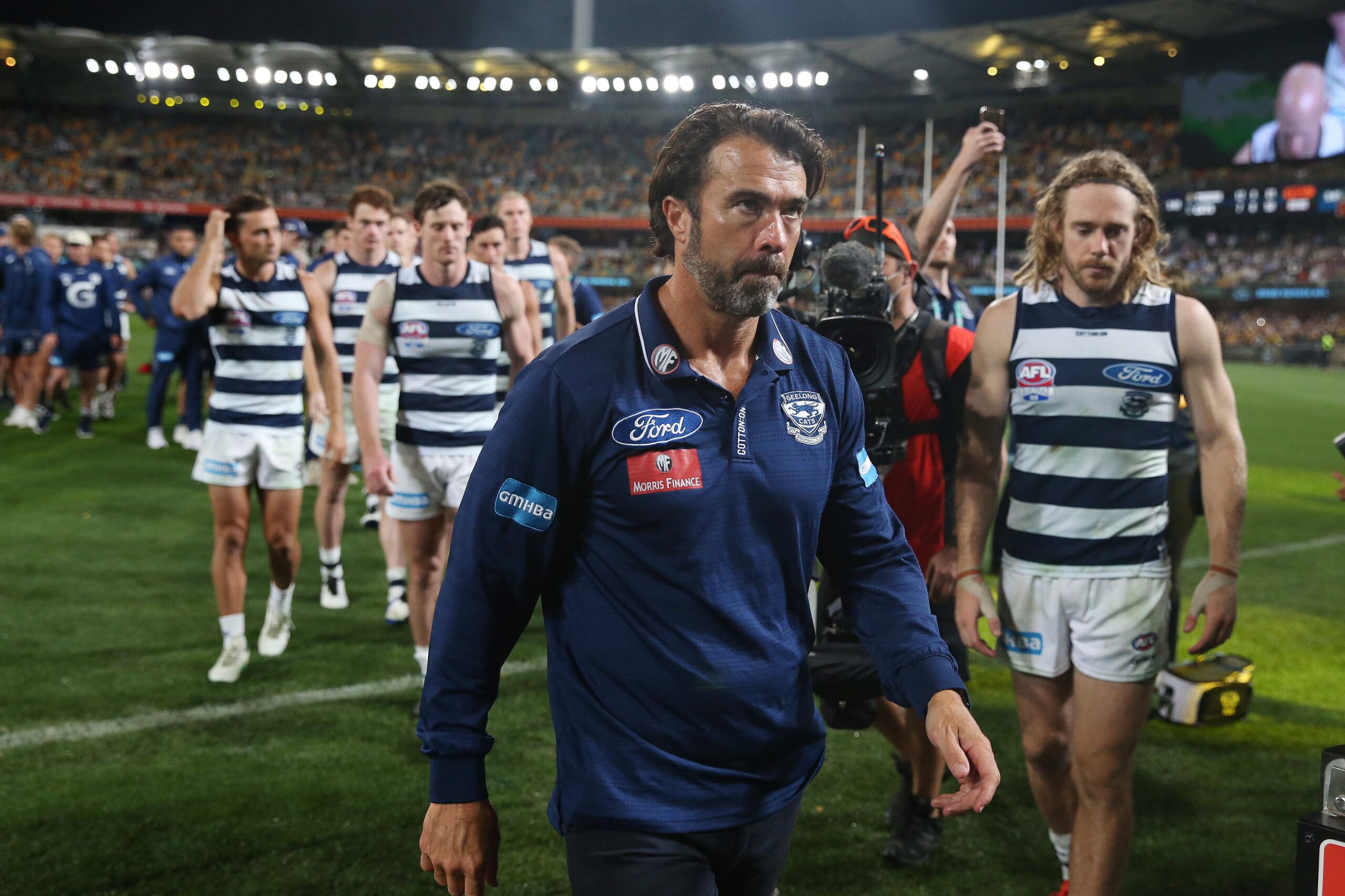 Despite making it back to a preliminary final this season after finishing third on the ladder, Geelong were embarrassed by Melbourne at Optus Stadium with many commentators citing that the loss more likely than not marked the end of the Cats' time in the sun.
Summary
So, with all these results in mind, what is the overarching trend we can deduce from them?
If we take into account the teams' final ladder position from a maximum of three season's following their loss in a Grand Final, the average finishing position of losing grand finalists is 7.16.
There are some flaws in this statistic, with Sydney having lost two deciders in three seasons, meaning they have five data points in the form of seasons 2015, 2016 (losing GF), 2017, 2018 and 2019 present in the average.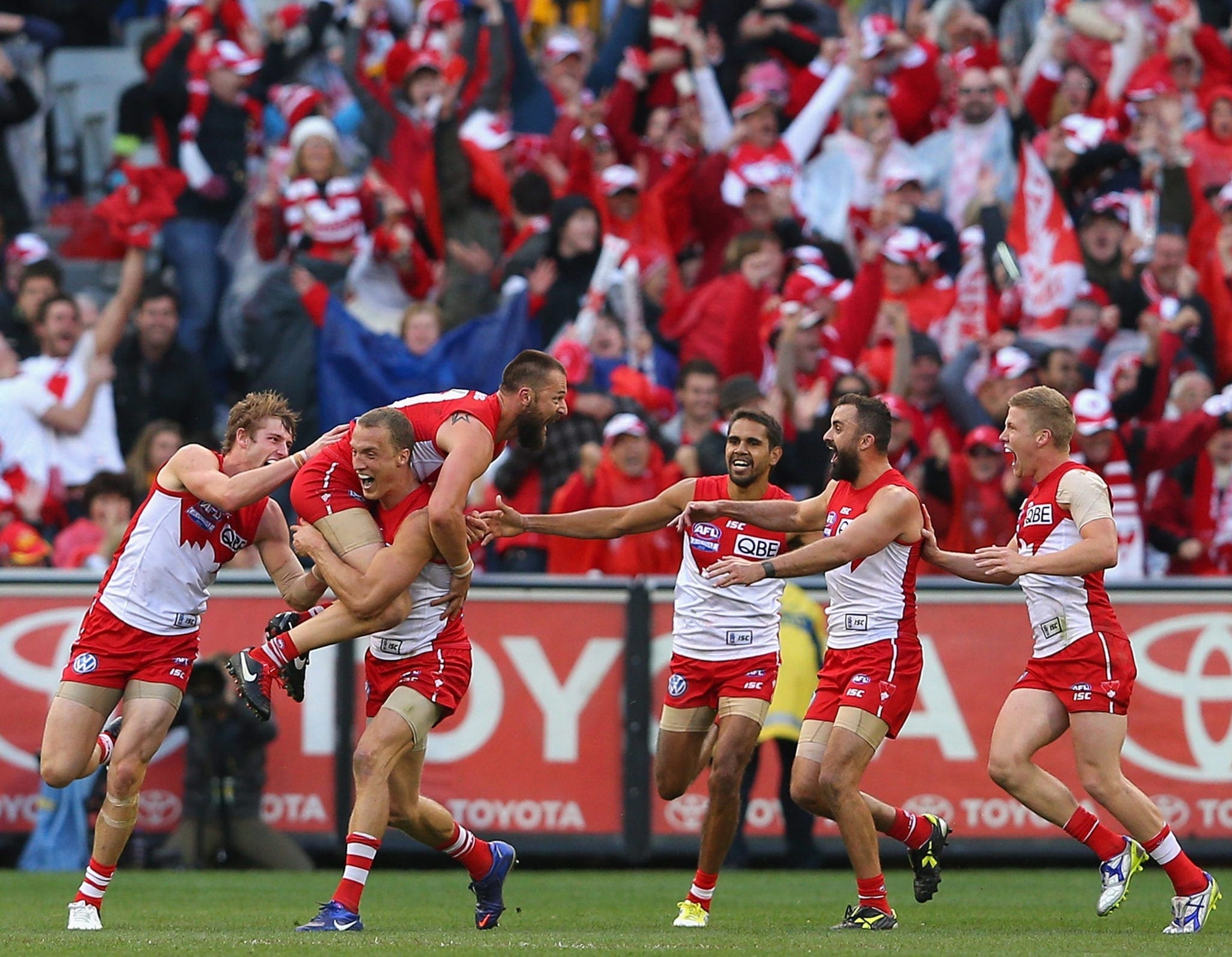 What does this mean for Saturday's game then?
If we're being brutally honest, it doesn't mean a whole lot.
What the average finishing position fails to take into account are other key factors which determine the trajectory of a team's fortune.
List age, form, type of opponent, amount of injuries - all of these things are omitted from this figure.
In 2016, the Dockers were nailed on for finals and top four, but dropped off as a result of injuries to their star players and an ageing squad.
In 2019, Collingwood finished fourth and were practically guaranteed by many to be a Grand Finalist, however, they fell at the penultimate hurdle in an uncharacteristic display.
There are things in footy which you can't put down to numbers - the intangibles - and there are the things that can't be equated with figures.
We can take into account that every side of the last decade, barring Hawthorn, hasn't been able to make a grand final the year after losing one, and can say that this year's unsuccessful Grand Finalist likely won't be in 2022's decider - but that just isn't wise.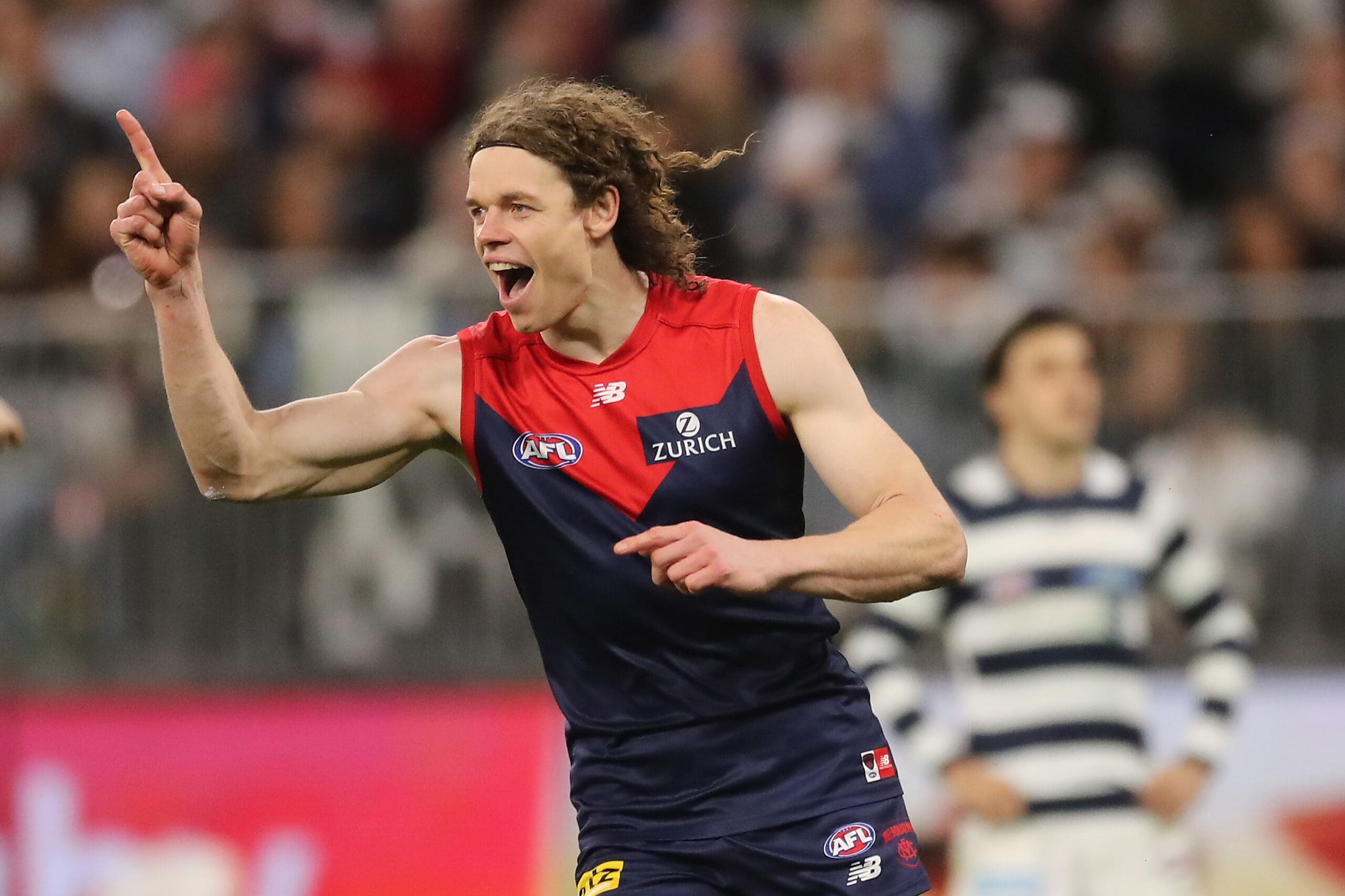 Melbourne has a young list that could very well compete at the top for the next five or more years if things go their way.
The Bulldogs too are in the same boat, with their exciting youngsters showing that they can be a force in the near future, even if they fall short on Saturday.
So although the trend does lean towards the defeated party not being able to bounce back instantly, there is certainly no reason why it has to continue after 2021.