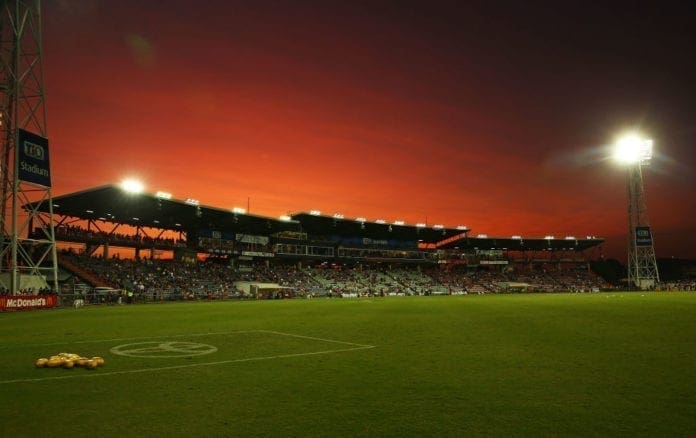 In late February of this year, Alastair Clarkson threw a cat amongst the proverbial pigeons.
When speaking with AFL Media reporter Mitch Cleary, the veteran Hawthorn coach stated that although his club had an inextricable link with the Apple Isle, the southern state deserved their own AFL team.
"Our club, in actual fact, I think is strong of the view that in a national competition it would be fantastic for Tassie to have their own club," Clarkson told AFL.com.au.
The outspoken mastermind didn't stop there, as he doubled down by claiming the top end also required big league representation.
"I've also got the view, and I'm not sure if it's shared by the club, that if we're a truly national competition, that we should have a side out of the NT."
Although the silence from AFL house regarding expansion has been deafening since Greater Western Sydney's injection in 2012, we couldn't help but wonder what a 20-team competition would actually look like.
Of course with the current landscape appearing far more dystopian than optimal, any near future views for AFL augmentation are idealistic rather than realistic.
However, with many questions raised, we at Zero Hanger have sought to alleviate some of the ambiguity.
Who would the two new teams be? 
Clarkson raised the necessity of both Tasmania and Northern Territory eventually joining the competition.
In terms of who would join first, it is clear that despite all of their previous and current rejections, Tasmania remains the frontrunner of the pair.
One only needs to view the grassroots campaigns that have arisen and thrived, as well as the dogged stance taken by state premier, Peter Gutwein.
What would they be called? 
The prevailing sentiment out of Tasmania is that their side, when eventually included, would reprise the state's former NBL moniker - 'The Devils'.
Is this a sign of things to come..#unitedwestandtassie @Cummins&Partners pic.twitter.com/5tqD40LxCf

— Believe Tasmanian (@BelieveTasmania) October 13, 2019
Of course this has arisen due to Richmond already owning the befitting alliterative tag of 'Tigers'.
Some may argue that 'Devils' may not be far enough removed from 'Demons', but as the visual branding would involve an actual animal, rather than a theological entity, any complaints should fall on deaf ears.
In terms of the Northern Territory, the canvas is currently blank, but as the team will be representing one of the most unique geographical and cultural locations, their title deserves to be distinctive.
The Territory's former NEAFL team was known as 'The Thunder', but with Port Adelaide possessing an exceedingly similar identity, a shift may be on the cards.
Flora and fauna native to the region could come into play when searching for a name, but if you ask us, 'The Crocodiles' has a great ring to it.
What would they wear?

Again, Tasmania's bid is so far progressed that this seems to have been answered already.
There is a view from a majority of punters that the state's representative jumper - colloquial known as 'The Map' - is a uniform that the entire region could and would get behind.
History is about to be made.

Our #NABLeagueGirls are ready to get stuck into the 2020 season at North Hobart Oval.

Come on down to cheer the girls on or tune into the live stream from afar!

STREAM: https://t.co/iNiLSl27Hc

📸: @solsticedigital | #TheDevilYouKnow pic.twitter.com/zhCUsQEgmO

— Tasmania Devils (@TasmaniaDevils_) March 7, 2020
Despite this, others believe that a fresh start in terms of the playing strip is the way to go.
Whichever side of the fence you sit on, it appears near impossible that anything other than bottle green, primrose and maroon will be worn.
With a grand total of zero green guernseys currently in rotation throughout the AFL, it is unlikely to face many clashes.
For the prospective 'Crocs' bid, the options are limited.
The Thunder were clad in black, orange and white - with a dash of yellow - but as this already clashes with GWS, St. Kilda and even Essendon, a compromise could well be on the cards.
Delahunty finds his feet with the Northern Territory Thunder https://t.co/ptvmOEBkZ3 pic.twitter.com/tKrGO6DeQQ

— Wimmera Mail-Times (@Wim_Mail_Times) May 2, 2019
Prospective jumpers created by amateur graphic designers have continued to implement orange and black - the colours of the Northern Territory flag - so if this is the case when an official bid is launched, a neutral clash guernsey will need to be produced.
What problems could they face? 
Starting anything from scratch, especially is the current climate, is fraught with danger. In terms of this pair of 'start up' football clubs, this remains true.
Cynics are likely to point out that player retention, low attendances, non-competitive finances, small membership bases and a potential lack of sponsorships are likely to cripple these prospective clubs.
With a combined population of approximately 800,000 citizens last year, some of these negative stances may well prove correct.
However, with local businesses such as Mars confectionary granting sponsorship funds to the Tassie bid in the past, they could very well prove unfounded.
What would the fixture look like?

When posed this question, Clarkson's response was emphatic.
"Make it a 20-team competition, everyone plays each other once and perhaps you might have a blockbuster where you play one of your rivals and it makes it a 20-round season," he said.
Not one to argue with the greatest contemporary coach, we have also adopted this stance.
The 20-round fixture would also inverse, with all the teams that a side faced away billed to face them at home the following year.
A 20-round season would potentially have an impact on the pre-season, but as the league has moved away from a formal competition over the summer months, preferred informal scratch matches instead, any shift would prove minor.
When would they enter the league?

Opinion smattered with fact has been provided so far, but as Gillon McLachlan's lips have been sealed for some time on the topic of expansion, we can't offer you anything more substantial than a spitball.
The Coronavirus, the VFL's recent alteration and Bill Shorten's failed bid to claim this country's top office have all hindered Tasmania's AFL entry, so trying to predict their next hurdle would prove a better use of time rather than forecasting the date of their injection.
Although an official bid for an AFL team from the Northern Territory is yet to be lodged, ABC News' Steve Vivian stated in February of this year that the taxpayer funded report into the viability of a prospective team has been completed.
As it is yet to be released, all bets remain off.
Where would they play? 
With both of these teams set to represent either an entire state or territory, both will be afforded multiple options to call home.
In the Apple Isle, both Hobart's Bellerive Oval (Blundstone Arena) and Launceston's York Park (University of Tasmania Stadium) are established league venues.
Sunset at Blundstone Arena pic.twitter.com/2WICTy1l9J

— Nick Cummins (@CricketVicCEO) January 4, 2019
When the Tasmania Devils join the competition, it is likely that the club will alternate between the two for their home games.
Up north, Marrara Oval (TIO Stadium) in Darwin and Traeger Park in Alice Springs have hosted AFL games for multiple years, so like the Devils, any Northern Territory team is likely to rotate their clashes.
Beautiful evening in Darwin for the #AFLSunsBlues game. TIO Stadium surface in great nick, looks like carpet.#AFL pic.twitter.com/NhJIoqax52

— Matt Turner (@mattturner1986) August 21, 2020
Why would the league grant two further licenses?

Put succinctly, fairness.
The game's governing body has long preached that theirs is a code for all Australians, but if nearly one-million Australians are not afforded a local team, referring to our competition as truly national seems a stretch.
Both the Northern Territory and Tasmania have produced a plethora of superstar players - including four of the game's official legends - so why not create clubs that represent their places of origins? Why not create a goal for the next generation?
Pathways to the big league in both Tasmania and Northern Territory have been trashed recently, so it is on the AFL to rectify the ills of their past negligence.
Of course, some will argue that it is not the right time for the hemorrhaging league to expand, but Tasmanians and Territorians deserve better than silence when they question why the goalposts have moved once more.