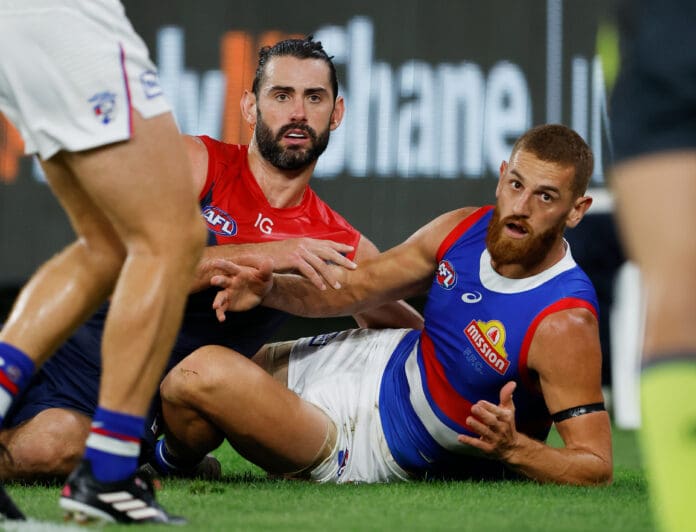 Crucial Western Bulldogs key defender Liam Jones will require surgery for a distal radius fracture in his forearm, sidelining him for a significant portion of the remaining nine matches of the home and away season.
The Dogs' number-one defender was subbed out of yesterday's clash with North Melbourne during the first quarter after suffering the blow, leaving the Bulldogs' backs stranded as the Kangaroos charged in patches throughout the match.
The latest update on Liam Jones.https://t.co/96tjhY4s2p

— Western Bulldogs (@westernbulldogs) June 18, 2023
The injury poses a monumental loss for Beveridge and the Bulldogs, who have been the topic of commentary through the season regarding Jones' ability to "wallpaper over the cracks" of their vulnerable backline.
As a consequence of Jones' injury, juggernaut Bulldogs key forward Aaron Naughton could receive a permanent position in defence, after he was shifted to the rearguard on Sunday against North Melbourne following Tim O'Brien being ruled out of the contest due to a hamstring ailment.
With Jones expected to be sidelined for the medium-to-long term, the opportunity to trial him and Naughton in the same backline has been put on the backburner.
Asked if there is any chance Naughton keeps his job in defence, Luke Beveridge admitted post-game on Sunday: "If we didn't have anyone else who could possibly play there on our list, you'd have to consider it, absolutely."
However, he then maintained Naughton's importance forward of the ball.
"Aaron's really important for us forward ... It's unlikely (he stays back) because we've got options, so at the moment, no."
Meantime, James O'Donnell, Josh Bruce, and Ryan Gardiner look to be the prime candidates in line to replace Jones.
Speaking on that trio, Beveridge believes "they were all pretty solid in Footscray's win against Williamstown.
"There are some boys there who can come in and play those important roles," he added.
Beveridge and his coaching staff will have time to ponder their options going forward as they undergo their bye this weekend before facing a rebounding Fremantle side on Saturday, July 1 at Marvel Stadium.