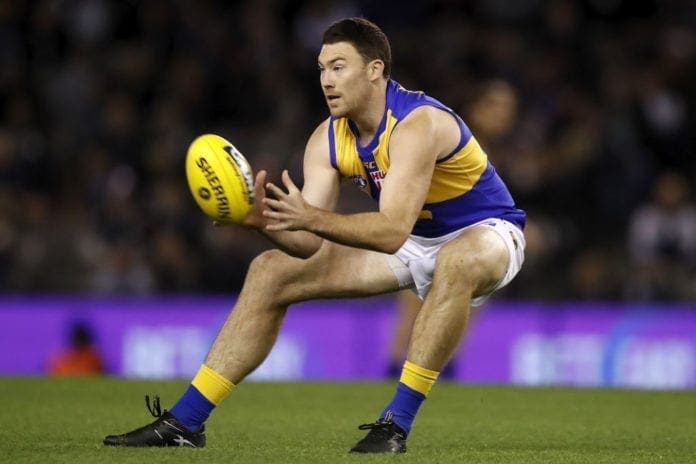 The West Coast Eagles will be without defender Jeremy McGovern for this weekend's match against Carlton due to delayed concussion symptoms.
McGovern suffered a knock to the head in last weekend's game against Richmond, where he went off for an assessment but was cleared and free to play in the remainder of the match. However, due to AFL protocols, players are made to be retested the next day. This was when the team discovered the delayed symptoms ruling him out for the next 12 days.
Head of Health Mark Finucane spoke to westcoasteagles.com.au about the lead-up to McGovern's concussion result.
"Jeremy had a head injury assessment as per the AFL protocols during the game, which he passed, and played out the rest of the game," Finucane said.
"He came in for injury clinic the day after, which is following the protocols, and did have some symptoms and as per the AFL protocols he has subsequently been ruled out for this week's game and it's 12 days from when he can play next from that incident."
McGovern isn't the only injury concern from the weekend with star forward Oscar Allen a test for this week after landing heavily on his shoulder.
"Oscar landed heavily in a marking contest and jarred his shoulder (against Richmond). He was assessed in the rooms and was able to come back out and finish the game," Finucane said
"He's a little bit sore after that impact but with a quiet week we are hoping that he'll be able to function and play this week, so he'll be a test during training."
Jack Petruccelle (corked calf) and Josh Rotham (thumb) are both pushing for selection this week as they eye a return from their injuries. Finucane states that both will need to clear a test later this week in order to prove their fitness.
"Jack just didn't quite get up for the weekend's game after a heavy calf cork in the game against Brisbane," Finucane stated
"He has turned the corner and is comfortable running now, he just needs to get through training to be available for this weekend's game.
"Josh has his surgery, the removal of his fixation in his thumb this week, and he'll be a functional test later in the week with ball-handling as to his availability for the weekend."
An update on Eagles young gun Reuben Ginbey following his hamstring injury has been provided and remains clear that the Eagles will take a steady approach in his recovery.
"Reuben, we're just putting together his MRI results and interpretation of that with his hamstring injury, and what that means for his prognosis going forward and the appropriate rehabilitation program," Finucane said.
Elliot Yeo (hip), Jamaine Jones (ankle) and Connor West (knee) are progressing nicely with their recoveries, with Finucane stating that they are all looking good to feature within the last month of the home and away season.
"Elliot continues to build through the late stages of his hip injury and just needs to get another week of training under his belt and hopefully pulls up well from that and possibly we'll see him out there next week," Finucane said.
"Jamaine has his final check with the surgeon this week and with a good block of running now will move into more footy-specific training and higher intensities and building to a return to play in a few weeks.
"Connor has his final surgeon's review later this week and we're hopeful they give him the all clear to commence running soon. He's done everything right and he's really pushing hard to get one or two games before the end of the season."
Click here to view the full West Coast Eagles injury list.