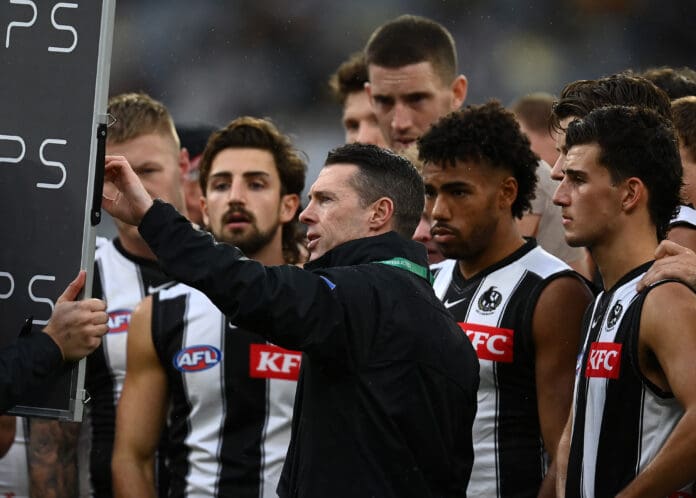 Collingwood's list is far from finished despite their position as premiership fancies, with the Magpies set to fine-tune their squad in 2023 following a busy off-season last year.
Collingwood recruited four players through last year's trade and free agency window to fill clear list needs for 2023, with Tom Mitchell (Hawthorn), Dan McStay (Brisbane), Bobby Hill (GWS) and Billy Frampton (Adelaide) all seeking moves to Olympic Park following measured interest from Craig McRae and his list management strikeforce.
Former Tiger and Suns defender Oleg Markov gained a career lifeline by joining the Magpies through the Supplemental Selection Period in the pre-season to further refine the club's list after a narrow preliminary final exit.
READ: FIVE POTENTIAL 2023 TRADE TARGETS FOR COLLINGWOOD
Mitchell has flourished since switching to the black and white as Collingwood's new go-to in-and-under onballer, while Hill is on track to kick 30 goals in his first year as a Magpie after booting 34 in four years with GWS.
Frampton has become 'Mr Fix it' for McRae, having been called into roles in defence, through the middle and, more recently, in attack in the absence of McStay, who himself was a key piece in Collingwood's high-scoring run to start the year.
The Magpies' new additions haven't only gotten the best out of themselves in their new colours, but have also allowed their teammates to reach new heights as they work toward a premiership finish.
And while Collingwood are the favourites to claim the flag, McRae still sees holes in his side that will have the club's recruitment team looking toward its next wave of trade, free agency and draft targets.
"Graham Wright and Derek Hine, we got together late last year (to say) this is our needs," McRae said of Collingwood's 2022 list plans.
"We needed an inside mid that's a first-possession player for our clearance work. We don't have a number of magnets in that role. So opportunities present, Tom Mitchell (joins us) at the last minute of a trade period thankfully.
"I'm sitting at home biting my nails thinking hopefully we get that done, and we did. Credit to 'Wrighty' for doing that.
"Then other parts of our list we saw opportunities to (improve).
"We're not going to stand still on this. Talking futuristically, right now we're seeing what we need and there's still holes, we've got many. We're not finished."
The past fortnight has seen Markov enjoy the best football of his 64-game career, a run of form that comes nine months after he was cut by the Suns. His first game against his old club came in Round 16, where the Belarussian was one of six Magpies to earn a vote from the coaches, collecting 17 possessions and offering non-stop run from the defensive 50.
Friday's win over the Western Bulldogs only saw Markov further craft out a career-best campaign, with his elite pace giving the Magpies fluid ball movement alongside the likes of John Noble and Isaac Quaynor.
But it's Markov's role in defence that has given young superstar Nick Daicos the platform to play in midfield, with the Collingwood sensation having another best-afield performance in his new role.
Speaking after the two-goal win, McRae said the club's strategy to acquire Markov came with plans in mind to develop Daicos into an elite midfielder after spending time across half-back, with Markov's own emergence a healthy benefit through a reunion with his old Richmond VFL coach.
"We saw a need in our list. We want Nick to be a midfielder futuristically, but it's a cost," the Collingwood coach said.
"You move Nick from the backs and then you don't have this overlap, you don't have this decision-making.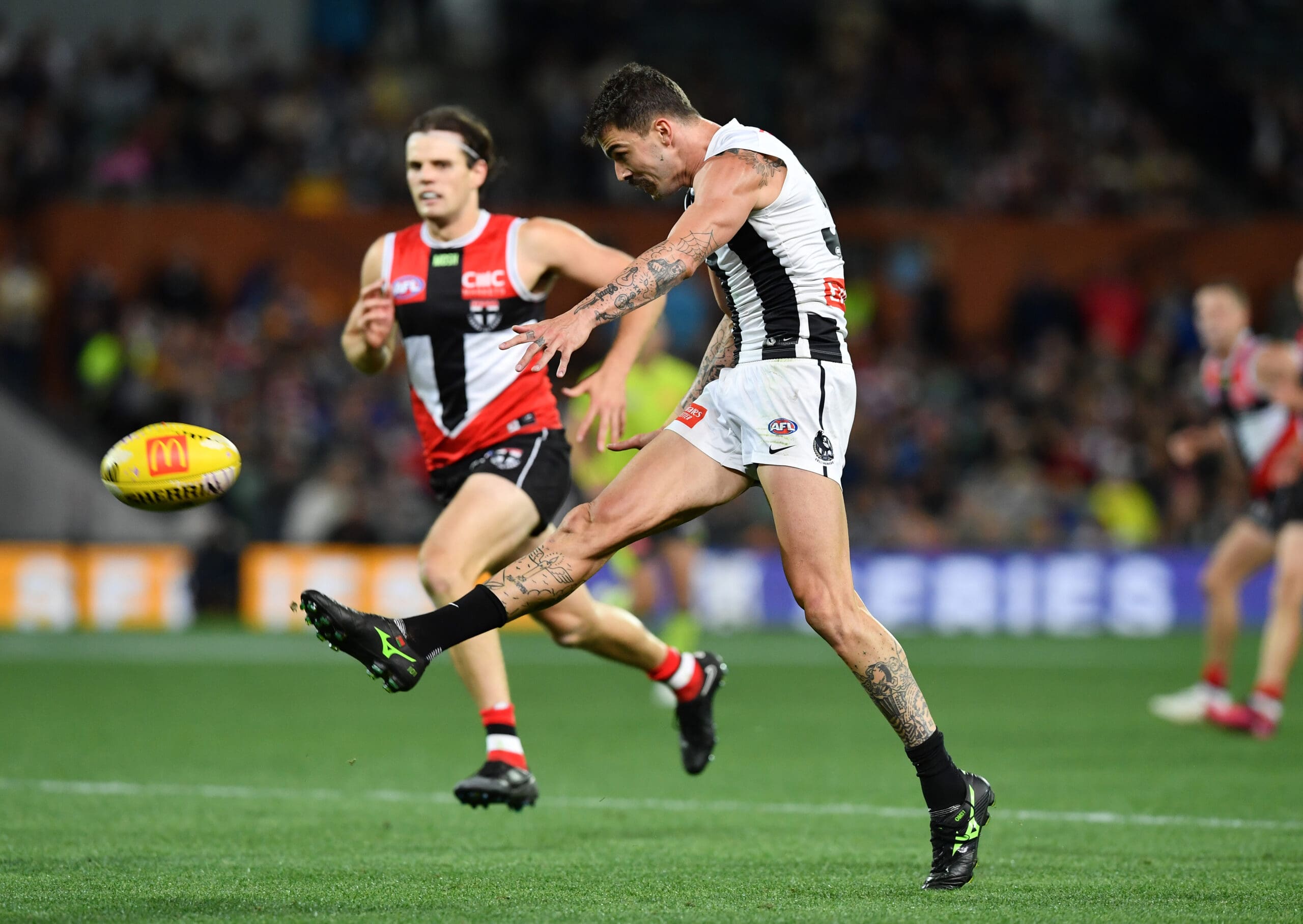 "Oleg is clearly not Nick, but he's a great version of himself. That's all we want, we don't ask him to be anyone else. His running capability, I've known historically, is unbelievable. We're starting to see that confidence.
"Believe in people, give them a role, feel a sense of belonging then get to work. Right now his magnet is firmly in that position."
After draft night trading in 2022, Collingwood holds Carlton's second-round selection for this year's count, currently positioned at 22nd overall. That selection would follow their first-round pick, which is indicatively placed at 18th in the queue. The Pies do not hold another selection until the fourth round of the draft.