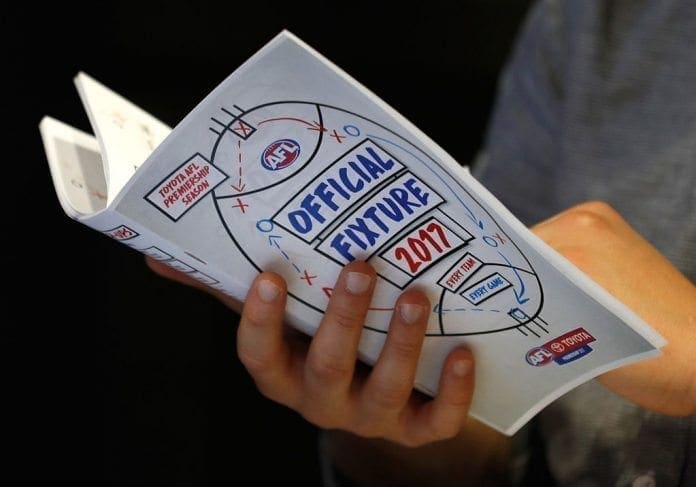 Over the past 18 months, many conversations have been had - both at a social media and administrative level - in regards to the debacle that is the fixture of the AFL.
Do we adopt the 17-5 model?
Or 6/6/6?
Or a multitude of other options that have been put forth.
For various reasons, players, coaches and AFL powerheads want change and it seems a matter of not if but when one of these options is put in place.
Well, here at Zero Hanger, we've come up with an option of our own.
Gil, listen up.
The FA Cup has a long, proud and storied history in English football, one that allows the lowest of teams to rise up to the grandest stage to compete with the biggest clubs in the land.
Now, while the FA Cup is older than our great game in itself, a similar-style of competition would excite fans, give players the option of having extra breaks throughout the season while also giving teams an incentive to try their hardest to win the tournament.
So, how would it work? Well, I'm glad you asked.
Firstly, the AFL home and away season would be reduced to 17 rounds where each club plays each other once.
Simple, effective, and shortening an apparently clogged schedule giving players time to rest. It takes away any advantages or disadvantages from the current fixture model, with the top eight finals system remaining in place.
Secondly, an 18-team bracket for the cup tournament doesn't add up, so to begin, there would be a playoff between the bottom four teams from the previous season to determine who is included in the draw.
Alternatively, it could be a randomised fixture, based on drawing teams out of a hat - so to speak - to determine home/away teams and match ups. This part of the plan is up for debate, with the logistics of it still to be fine tuned.
So, how would the cup competition work in regards to the home and away season?
As displayed in the graphic above, it would run throughout the regular season.
Players want more breaks in the schedule, with cup games giving players and clubs alike the chance to rest senior players as well as giving youngsters and rookies a chance to experience senior football.
Should a player get suspended in a cup game, they would miss their club's next match in a home and away season - as opposed to cup suspensions only translating to missing cup fixtures.
Cup rounds are scheduled every fourth week, effectively allowing players the opportunity to rest once a month.
A split round in the home and away fixture occurs in round 10, ensuring all players are guaranteed a rest at some stage.
What entices clubs and players to want to perform and actively try to win the cup tournament?
Clubs would receive a financial reward for winning the cup competition, while if they were to be successful in winning both the AFL Cup and Premiership in the one season - they would earn an added bonus on top of their rewards.
Needless to say, winning the double would be a nice touch on any player's résumé.
From a fans point of view, it's just another market to bet on.
Seriously though, Eddie McGuire and any Collingwood fan would love nothing more than to send Carlton packing in first round.
Or what if we had GWS and the Western Bulldogs playoff in the final, only to face each other a few weeks later in another tense finals match up between two of the most exciting teams in the competition.
Or better yet, what if we had Showdowns in back-to-back weeks...
Because that rivalry couldn't get any more heated, right?!
All of these situations are made possible by a cup competition.
From an AFL perspective, sponsoring rights are up for grabs, leaving them to stuff their pockets with hundred dollar bills. It adds another dimension to what at times can be a mundane home and away season, creating an added side of fan engagement while giving hope and prosperity to clubs dwindling away at the bottom of the ladder.
With a 17-round home and away season, the talk around tanking would still exist as the current model to gain higher draft picks would remain.
While I have no issues with the way the current system is, the AFL appears to have opposite views, so for arguments sake, let's change things up.
As has been suggested previously, a lottery system would eliminate the guarantee of draft picks while still favouring those teams at the bottom of the ladder. When the lottery itself takes place, it would also give the off-season some much-needed hype, as the entertainment and excitement fills the day.
The lottery is the best single day on the NBA calendar. Unparalleled sports theatre.

— Matt Goss (@mattgoss_) May 16, 2017
The lottery system also makes for more entertaining trade periods, which isn't that difficult considering the dire state that it's currently in.
In summary, a cup tournament would absolutely work should be it implemented, as it operates to please all stakeholders of the game by giving each party everything they ask for.
The AFL change the game - as they like to do these days - by solving their fixture crisis on top of making added revenue and creating another thing that Gillon McLachlan will be remembered for.
The players still get to showcase their talents on a weekly basis while being given the choice the allow their bodies time to rest over the course of the season. Younger players may be given opportunities at an earlier time in a bid to prove themselves at the top level as players also given the added incentive of making more money on top of their contracts.
Finally, the fans - the most important people of all - are still treated to football every week for six months of the year (that's right, there's no ridiculous bye round before the finals).
It's the magic of the cup!