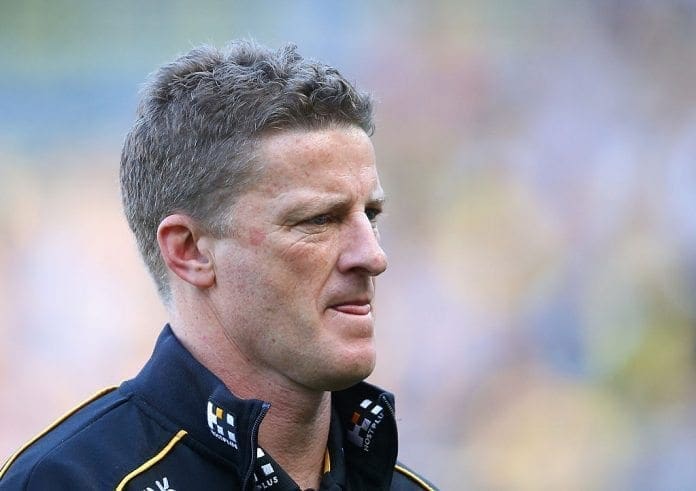 Much has been made of Richmond's diabolic after-the-siren loss to Fremantle on the weekend.
Why did they have so many players forward of the ball?
Why was no one running in off the edge of the square?
What was Daniel Rioli doing by himself on the wing?
While they are all relevant questions, attacking the players to this degree in this situation is unfair and as with everything else in football, the buck stops with the coach.
Every team in the AFL would have game plans in place for the situation that the Tigers found themselves in on Sunday afternoon.
When the ball sailed through the goals from Brandon Ellis' boot with 21 seconds remaining, Damien Hardwick should have been barking instructions to his runner to set up their structure for that situation.
That's not to say that he wasn't, but simply, his instructions perhaps were not good enough.
The loss meant the Tigers have now lost three in a row after starting the season with five wins on the trot and looked a near certainty to make the finals.
Instead, they sit amongst a logjam of teams locked on 20 points after a loss that has the potential to leave Hardwick unemployed come season's end.
The Tigers are one of the AFL's most iconic teams, rich with history and legends of the game in years gone by. They currently boast arguably the one of the game's best players in Dustin Martin - who we all know is out of contract in 2017 - along with one of the game's premier goal-kickers in Jack Riewoldt.
They also have Alex Rance, one of the games best full back's of the last 20 years.
So why has this side been so mediocre for so long? And more importantly, from the outside looking in, why does it seem like Richmond figureheads are subconsciously content with their mediocrity?
I love Damien Hardwick, don't get me wrong, but has he passed his used-by date at Punt Road?
We are all aware of their infamous finals history - three straight elimination finals losses from 2014 to 2016 and 16 years without a finals win (obviously not all under Hardwick).
Since 1965, only two coaches who have coached more games than Hardwick (165) have a lower winning percentage than the Tigers leader at 47.9%.
The Tigers made steady improvement in his first four years in the job as he turned the side from a six-win team to a 15-win team on the cusp of the top four.
Unfortunately for the Tigers, their two years of 15-win seasons (2013 and 2015) coincided with Hawthorn's period of dominance, yet despite this, they were unable to win when it mattered.
Hardwick is under contract until the end of next season and if Dustin Martin leaves Tigerland at the end of this season, where does that put this current Tigers list on the premiership ladder?
It's losses like Sunday's that could deprive Hardwick and more importantly, Richmond a chance at proving themselves under the pressure cooker of finals football.
Richmond fans have seen it time and time again and while they will eventually get over losing a game in the middle of May, the frustrations will only continue to grow as they watch their bitter rivals sit in their Punt Road end seats come the end of September.