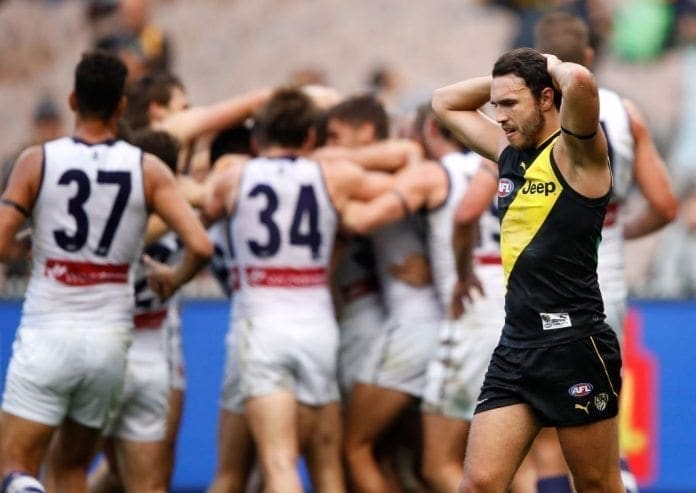 Let me just start this by saying, I'm a Richmond man through and through, so it does pain me to write the following.
The last 21 seconds of Sunday's heartbreaking loss to Fremantle was all too familiar for Tigers fans, but that doesn't mean we should expect it.
As soon as Brandon Ellis kicks Richmond's final goal of the game, the match should be over (Just ask Ross Lyon, he went down into the rooms and almost missed his side's winner).
But of course, it wasn't.
I'll start at the centre bounce, take a look at the following photo.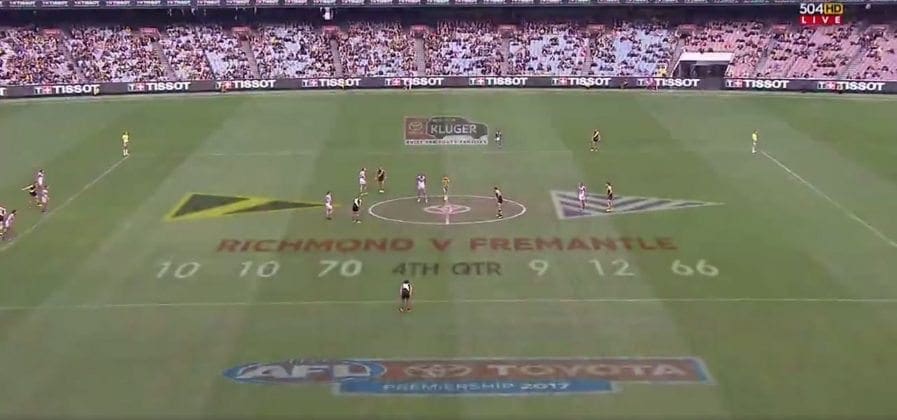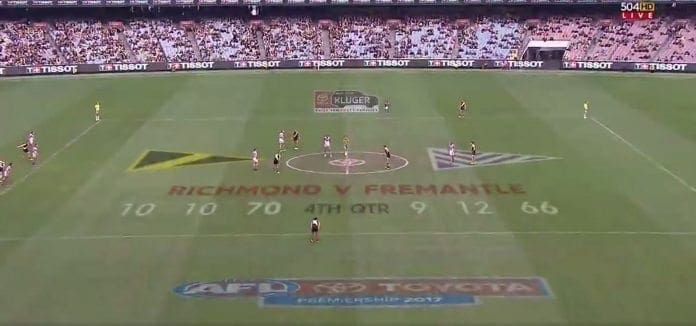 The biggest fault from Richmond here, is the lack of Tigers on the defensive side of the square.
At least one player, if not two, absolutely need to be coming in off the back of the square, and even if they don't get to the contest, they just need to stop a Docker from running inside 50 with the ball, which is basically what Lachie Neale did.
Secondly, I love Daniel Rioli, but his positioning at the contest is perplexing.
He's got no one around him, so he needs to put himself in a more dangerous position.
His first thought should be to move to the back of the square, but at the very least, as soon as the ball is bounced he needs to hit the contest hard in case the ball bounces out onto his side of the square.
Although if you see the vision, he jogs to the defensive end, which just isn't a good enough effort.
Thirdly, Jack Riewoldt needs to do more.
Not with himself, but as the vice-captain and the forward-half leader, he should be directly players into the backline if he isn't already down there sprinting down there.
There's no need to have two players on the offensive side of the square here, and Riewoldt needs to be leading the charge to pushing guys down back.
And then there's this photo.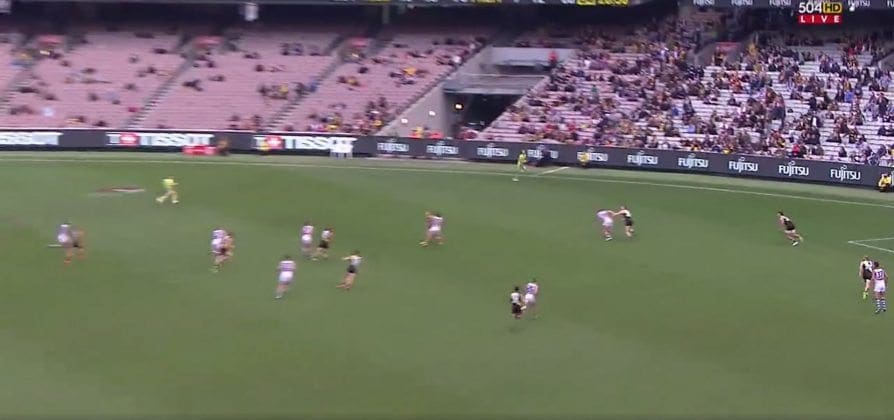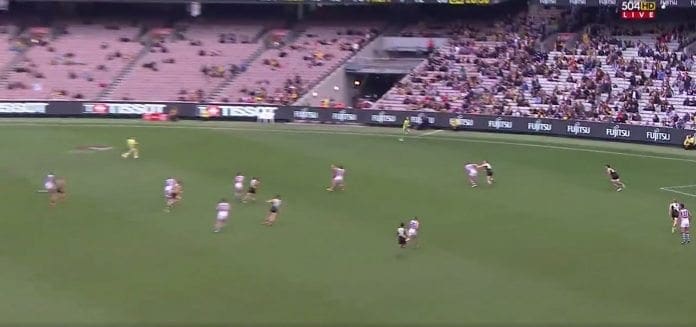 I'll preface this by saying, it was a brilliant clearance from Fremantle, and the effort from Aaron Sandilands to get the ball to Lachie Neale is fantastic, and Neale's kick is equally as impressive.
But for Richmond to have just one player loose, and playing eight-on-eight inside the fifty, it just lends itself to a disappointing finish.
With 20 seconds left, the most ineffective players on the ground are those on the back of the square for Fremantle.
So why are two Richmond players there, and why weren't they busting their hump to get into the defensive 50?
It's a strong mark by David Mundy, and it's a great kick. After all, he's been in that exact same position before.
(Every now and again at a Richmond game when Bachar Houli takes a kick-out you hear someone yell 'kick it down the middle!' in reference to this moment, and to be honest it's pretty funny)
The final 21 seconds of Sunday's game will live long in the memory of Richmond fans, right alongside our capitulation in 2012 against the Suns, and the infamous Karmichael Hunt goal - which I never want to see again.
Add those three moments to Brodie Grundy's last second goal, Geelong's 35-point turnaround in the final term (both in 2016) and Brock McLean's late goal just two weeks after Hunt's, and Richmond fans know all too well about final minute collapses.
You'd think after all of this heartache we'd be better poised to deal with it the next time we're in a similar situation.
Boy it's tough being a Richmond fan.