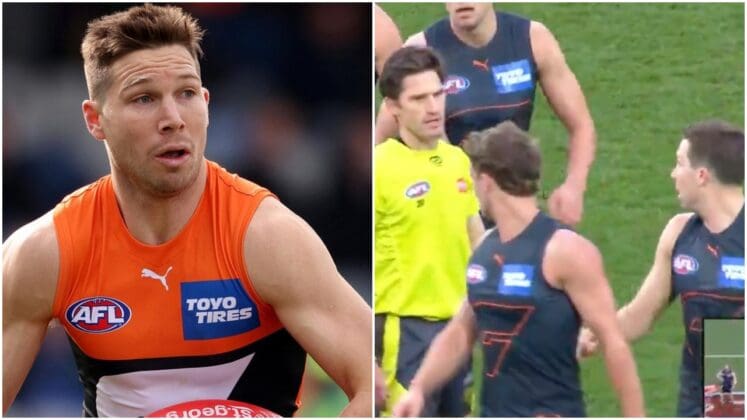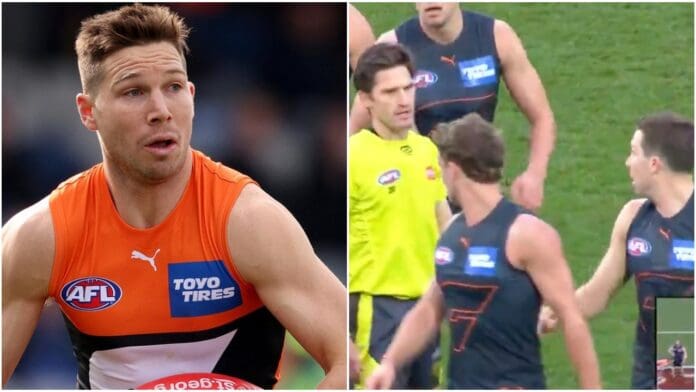 Greater Western Sydney star Toby Greene is likely to face scrutiny from the Match Review Officer following an incident involving umpire Matt Stevic.
At the conclusion of the third quarter, Greene and his Giants teammates made their way to their final huddle of the match with the GWS forward and Stevic exchanging words after a heated start to the second-half.
When walking towards his side's interchange, Greene did little to move past Stevic, instead bumping into the veteran field umpire.
Is Toby in trouble for this incident with the umpire? 🤔

📝 BLOG: https://t.co/pPpOGeNzpx
🔢 MATCH CENTRE: https://t.co/kKBQysAevI
📺 WATCH #AFLSwansGiants #AFLFinals: https://t.co/0vnK69WX3R pic.twitter.com/fv1IqORepO

— Fox Footy (@FOXFOOTY) August 28, 2021
The AFL are set to look into the incident, with umpire contact a strict offence that could see Greene sidelined through suspension.
Followers on social media were quick to criticise Greene's actions, believing a suspension is looming for the GWS forward.
Toby Greene isn't playing next week, and his finals campaign should be over. Simple.

RULE: "Contact with an Umpire that is aggressive, forceful, demonstrative or disrespectful will be deemed intentional and the Player will be directly referred to the Tribunal."

3 weeks minimum.

— Shane McInnes (@shanemcinnes) August 28, 2021
Toby Greene makes contact with umpire at 3/4 time. Big story brewing here.

— Andy Maher (@AndyMaherDFA) August 28, 2021
Almost certain Toby Greene is off the Tribunal. Unfathomable that you'd make contact with an umpire. 👇 pic.twitter.com/ZFE9gJY72S

— Laurence Rosen (@LaurenceRosen) August 28, 2021