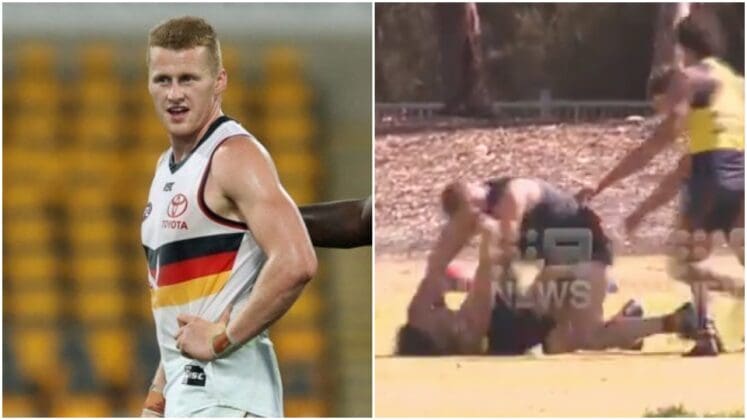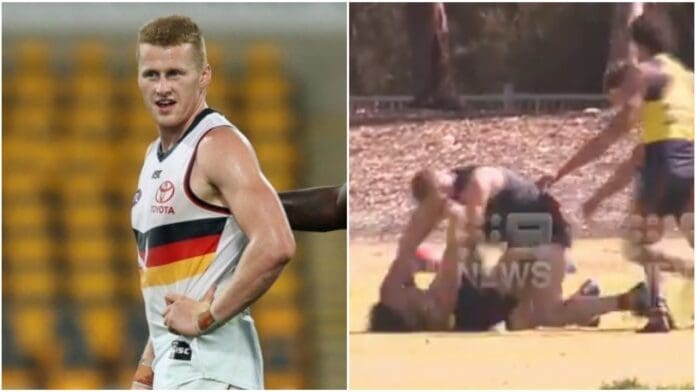 Adelaide pair Reilly O'Brien and Ned McHenry were needed to be separated by teammates at training this week after the pair were involved in a heated tussle.
Footage captured by 9 News Adelaide saw tempers flare between the duo following a crushing tackle from O'Brien on McHenry.
The pair immediately began to wrestle after hitting the turf, with teammates quickly coming to pull O'Brien and McHenry apart.
Tempers have flared at Adelaide Crows training this morning, with teammates forced to break up a heated exchange between two players.

See the exclusive footage, 6.00pm on #9News pic.twitter.com/xNfaMod31x

— 9News Adelaide (@9NewsAdel) December 15, 2021
Despite the altercation, both O'Brien and McHenry are back in good spirits, with the latter even taking to Instagram to show no rift remains.
The incident isn't the first of its kind at West Lakes, with two similar tussles having taken place in recent years.
Defender Wayne Milera and ex-Crow Jake Kelly were also involved in a scuffle during a intra-club practice match in February.
In June 2020, Billy Frampton and former Adelaide defender Kyle Hartigan came to blows in a heated brawl at training.
The trio of incidents have all come under Matthew Nicks' tenure at the Crows, with his assistant Scott Burns playing down the incident between Milera and Kelly at the time.
"I thought (the game) was played in really good spirits," he said.
WATCH: A year after Billy Frampton and Kyle Hartigan went at it, another scuffle has broken out at an Adelaide intra club game.

Latest here: https://t.co/6qJ4Hs7ffK @Simeon_TW pic.twitter.com/L8BxBgPofA

— The Advertiser Sport (@TheTiserSport) February 22, 2021
"It's a really tight group and what you want is competitive players, and those two are definitely competitive."
The Crows will begin their 2022 campaign against Fremantle on Sunday, March 20 at Adelaide Oval.