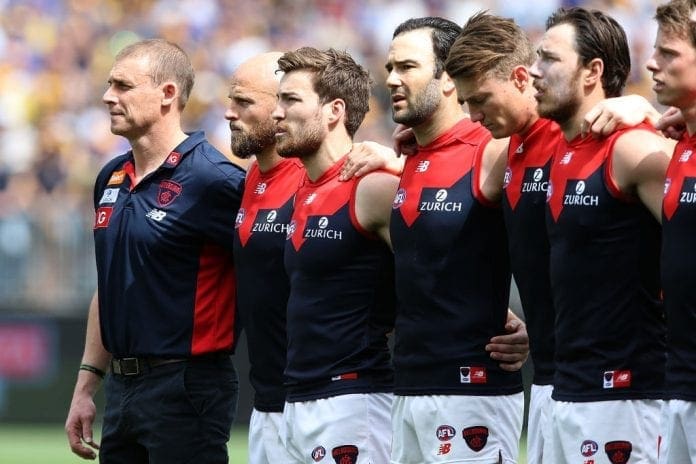 Compared to the heights at the tail end of the 2018 season, Melbourne haven't exactly tracked upwards since then.
With many expecting for the Dees to be in the mix for finals and potentially putting more pressure on the premiership contenders in 2019, they looked primed for a big year.
But it was not to be, with Simon Goodwin's side limping to a 17th placed finish with only five wins on the board.
Almost two years later, it could be concluded that Melbourne still haven't found that gear again.
So, it begs the question, was that inspiring run deep into the 2018 finals series just luck and good timing, or was it perhaps a sign that the Demons could run with the big boys?
Let's examine the base element that made the side so exciting and dangerous: the element of surprise.
Melbourne have had a reputation for the last two decades of largely being an ineffective presence, with some devastatingly heartbreaking lows.
So when they were in sixth position in 2018 with four rounds left, on level footing with the teams down to ninth place, it was expected that the Demons would find a way to choke.
But they didn't.
Melbourne won three of their last four, including a spirited 17-point win in Perth over the eventual premiers, West Coast, to book their first finals appearance since 2006.
The often-lamented Dees had booked a home elimination final against the Cats.
From the opening bounce, Melbourne looked noticeably more tenacious, with their display of pressure being one of the best of the season.
Lead from the front by Clayton Oliver, Angus Brayshaw and Max Gawn, they ran out 29-point winners over a dispirited Geelong side, setting up a blockbuster with the Hawks at the MCG.
Once again, a dominant, dogged performance from the Demons had fans in raptures, with a 33-point victory against Alastair Clarkson's side meaning they were into their first preliminary final in 18 years.
A belief that the club hadn't seen for many years had returned, with the city abuzz with footy fever over the re-awakening of an old powerhouse.
However, the hurdle Melbourne needed to jump to make the Grand Final was sizeable. A clash with the Eagles at Optus Stadium was a task that the side was familiar with, after dismissing them just over a month earlier at the same venue.
Demons supporters had every right to believe that they could overcome West Coast again, but it wasn't to be.
Melbourne, to put it plainly, were given a hiding.
They didn't register a single major for the whole first half, and were staring at a 66-point margin at half-time.
To their credit, the Demons put on a better second half, but still bowed out to the tune of 61-points at the hands of West Coast.
Despite a very disappointing exit, Melbourne supporters could be proud of where they reached and could be optimistic about the 2019 season, with many touting them as contenders.
In the off-season, they picked up Gold Coast duo Steven May and Kade Kolodjashnij to strengthen their defence.
Paired with Jake Lever who arrived from the Crows a year earlier, Melbourne were looking a very solid prospect.
But the following season would tell a very different tale.
To put it simply, a range of factors meant the Demons were dire for the most part of the year.
Their pre-season was a horror show to say the least, after eleven of their players picked up injuries, with high performance boss David Misson revealing that only 25 players had completed 22 training sessions each, dramatically down from 39 completing 33 in 2018.
On top of this, the trading of Jesse Hogan to the Dockers meant that their forward-line was stretched thinner.
After a stellar 2018 for Tom McDonald and Sam Weideman, the pressure was piled on to them to take up the slack even more – a responsibility that weighed heavily on their shoulders.
The pair finished up with only 29 goals between them for the year, a number nowhere near the heights of 2018, especially for McDonald.
Weideman was even dropped down for a stint in the seconds at one point.
Lastly, Simon Goodwin was tactically inflexible. The energy and intensity that was trademark about them in 2018 had been zapped away.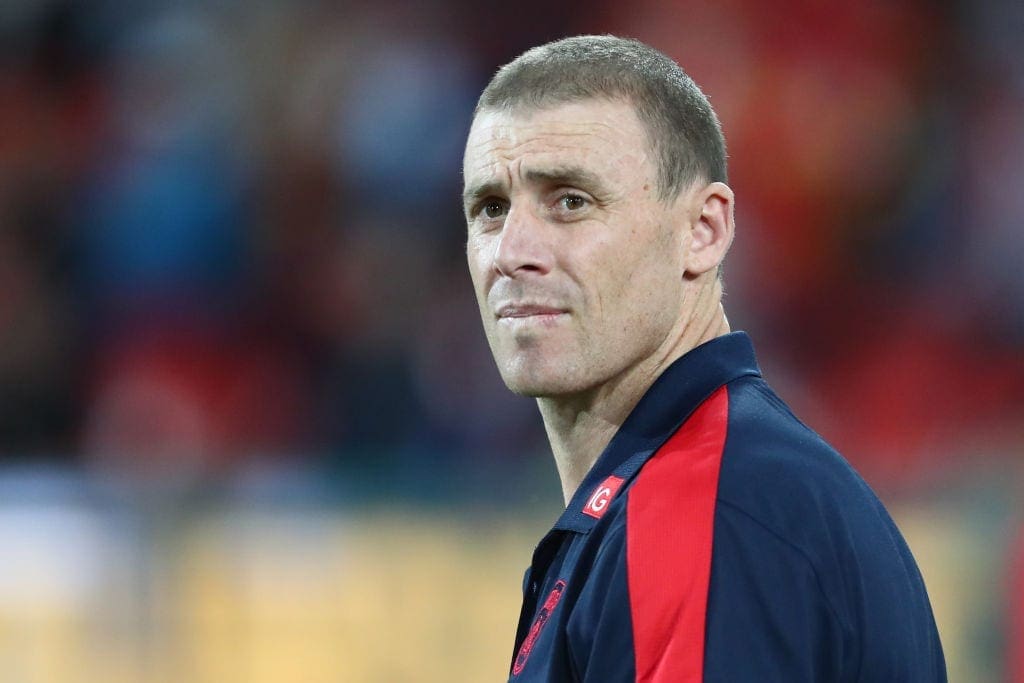 There was no cohesiveness in defence nor attack, and the element of surprise and the underdog label had all but ceased to exist.
It seemed they were back to square one.
With people seeing this, it is easy to surmise that 2018 Melbourne was a flash in the pan, but was it?
Was there luck involved? Yes, to an extent.
All teams, regardless of sporting code, that win championships or achieve big things, are gifted some element of luck.
They had most of their best players fit and firing or on their way back during the final weeks of the 2018 home-and-away season and into finals.
The flip side of this is the 2019 season, when their pre-season was marred by injuries, which had a major domino effect for the rest of the year.
Whilst this same thinking could be applied to every other team, the most interesting part of this is having a look at where they sit currently in 2020.
They beat St Kilda last weekend. Tick. So now, with four games to play, Melbourne sit in 10th place on 28 points, but with a game in hand on the some of the teams above them.
With their remaining games coming against Sydney, Fremantle, GWS and Essendon, sneaking into the finals looks very real.
If they play their best and reflect their passion and hunger shown in their notable wins against Collingwood and Hawthorn, they will undoubtedly make it.
With that, the Demons would have their second appearance in three years, in what has been the toughest season on clubs that the game has ever seen.
If that comes to fruition, it would reinforce the notion that 2018 wasn't a false dawn, but still a model for what could be for the Dees.