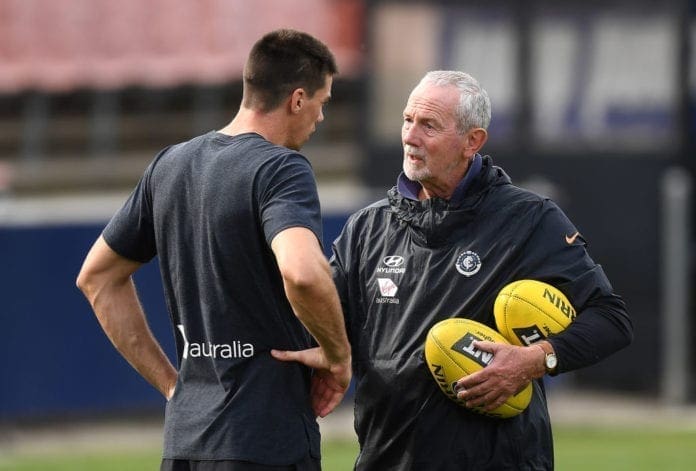 Carlton legend Robert Walls believes David Teague is a strong chance to become the club's permanent coach, while also urging the club to consider Michael Voss or Brett Ratten for the job.
The Carlton premiership coach, who returned to the Blues as a mentor to Brendan Bolton and his coaching team in 2019, has worked with Teague this season and believes that the current caretaker could very well be sitting at the helm of the coaching ranks next season.
Speaking exclusively to the Herald Sun's 'Sacked' podcast, Walls said that Teague had a strong rapport with the players as well as having a modern feel for the current game, with the Blues winning five of their last eight games under Teague's tenure.
"David Teague has been in charge and doing a really good job, encouraging the players to back themselves quickly, added a fair bit of skill and run and flair to their training," he said.
"With the wins on the board and the competitive way in which the team is playing has to give him every chance to be senior coach next year."
Teague's chances of becoming senior coach have shifted favourably, with the 38-year-old firming for the role after the Blues' strong run of form.
He currently sits as favourite for the role in 2020 and beyond.
It comes after Carlton football director Chris Judd's comments about the Blues not wanting a coach with "training wheels", which at the time was interpreted as the former Carlton skipper ruling Teague out of the role.
But Walls believes that the ideal candidate for the job does not necessarily need to have senior coaching experience on their side.
"If you go back over the last decade, they got in two experienced coaches in (Denis) Pagan and (Mick) Malthouse and neither worked, so you don't necessarily need an experienced coach, you just need a good coach who knows the modern game and puts his heart and soul into it and has an attacking frame of mind."
While Walls gave Teague a glowing review, the 69-year-old said his former club must also consider fellow contenders Michael Voss and former coach Brett Ratten for the role.
Ratten was famously sacked from Carlton in 2012 and has gone on to bolster his coaching experience since than, notably with his stint at Hawthorn during their period of success.
"Personally I felt Ratten was hardly dealt with and (sacking him for Mick Malthouse) proved to be a bad move, and he couldn't have done more since he's been away," Walls said.
"Coached three premiership midfields at Hawthorn, good work at St Kilda and he would be much better prepared now.
"Voss, Buckley and Hird all made the mistake of not leaving clubs and stepping into a coaching role without a full apprenticeship.
"What I like about Michael Voss is he has spent the last five years in Adelaide (with Port Adelaide), he is fair dinkum and wants to be a senior coach, so I reckon Vossy would be ready to go again."
Walls also gave his support to sacked coach Brendan Bolton, saying that the Blues coach gave his "heart and soul" for the club and should find himself back within the AFL system as an assistant coach again.
"I felt for Brendon Bolton because he gave his heart and soul, but it's a winning business and after three-and-a-half years and four wins in 40 games it comes back to bite you," Walls said.
"You can dwell on the bad times and think you are failure, but you are not and Brendon Bolton should be back in football and I hope he can be an assistant coach again because he would be tremendous."