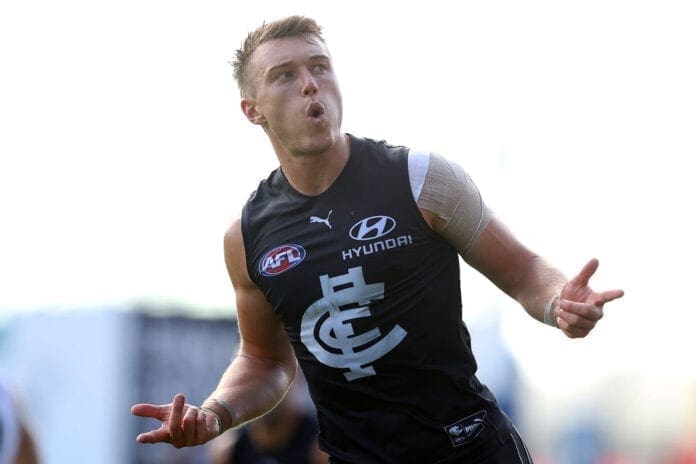 Patrick Cripps has been named as Carlton's sole skipper for the 2022 season after previously sharing the duties with Sam Docherty since the commencement of 2019.
The Blues made the announcement of the Western Australian being handed the reigns on Saturday morning prior to an open training session at their Princes Park headquarters.
With Docherty's ongoing battles with testicular cancer forcing him to step back from official leadership duties, Cripps will now lead the Blues as a lone captain following three-years in partnership with the ex-Lion.
The 26-year-old will be aided by a pair of former No.1 draftees in Jacob Weitering and Sam Walsh who were concurrently named as vice-captains by first-year head coach, Michael Voss.
Michael Voss has announced that Patrick Cripps will be sole skipper of the Blues in 2022. Jacob Weitering and Sam Walsh will be his vice captains. @zerohanger

— Jake Benoiton (@JakeBenoiton) January 28, 2022
Speaking after being given the backing of his peers, coaching staff and Carlton's board, Cripps paid thanks to Docherty for aiding his rise in the role.
"It's been an absolute honour to have held the captaincy alongside 'Doc' for the past three seasons – it's largely thanks to him that I've grown to be the leader I am today," Cripps said.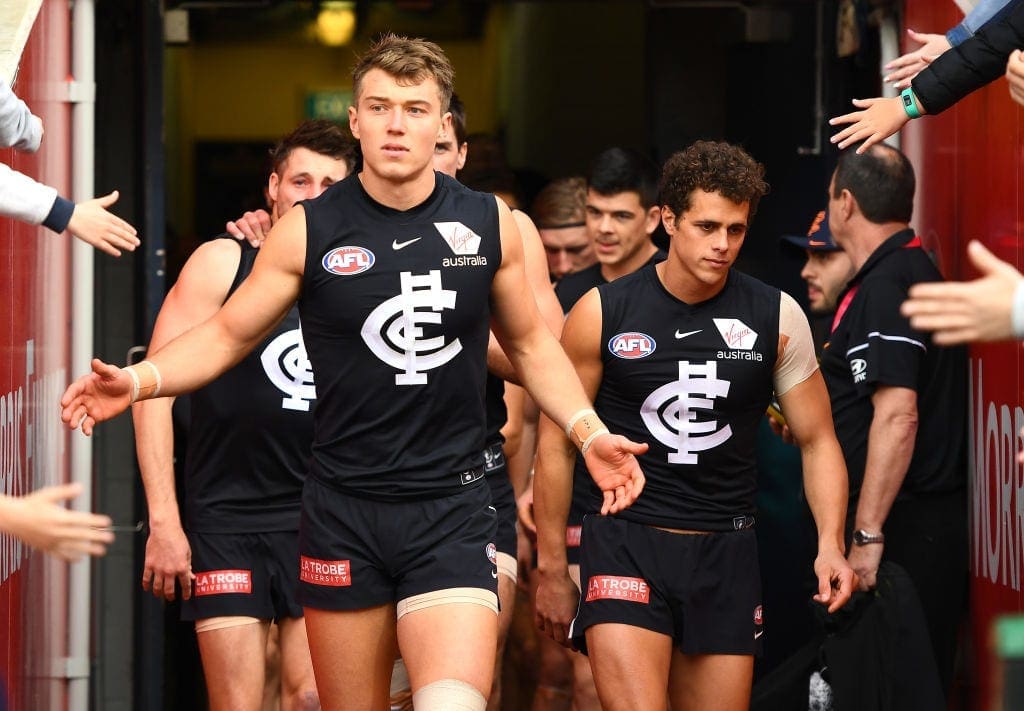 The three-time John Nicholls medalist, two-time All-Australian and former league MVP also explained that he was eager to get to work alongside his youthful lieutenants.
"I'm now really looking forward to taking the next step this year under a new team of coaches and alongside 'Weiters' and 'Walshy'," Cripps continued.
"The leadership of our group does not stop with just the three of us. We are fortunate to have both established and emerging leaders across every line and our focus this season will be bringing that out in one another – it is a collective responsibility for us to start to earn respect and we're already putting in a massive amount of work to get that."
Ahead of his first game in charge of the 16-time premiers, Voss lauded the "passion" and "professionalism" of his trio of blue-chip leaders.
"Our club has complete belief that Patrick, Jacob and Sam will drive the team that we are striving to be this season," Voss said.
"Since arriving at the Club, I have seen first-hand the incredible passion Patrick has to bring team success to this football club. Equally, both Jacob and Sam set the standards for work-rate and professionalism and have earned the opportunity to lead as co-vice captains."
Having led the Lions to a three-peat of flags during the early-2000s, as well as guiding Port Adelaide's midfield unit since 2014, the red-headed hard-nut is more than aware of what it takes to scale the game's summit.
And in an added message for the Blues' recently unrewarded fan base, Voss claimed that the ilk of Cripps and company could lead Carlton back to the heights scaled in years gone by.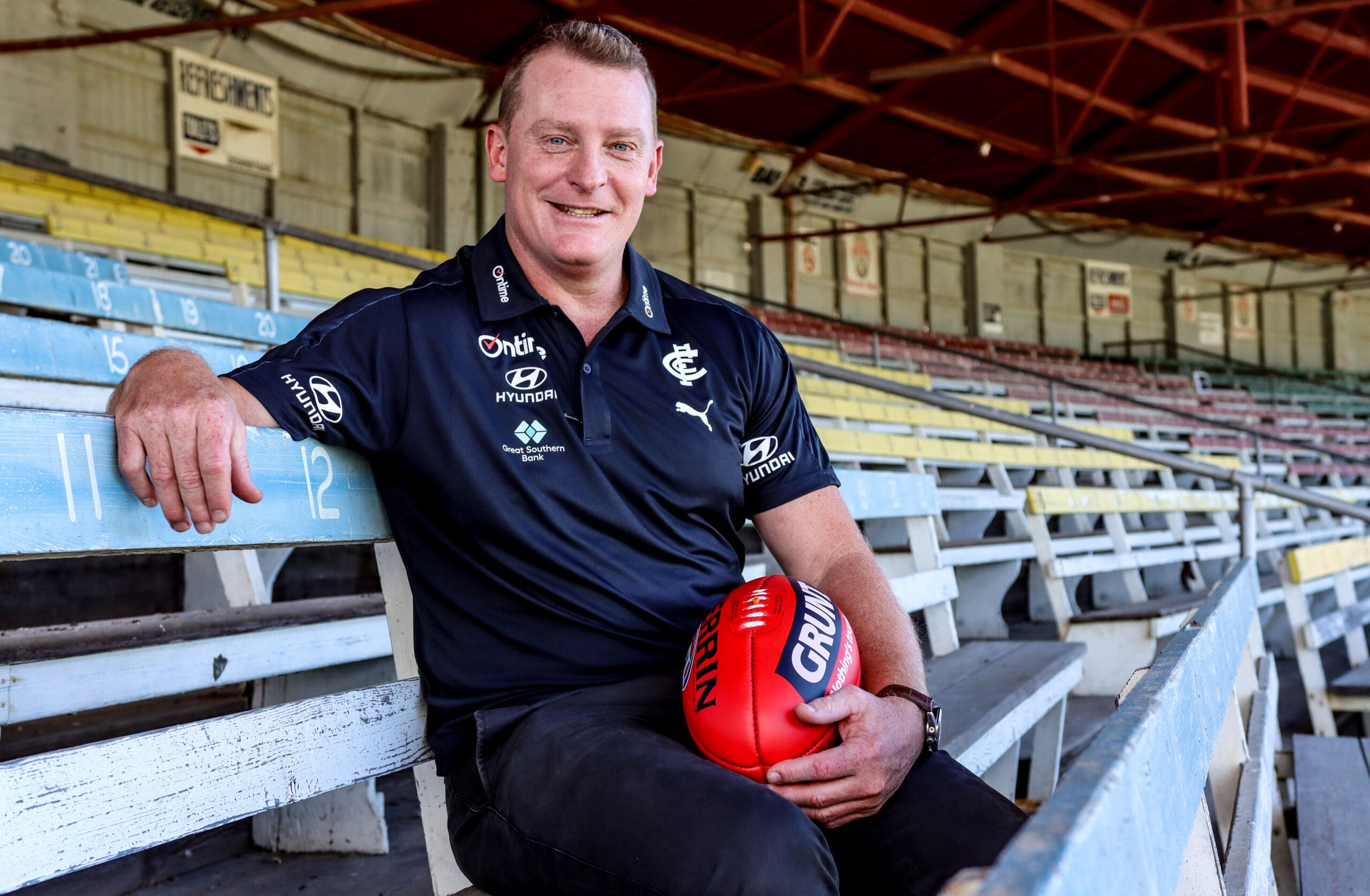 "A strong culture is centred around great leadership, we certainly have that in these three players who have a terrific understanding of what is required to drive standards at the elite level," Voss added.
"I have no doubt as this group builds its connection with one another with the more time we spend together, the responsibility of leadership will be shared right across the board – which we have already started to see great signs of."
Cripps and Carlton are currently scheduled to face St Kilda and Melbourne in pre-season contests ahead of their regular Round 1 date with Richmond at the MCG on Thursday, March 17.