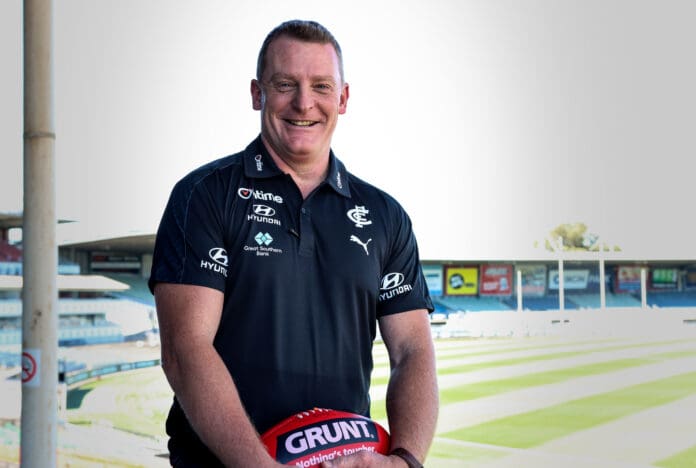 Carlton have returned to pre-season training in strong numbers despite senior players not being required to return until December 6.
All but five players were on the track for the Blues on Michael Voss' first day in charge, with David Cuningham (knee), Caleb Marchbank (knee), Jack Martin, Ed Curnow and Oscar McDonald absent.
Voss said he was happy to see so many senior players return to training early. The three-time premiership captain said that it was a sign that the players were excited by the new look of the club.
"It's pleasing to see the amount of numbers we have here," Voss said.
"The (senior) boys don't have to come back until the 6th December so the fact that they're back here and training and they want to be here and start of something that's really new is really pleasing to see."
"It's nice for the coach that they're doing that but as much as anything it's probably a statement for themselves that they're all coming back and starting together."
Voss said that the loss of Liam Jones due to his stance against receiving the COVID vaccination was a blow but not one that would derail the Blues' finals hopes.
He said that he respects Jones' decision but said that he and his team would be working on a structure that would allow the Blues to cover for the loss of the 30-year-old
"We are disappointed that he wasn't able to join us but at the same time," Voss told media.
"We respect the decision that he's come to. It was always going to come down to individual choice and there are parameters that we have to operate under. Those guidelines have been given to us from the AFL. And we have to follow.
"But I think importantly, the big thing for us is that today's not so much about who's not here, it's about who is here and that's where we get to focus on from this point on."
Voss did admit though that he had attempted to change the mind of the retired defender.
"Well, of course, you got to try to do that," Voss said.
"But again, it comes down to choice and the conversations that we have with him are quite private and his reasons for that are also quite private and we've got to respect that. He will be welcome here at the right time, to come back to the Carlton Football Club.
"We're certainly happy to explore Mitch McGovern going back. I've had those conversations with him already and he's been super keen to maybe take on a challenge like that. Then there's the guys we haven't seen a lot of in recent times. Marchy (Marchbank) is starting to get himself going so we will see him up and going after Christmas."
Co-captain Sam Docherty was another face to make an early return to training, with the Blues defender having undergone treatment on his recurred cancer.
With Carlton players alongside Docherty at Princes Park still strutting their shaved heads in support of their fearless leader, Voss said the internal support was something to take pride in.
"It's a great news story. The boys love him and as you saw they reached out pretty heavily when he did that (Do it for Doc campaign)," said Voss.
"The boys got around him in a big way and so did the club. Anytime you get to see Doc, having caught up with him a few times in the last few weeks and seeing where his energy is and his focus lies, it's all about how the boys are and how they're training. His positive approach to it has been to be pretty honest has been fairly inspiring actually.
"It'll be steady (Docherty's return). We will be guided largely by the docs and they'll be guided by how he feels. I think for him at the moment I think a significant milestone has been made that he's back with us. He's getting back around the group, that's such a big win. He's certainly quite excited that he gets to walk the golf course at the moment."