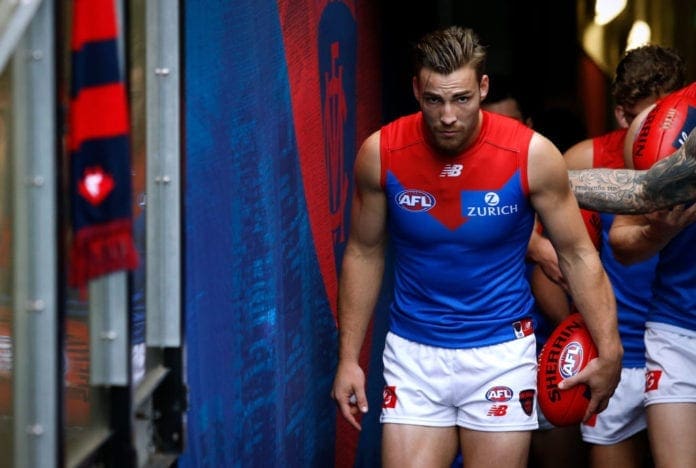 Melbourne midfielder Jack Viney has been suspended for two matches after being charged and found guilty for serious misconduct.
In what was an odd night at the AFL Tribunal, the Demons star will now miss next Monday's clash with West Coast at Optus Stadium and his side's Round 22 clash with Adelaide.
Fighting his "serious misconduct" charge after placing his arm on the neck of Suns defender Sam Collins, Viney had originally pleaded guilty to the offence.
Jack Viney will front the Tribunal tonight, after being charged with serious misconduct in this incident with Sam Collins.

Follow the hearing live from 5pm AEST here: https://t.co/z3ecQgnuYs pic.twitter.com/G1TqgKuJiQ

— AFL (@AFL) August 3, 2021
After being notified that the charge "implied Viney had made contact to the neck and throat region of Collins", the 27-year-old withdrew his guilt plea, per Fox Footy's David Zita.
Wow. Jack Viney has withdrawn his 'guilty' plea.

Melbourne say he would only plead 'guilty' if the charge is specified as relating to the jaw region, rather than the current interpretation of neck and throat region.@FOXFOOTY

— David Zita (@DavidZita1) August 3, 2021
AFL: It was serious misconduct with forceful contact to the throat & neck. 2 weeks.

Melb: We agree. Guilty. But just a fine.

Chair: Why?

Melb: The contact was to the jaw, not the throat. It was also self defence.

Chair: You already pleaded guilty to the charge.

Melb: Oh.

— Tom Morris (@tommorris32) August 3, 2021
In making their case, the AFL reportedly pressed for Viney to be suspended for two or more weeks for the incident.
The league are understood to have argued that the serious misconduct charge meant that Viney had made meaningful contact on Collins' neck/throat.
Confusion further grew as Melbourne had argued that meaningful level of contact was only made to the jaw of Collins to suggest serious misconduct.
The jury were then asked to decide what interpretation they would follow and then penalise from there, eventually opting for the AFL's submission.