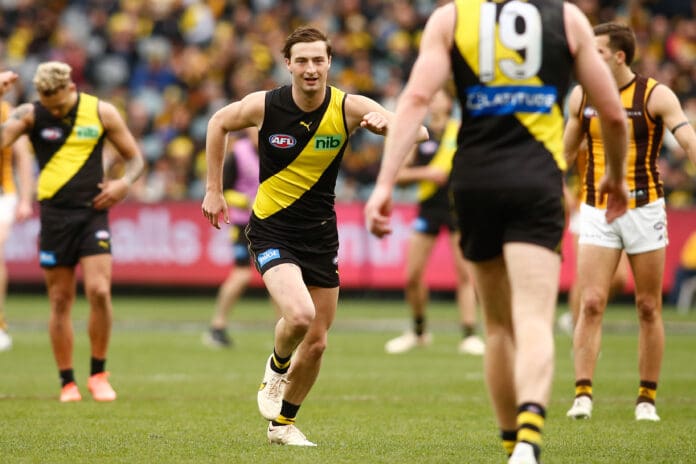 The Victorian Football League will appeal a suspension handed down to an AFL-listed Richmond midfielder following a nasty incident last Sunday afternoon.
Second-year Richmond ball-getter Tyler Sonsie was handed a three-game ban by the VFL's Tribunal after the Tiger landed a punch to the face of North Melbourne's Tom Cappellari during the teams' VFL clash at Punt Road Oval last Sunday.
The incident was referred directly to the Tribunal; initially graded as intentional, severe, and with high contact, meaning the Tiger faced a base sanction of five-plus matches for the regrettable act.
"Woefully inadequate!"

Gerard and Robbo's passionate response to Tyler Sonsie copping a three-week ban.

📺 Watch #AFL360 on Ch. 504 or stream via @kayosports: https://t.co/7kvglvpWSC pic.twitter.com/1IF9tJ3ExD

— Fox Footy (@FOXFOOTY) August 22, 2023
However, after the incident's impact was downgraded from 'severe' to 'high' at the Tribunal, Sonsie was slapped with just a three-game punishment.
Following a public uproar, though, the VFL will officially appeal the decision in an attempt to punish the young Tiger to a further degree.
The league confirmed on Wednesday that it will take the verdict to the VFL Appeal Board, with a hearing to be held next Monday night at 5:00pm.
The VFL revealed it will appeal the three-game suspension on the followings grounds:
(A) the decision involved an error of law that had a material impact on the Tribunal's decision;
(B) the decision was so unreasonable that no Controlling Body or Tribunal acting reasonably could have come to that decision having regard to the evidence before it;
(C) the classification of the Reportable Offence or Policy Breach or other conduct (as applicable) was manifestly excessive or inadequate.
Sonsie and Richmond's VFL side have qualified for the league's first-ever Wildcard Round after defeating the Kangaroos to finish in ninth position. North Melbourne's VFL outfit will also participate in the new proceedings after finishing in tenth spot.
The Tigers, with Sonsie on the sidelines, take on Collingwood's VFL team this Sunday afternoon, again at Punt Road Oval.